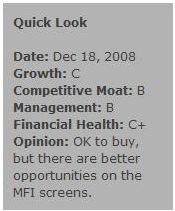 Manpower (NYSE:MAN) is one of the largest temporary employment providers in the world, having placed over five million jobs with more than 400,000 customers in 2007. The company's massive network includes over 4,500 offices spanning the globe. The vast majority of revenues (90%) are outside the United States, primarily in France (36%) and the rest of Europe (34%). Italy (7%) also contributes a meaningful amount of business. The company mainly places hires in industrial industries, but also has a large presence in office staffing. In addition to the core staffing business, Manpower has diversified into the related fields of employee candidate evaluation, support for transitioning employees, training, and even handles the outsourcing of entire HR departments.
Staffing as an industry does not have the most attractive economic qualities. The demand for temporary help is heavily dependent on macroeconomic conditions. When the economy is in recession, staffing demand declines in excess of the economy at large (the reverse is true as well). The business is also one with very low barriers to entry, which leads to an ultra-competitive market that drives down prices and squeezes margins to razor thin levels. Some market analysts estimate that as many as 15,000 companies participate in this business! These pressures can be seen on Manpower's financial statements, when even in good years, operating margins barely crack the 4% barrier (free cash margins top out in the mid-1% range). In recessionary years, operating margins dip to near 2%, and free cash margins are barely positive at about 0.5%. The five-year average MFI return on capital is an unimpressive 28% (most Top Buys maintain a 50% or greater number).
That said, if you are looking to buy a staffing company, Manpower is the best in its class. While most of its smaller competitors post operating losses in down years, Manpower has delivered a decade of profits, even through the 2001-2003 recession. This is a testament to the company's strong competitive position. With its global footprint, Manpower can supply the staffing needs of clients as small as single site local businesses to multinational corporations. This size creates a "network effect." Those seeking employment come to Manpower because that's where the jobs are, and those looking to hire use Manpower because that's where the applicants are. Manpower's additional HR outsourcing business also has high switching costs, as it is difficult for a customer to replace these services without disruption to its business.
The company also utilizes an interesting strategy for facilitating overseas growth. Instead of spending significant capital to build a company-owned network in new markets, Manpower looks to offer their powerful name in a sort of franchise arrangement with existing staffing companies, collecting a royalty on the profits the franchisee earns. This is a nifty way of expanding brand recognition and the network at low cost, while at the same time avoiding direct competition. This is another competitive advantage - this strategy just could not work for a smaller staffer, as there is little incentive for a smaller player to franchise an unknown brand with a small network.
Still, there are better opportunities on the MFI screen. Manpower is a strong company operating in a relatively unattractive industry - not the ideal investment candidate. Near term, concerns could keep the stock down for some time. The global recession has swept into Europe, which will limit staffing demand in Manpower's biggest markets. The strengthening of the dollar will limit revenue gains from currency exchange. The company is also facing anti-competitive legal issues in France, which are causing continuing special charges. MFI investors could do worse than Manpower, but they can also, do better.
Disclosure: Steve owns no position in any stocks discussed in this article.