In our current "digital age," innovation has produced technologies that were unimaginable only several decades ago. These "once upon a time" myths encountered in science fiction novels and movies have become validated realities that have changed our daily lives.
A prime example of such novelty can be seen with media tablets, which have been a work in progress for over 20 years. Multiple attempts have been made in this time frame to provide consumers with a hand held device that is multi-functional, yet convenient enough to be transportable. In 2002, Bill Gates introduced the Microsoft Tablet PC -- the first modern day media tablet that influenced the current frenzy of devices. However, this new-millennium product was not able to successfully attract consumers as Microsoft (NASDAQ:MSFT) had hoped. Instead, rival Apple (NASDAQ:AAPL) validated the technology 8 years later, in 2010, with the introduction of the revolutionary iPad, which triggered an overwhelming demand for the tablet due to its functionality, simplicity and slick design. The launch of the iPad popularized the media tablet technology into a global industry with 119 million unit sales in 2012. This market domination is expected to continue in 2013, with analysts predicting that tablets will outsell notebooks, and that tablets will have a presence in over one quarter of U.S. households. Through the innovation of several companies and the sensation created by Apple's iPad, media tablets have transformed from a fictional technology to become one of the hottest, most profitable inventions of the digital age.
Being proclaimed the "third industrial revolution," 3D printing has recently been the hottest trending technology that has spread like wildfire through the web. Sometimes thought of as ultramodern, 3D printing has followed a similar path of development to the tablet, emerging as early as 1984, but only starting to make noise of late. With Moore's Law taking effect, the technology has advanced while efficiently reducing costs to the point where it makes more business sense for mainstream companies to utilize these revolutionary printers. As a result, the market leaders in the 3D printing field, 3D Systems (NYSE:DDD) and Stratasys (NASDAQ:SSYS), have been two of the hottest companies, experiencing growth rates of 246% and 141%, respectively, in the last two years. As with the tablet technology, the 3D printing industry is expected to see great growth and immense revenues in the near future as mainstream media and consumers begin to absorb the limitless potentials of this newly validated technology.
A cheap alternative to buying into the 3D printing craze is San Diego-based "bio-printing" firm Organovo (NYSEMKT:ONVO). Until recently, the general consensus of being able to print living tissue seemed like an idea out of a Star Trek episode. This sci-fi myth was debunked with the company's bio-printer, the NovoGen MMX, which is capable of creating living cells used to model specific body parts (click for more information). As the only public company in this newly formed sector of 3D bio-printing, Organovo management seeks to further validate bio-printing technology through continued development and expanded use of its printer.
As mentioned in my previous article, ONVO earns the majority of its revenue from collaborative agreements, with Pfizer (NYSE:PFE) and United Therapeutics (NASDAQ:UTHR), which presently use ONVO's cutting edge technology to improve the drug discovery process. Towards the end of 2012, Organovo took another step to enhance its technology by partnering with 3D software designer Autodesk (NASDAQ:ADSK) to create the first-ever software for bio-printing. This was a major step forward for the functionality of designing 3D human tissues, as it has the potential to open up bio-printing to a broader group of users who will be able to use this software. Once successful, the option arises of using the NovoGen MMX printer in other laboratories for customers to design their own 3D tissues for production by Organovo (i.e., custom design). The potential revenue stream due to this agreement benefits the company financially while also increasing the reach and reputation of the printer with end-users.
Taking a look at financials, on November 19, 2012, Organovo filed a tender to amend its outstanding warrants (explained in previously posted article) to purchase approximately 14.51 million shares of common stock. The purpose of the offer was to encourage the exercise of warrants to help the company reduce its outstanding warrant liability, raise cash to support operations and improve the overall financial position of ONVO. In return, the company would reduce the exercise price of original warrants from $1.00 per share to $0.80 per share as an incentive to warrant holders while shortening the exercise period to December 21, 2012.
Simplified Warrant Position (Millions)

Total

Exercised

Remaining

Absolute

20.64

9.58

11.06

%

100

46.4

53.6
Altogether, 9.58 million of the original warrants were tendered by their holders and were exercised for an aggregate price of approximately $7.66 million (9.58mill x 0.80/share). There still remain approximately 11.06 million warrants, which are callable by the company if the stock trades above $2.50 for 20 days within the next 4 years. Through this tender offer, Organovo was able to raise an additional $7.66 million in cash while also clearing its balance sheet by lowering part of its warrant liability to an equal gain in shareholders' equity. Such a transfer of non-cash liability to the equity account will be recognized as a positive step by investors who perceive a movement towards greater equity and less liability (albeit, a non-cash liability). In addition, the company will now add the $7.66 million in cash to its third quarter ending cash balance of $7.68 million. According to Propthink estimates, spending is forecast to be $2 million for the last quarter of 2012 and approximately $8 million for the full year 2013, indicating the company to be in a comfortable cash position.
Simplified Balance Sheet ($ Millions)

3Q 2012

4Q 2012

Assets

Cash

7.68

13.34*

Other

1.36

1.36**

TOTAL

9.04

14.7

Liabilities

Warrant

35.47

19.01

Other

1.0

1.0**

TOTAL

36.47

20.01

EQUITY

-27.43

-5.31

* 7.68+7.66-2 = 13.34

**Assume no change
An underlying assumption is made for the (above) Warrant Liability figure of $19.01 million: There is no re-evaluation of warrants, as we cannot predetermine the stock price for the 4Q statements. Therefore, 3Q warrant liabilities were valued at $35.47 million. With approximately 53.6% of warrant liabilities remaining on balance sheet, 4Q warrant liabilities should be approximately $19.01 million (0.536*35.47).
Management has made it clear that they are seeking up-listing to the NASDAQ Capital Market. This advancement would be favorable, as the company would see greater exposure to both retail and institutional investors who require the perceived reputation of being listed on the NASDAQ instead of on the OTC markets. In addition, liquidity would inevitably improve and create a better risk profile. With a reshaped balance sheet, the tender was a big step toward up-listing as the company comes within reach of the requirements (below).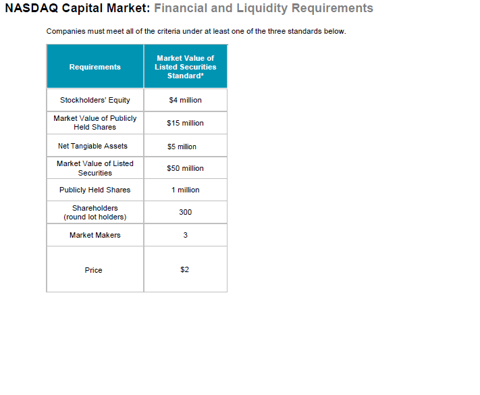 Currently, Organovo meets the majority of financial criteria required for the NASDAQ CM. With its tender, the company is targeting the shareholders equity requirement figure of $4 million. Though ONVO is still approximately $9 million short the mandatory value, another $11 million in cash can be collected if the company trades above $2.50 for the next 20 days. Investors, however, have reacted well to the recent tender, as the stock has shot up to over $3/share. Assuming it continues trading at a price over $2.50, all warrant liabilities would be exercised, wiping the remaining warrant liabilities on the balance sheet and increasing shareholders' equity.
Looking forward to the 1Q of 2013, assuming the above situation holds, ONVO would possess an additional $11 million in cash, bumping assets to $23.7 million. Liabilities would be around $1 million, as all warrants would be wiped out, implying shareholders' equity equal to approximately $22.7 million. This theoretical, yet likely, scenario would allow management to inquire about up-listing without any evident issues.
Futuristic technologies take time to reach their full potential as, at first, they may seem too impractical, expensive or just misunderstood. With time and innovation, however, these former myths build publicity until a validating product, company or event can detonate a frenzy of demand. We saw this, firsthand, with the overwhelming craze the Apple iPad created for tablets, and more recently, the power of 3D technology publicized by DDD and SSYS. To date, we see Fortune 500 companies such as Disney (NYSE:DIS), Ford (NYSE:F), Boeing (NYSE:BA) and GE (NYSE:GE) utilizing this revolutionary technology to assist in operations.
Organovo's 3D bioprinting technology is on the brink of this validation with its Autodesk deal to design the first bio-printing software. This newly developed software would increase the reach of the printer to outside users. To boot, the management team has been on top of maximizing shareholder value by clearing the balance sheet liabilities and aspiring to a superior market listing. Organovo can prove to be an efficient use of capital for investors who are looking to buy into a cheaper alternative of 3D printing that also offers exposure to the biotech industry. A close eye should be kept on ONVO, as the company has the right elements to be a winner in 2013 and beyond. At the very least, the iPad and 3D printing suggest that Autodesk just validated 3D bio-printing -- which many will argue is here to stay.
Disclosure: I am long ONVO. I wrote this article myself, and it expresses my own opinions. I am not receiving compensation for it (other than from Seeking Alpha). I have no business relationship with any company whose stock is mentioned in this article.