The first article in this series was published in November of 2011, and the details of selection criteria of the stocks are included in Create a High Income, Low Risk Portfolio. This article contains a wee bit of Scottish wisdom.
The second article in this series was published on July 4, 2012, and it tracks performance for the first six months. That article is at the link, A High Income, Low Risk Portfolio: Six Months Results
This is the third article. We will look first at the performance of the portfolio for the past year and then examine the ways it met its objectives and what we have learned.
For many, investing in common stocks is as scary as reading a Stephan King novel. While some may enjoy the thrills and fear generated by spooky stories full of surprises, few of us want to have our stock portfolios to be the cause of heart pounding emotions. A feeling of exhilaration often accompanies a sharp move upward. However, the reversal generates a disproportionate measure of fear and anxiety. While we have no control over the ups and downs of the market we do have control over which stocks we own. Careful selection of these stocks can result in a portfolio that is half as volatile as the market, while providing a good income, which increases each year to combat the ravages of inflation.
The Goals of the Portfolio
While there are no financial statement metrics for comfort level and confidence, that is exactly what our goal involves. We do not want a portfolio that is like an adventure/thriller story, with a cliff-hanger ending after every episode. We want peaceful collection of stocks in which we can have confidence; we desire the production of predictable income today and increasing future income. To do this we will create a sample portfolio of stocks that have low risk as measured by a beta of 0.60 or lower and high, above 3.0%, dividend yield. Stocks selected will have an increasing 5-year dividend growth rate (DGR) of over 4.0%. They will have a history of paying dividends, which we expect will continue. Stocks from several sectors will provide diversity, which further reduces risk.
Beta Illustrated
Beta is a comparative measure of risk based on the volatility of the stocks' price. The S&P 500 has the arbitrary value of 1.00, and the beta of a stock is the magnitude of its price swings compared to that value. If the market rose or declined 10% and the stock moved 20%, the stock would have a beta of 2.00, that is, double. This chart illustrates the price movement of a low beta stock, a public utility, and a high beta stock, a mining company.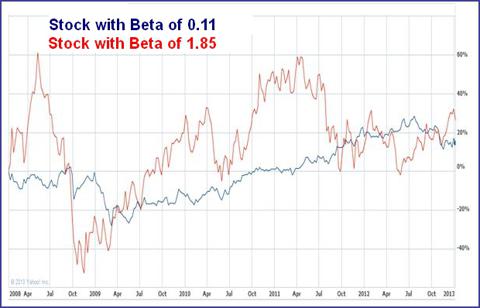 The below table is our selection of stocks for our High Yield, Low Risk portfolio, and the 5 year average values of the selection criteria. *Selection was based on a current yield value of over 3% when the portfolio was initiated in November of 2011.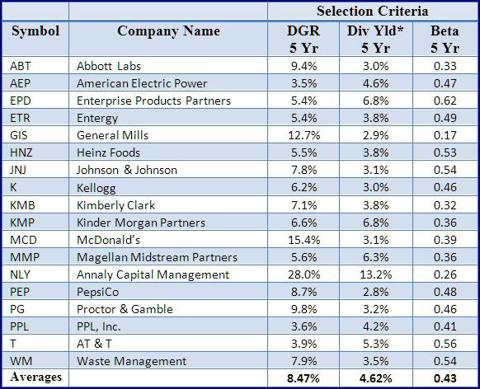 This chart shows the price movement of the portfolio compared to that of the S&P 500 Average.

Sectors and Selections
Companies are divided into several sectors of the economy, which provides a useful guide when seeking diversification. Stocks in different sectors and in different industries within those sectors do not move in concert with the market's ups and downs, and different sectors prosper more or less depending of where the country is in the business cycle.
Basic Materials
Enterprise Products Partners, L.P (NYSE:EPD)
Kinder Morgan Energy Partners, LP (NYSE:KMP)
Magellan Midstream Partners, L.P (NYSE:MMP)
We have chosen three of the largest midstream gas and oil pipeline companies. These firms own and operate thousands of miles of pipelines, which are an important part of the infrastructure of the country. This is a very good time to own pipeline companies as North America is in the midst of a natural gas and oil boom.
The businesses are set up in the form of tax advantaged Master Limited Partnerships. There may be issues with holding them in tax-advantaged accounts such as IRAs. In general, pipeline companies have high yields and low betas, with slowly increasing distributions.
Consumer Staples
General Mills, Inc. (NYSE:GIS)
H.J. Heinz Company (HNZ)
Kellogg Company (NYSE:K)
Proctor & Gamble Co. (NYSE:PG)
Kimberly-Clark Corp (NYSE:KMB)
Consumer staples are safe havens in times of recession. Steady, they are consistent performers in good times too. What you buy in a grocery store is largely consumer staples; packaged food, paper goods, cosmetic items, household cleaners and laundry detergents are included in the category.
Consumer Discretionary
These companies sell more of their products overseas than in the United States. Global leaders in the snack food and non-alcoholic beverage industries they continue to grow profitably year after year.
Financials
Annaly Capital Management (NYSE:NLY)
A Real Estate Investment Trust, this firm invests in mortgage pass-through certificates, collateralized mortgage obligations, and other mortgage-backed securities. Interest and principal payments on the firm's investments are often guaranteed by government-sponsored agencies.
With a 15-year track record and a $14.5 B market cap, it is the leader in its field. Does it have an unsustainable business model? Is there inordinate risk? Consider the rewards … the dividend yield is 12%. A $10,000 investment in Annaly will yield as much as three $10,000 positions in stocks like PepsiCo, Johnson & Johnson (NYSE:JNJ) and Procter & Gamble combined.
Healthcare
Abbott Laboratories (NYSE:ABT)
Johnson & Johnson
These are legacy companies, part of the fabric of US and global healthcare. JNJ had problems with quality control in 2010 and 2011, and replaced several top managers. Former CEO Bill Weldon announced that he would step down from the Chairman post and retire in the first quarter of 2013.
Abbott split itself into two companies, and began 2013 as Abbott and AbbVie. Abbott continues to be one of the most diversified medical manufacturers in the world. It continues with the established pharmaceutical brands and generics, medical devices and nutritional products.
Industrial
Waste Management (NYSE:WM)
With its huge share of the market, company growth has slowed in the past several years, and payout ratios have increased to 75%. The business model is now similar to a utility, with a healthy annuity-like cash flow.
Telecom
This firm is as American as apple pie. "T" , was a top performer with its 5% dividend and leader in capital gains.
Utilities
While these were good choices based on the use of the selection criteria, a little more due diligence would have served me well concerning Entergy. They are in a hostile regulatory environment, an important consideration when selecting utilities. The State of Vermont would like to close the Entergy nuclear plant at Vernon, because it is not profitable enough. The Federal government disagrees with shuttering it. They fight and while the dividend appears safe, by most measures they are the weakest firm in the portfolio.
Final Observations and Summary of Lessons Learned
The primary goals of the portfolio are high income from stocks with yields over 3% that will have less risk than the overall market as measured by a beta of less than 0.60. Dividends will increase by at least 4% annually to make the income stream grow to counter inflation.
Invested, $180,011
Dividends, $8,448
Yield, 4.6%
Dividend Growth Rate, 10.42%
Beta, 0.33
Total ROR, 8.39%
End Balance, $191,545
We met the goals.
This is a simple portfolio. I built it around just three screening parameters and was intentional about sector diversification. It is made of reliable old stalwarts of income investing; 18 rather boring generators of cash flow. That is exactly what we were looking for.
Surprises
McDonald's, the favorite fast food venue of millions, was not a darling of the stock market. That stock performed the worst of any in this portfolio.
The biggest gainer was Magellan Midstream Partners,

hardly

an exciting company or a household name.
While Entergy scored well on the evaluation criteria, they have issues, which I missed. They are a public utility in a difficult regulatory environment.
What I learned from the two blue chip healthcare firms, is that even in the very best of companies, like JNJ, things can go wrong, and long-term leaders leave.
Large established of firms, like ABT, can reorganize and present themselves to the world as new. They are new, but they are also untried entities.
Allocation, Timing, Valuation
The method of investing an equal amount in each stock served me well. I have learned that selecting the top stocks and overweighting them is not something I can do successfully.
I know also that I cannot "time the market."
I can, however, enhance the timeliness of my purchases by considering stock valuation, and buying undervalued stocks. The valuation tools that I use the most are F.A.S.T. Graphs and Morningstar. I do discounted cash flow valuation on the DCF calculator, which is free on moneychimp's site.
No trades were made on the portfolio during the past year and none are anticipated.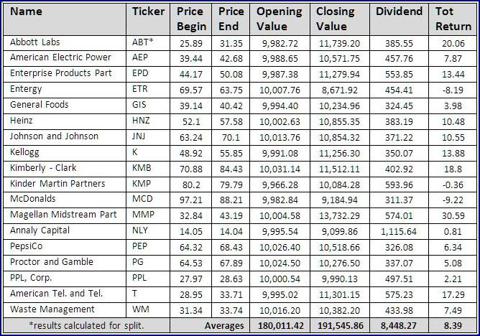 Good luck with your "High Yield, Low Risk" investing. It is a smooth ride with reliable outcomes.
Disclosure: I am long ABT, EPD, GIS, JNJ, K, MCD, MMP, NLY, PG, PPL, T. I wrote this article myself, and it expresses my own opinions. I am not receiving compensation for it (other than from Seeking Alpha). I have no business relationship with any company whose stock is mentioned in this article.