Dividends are on a tear… A well-known fact? Maybe. But since good news never gets old, here's a little more to chew on…
In December, dividends broke a 10-year high, dishing out an aggregate $277.4 billion in payouts on a trailing 12-month basis. According to FactSet, that's up 15.5% year-over-year.
What's more surprising, though, is that long-in-the-tooth telecoms and utilities aren't leading the growth. Quite the opposite.
It's the technology sector - historically a dividend lightweight - that accounts for 32.9% of the cash distribution growth. Only the materials sector experienced more growth at 48.3%.
And as of early last month, tech was the largest contributor to the S&P 500's yield, pumping out 14.6% of the Index's income, according to data from HORAN Capital Advisors.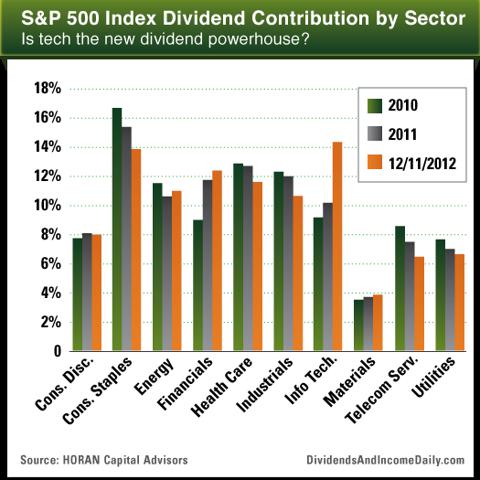 So are technology stocks the new dividend elites?
As my colleague, Louis Basenese, points out D&I's most recent e-letter:
"Not entirely. The sector still has some serious work ahead of it before we start falling all over ourselves to snatch up its distributions.
For one, despite its enormous contributions, the tech sector's yield remains low. And I mean low.
Its average yield of 1.74% lags the S&P by almost half a percentage point and beats out only one other sector - consumer discretionary.
Worse still, there's yet another issue to contend with: Technology companies are complex. Supply chain variables - plus rapidly shifting demands, innovations and trends - mean that predicting a tech stock's behavior is no easy feat.
Especially considering that the primary qualifiers for dividend stocks are above-average yield and a simple, reliable business."
So, what to do? How do we position ourselves to take advantage of the tech sector's growing dividends, but at the same time avoid the low yields and complex businesses?
Missing a Whole Lot of Forest
One solution could be jumping into a well-balanced, popular ETF.
But as WisdomTree's Jeremy Schwartz points out, such ETFs are fairly conservative and exclusive clubs, admitting only dividend payers with 10 to 20 years of dividend raises into their holdings. And that might be a mistake:
"While I understand that a proven history of growth theoretically provides some semblance of assurance that a company can continue to pay dividends, I believe these ETFs may be missing the forest for the trees."
That could end up being a lot of forest, because the dividend upswing among tech stocks won't begin to impact them substantially for another decade or more.
That's not to say we have to bury our heads in the sand for the next 10 years, though, since we're not entirely out of luck.
There's a tech dividend ETF that's new to the game, called the First Trust NASDAQ Technology Dividend Index Fund (NASDAQ:TDIV). It was created, as Ryan Issakainen, Senior VP and ETF Strategist at First Trust, points out, to solve the exact problem I've been outlining:
"We recognized that the trend of technology companies both introducing new dividend policies, and increasing payments in existing dividend policies, was 'building steam,' and this is a trend we expect to continue. We also recognized that most equity income ETFs are not only underweight technology stocks today, but will likely remain so for quite some time, due to their respective index methodologies."
TDIV just opened up shop on August 16, so it remains relatively unproven. Since then, it's not up by much - only 0.8%. But it's still managed to outperform its large-cap predecessor, SPDR Technology Select Sector Fund (NYSEARCA:XLK), which is down 3.3% over the same period.
Part of this outperformance is due to TDIV's omission of Apple (NASDAQ:AAPL) from its holdings. (If you haven't heard, Apple is tanking.)
But that's not to say TDIV is putting big-name tech stocks on the sidelines. Included among the 74 holdings are the usual suspects, like Intel (NASDAQ:INTC),Cisco (NASDAQ:CSCO), IBM (NYSE:IBM) and Microsoft (NASDAQ:MSFT).
The ETF yields 3.26%, which is just over a percentage point better than the S&P average. While not exactly a bargain, its expense ratio of 0.5% checks in a hair below the average of 0.55%, according to ETF Trends.
Bottom line: TDIV is still in the early innings and has yet to undergo much rebalancing. But dividend ETFs in the tech sector are slim to none, so on that basis alone, this one is worth watching. If it continues to outperform relative to XLK, we'll have a serious contender on our hands for solving the dividend tech stock conundrum.
Safe investing,
Ryan Anders
Disclosure: I have no positions in any stocks mentioned, and no plans to initiate any positions within the next 72 hours. I wrote this article myself, and it expresses my own opinions. I am not receiving compensation for it. I have no business relationship with any company whose stock is mentioned in this article.