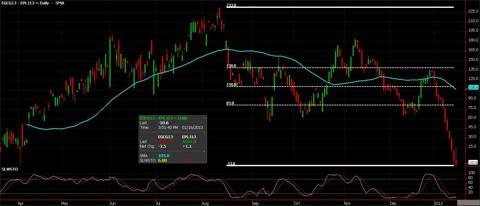 This is not your typical trade where I am advising buying or selling a commodity. Instead, I am examining a spread where one would buy gold futures and simultaneously sell platinum futures. The idea is platinum has moved up way too much, way too fast. As a mean reversion, we should see prices back off in the near future… at least, that is the plan. YTD platinum futures are higher by 10%, making it one of the best performing commodities. Platinum also has advanced to overbought status, and though supply disruptions could keep this metal in the spotlight, I do think we back off in the short run. Platinum is an untamed beast and not for the faint of heart, as daily ranges can be $50-plus dollars, or $2,500 per contract. Worse case, a trader could be wrong and lose on platinum and gold if both metals move in the wrong direction, so understand this spread is not for everyone.
It is not that I am extremely bullish on gold, though I do think its relative value can hold up better than platinum in the next few weeks. Regardless of how we arrive, if gold advances or platinum declines, if the spread narrows enough to make $2000 on the spread, I would be gone. The tricky part here is depending on your risk tolerance, you may want to do 1:1, as I'm advising clients to be short April platinum and long February gold. However, the contract sizes are different, so some traders will chose to buy (1) gold and sell (2) platinum so they are spreading 100 ounces against one another. This, to me, is far riskier.
Risk Disclaimer: The opinions contained herein are for general information only and not tailored to any specific investor's needs or investment goals. Any opinions expressed in this article are as of the date indicated. Trading futures, options, and Forex involves substantial risk of loss and is not suitable for all investors. Past performance is not necessarily indicative of future results.
Disclosure: I have no positions in any stocks mentioned, and no plans to initiate any positions within the next 72 hours. I wrote this article myself, and it expresses my own opinions. I am not receiving compensation for it. I have no business relationship with any company whose stock is mentioned in this article.