Although Sandisk (SNDK) will report alongside Apple after the bell on January 23rd, all eyes will be on Apple, which hopefully won't over-shadow what we expect to be a decent 4th quarter and a better 2013 for the NAND Flash and SSD producer.
Analyst consensus for Q4 '12 for SNDK is expecting $0.73 in earnings per share (EPS) on $1.27 billion in revenue for year-over-year (y/y) declines of 44% and 3% respectively.
Revenue and eps estimates for the 4th quarter have been stable since October.
2012 was a tough year for SNDK: Gross margin declined from its peak of 43% - 44% in late 2011, to just 27% in the 2nd quarter of 2012. It was the first quarter 2012 where SNDK really got walloped on both an excess supply of NAND and weaker-than-expected demand, and subsequently issued horrid guidance for the business, which crushed the stock and drove it from $50 in early 2012 to $30 by late summer.
The stock was down 10% - 12% in calendar 2012.
Q3 '12 was a better quarter for SNDK as gross margin bounced back towards 10%, and higher average selling prices (ASPs) resulted in a 41% upside surprise of $0.48 per share versus the $0.34 estimate.
As it stands currently, the full-year '12 is expected to generate a little over $2 per share and $5 billion in revenue for expected declines this full year of 11% and 57%.
However, that is now in the rear-view mirror and SNDK faces those very easy comparisons in the first half of 2013. Here are some other bright spots for the coming year:
1.) On the Q1 '12 call, despite the horrid guidance, SNDK announced they were supplying all smartphone makers as of the end of Q1 '12, which meant that finally SNDK was in the Apple supply chain. I suspect that will show up this quarter for SNDK, and they could even benefit from the low-end iPhone, should it happen;
2.) Japan and the yen: a strong yen, or a 5% strengthening in the yen was thought to cost SNDK 200 bp's - 300 bp's in gross margin, as noted on a call in early 2011. In early January, '12, the dollar hit a two-year high against the yen, after Japanese Prime Minister Abe pushed for aggressive monetary easing in Japan. While the dollar strengthening/yen weakness has come in a hurry, it could help SNDK's Q4 2012, and more importantly be another tailwind in 2013.
3.) SSD - A new product line for SNDK, solid state drives are now 10% of SNDK's total revenue with more growth ahead;
ASP's are a big deal for SNDK's earnings growth. In a report dated October 19th, 2012, out of PiperJaffrey, the analyst noted that a 5% swing in ASP's for SNDK can impact eps 20%. Here is the history of both how growth and ASP's have evolved for SNDK since 2009:
| | | |
| --- | --- | --- |
| Qtr end | Bit growth | ASP growth |
| 9/12 | 36% | -8% |
| 6/12 | 5% | -18% |
| 3/12 | -4% | -22% |
| 12/11 | 25% | -13% |
| 9/11 | 18% | -13% |
| 6/11 | 14% | -7% |
| 3/11 | 7% | -8% |
| 12/10 | 30% | -15% |
| 9/10 | 8% | -5% |
| 6/10 | 7% | -8% |
| 3/10 | -6% | 0% |
| 12/09 | 40% | -2% |
| 9/09 | 37% | -3% |
As the reader can quickly see, the pricing pressure in technology and NAND flash (and really all of semiconductors) puts a lot of pressure on profitability, so even flat pricing with volume growth can really add delta to SNDK's earnings per share, which is what we are expecting in Q4 '12 and then in early '13.
The first half of 2013 should be good for SNDK. Current Q1 '13 earnings and revenue estimates are looking for $0.67 and $1.37 billion for year-over-year growth of 3% and 13%, respectively.
The key is the very weak compares from the first half of 2012.
According to the attached chart, the stock is up about 10% from the October '12 earnings report, and is technically not overbought on the weekly.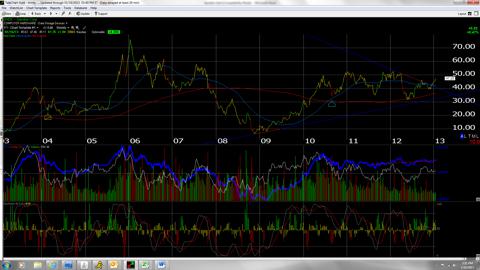 SNDK's valuation is tricky, given the volatility around earnings. This is a stock that had a $4.78 "forward 4-quarter eps" estimate in October '11 following the 3rd quarter earnings report, only to see earnings get crushed 6 months later.
With the weakening yen, and the SSD's not to mention SNDK now being part of the Apple supply chain, I think the stock could trade into the high $50s in the next 6 months, if we get the margin expansion.
The current 2013 eps estimate of $3.51 might get revised up to $5 per share this year, with the above tailwinds. Given SNDK's history, it isn't out of the question.
SNDK was probably our worst performing holding in the first half of 2012, and didn't help our performance at all. We are expecting to get some of that back in the first half of 2013.
Disclosure: I am long SNDK, AAPL. I wrote this article myself, and it expresses my own opinions. I am not receiving compensation for it (other than from Seeking Alpha). I have no business relationship with any company whose stock is mentioned in this article.