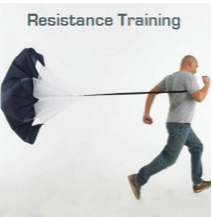 JP Morgan's (NYSE:JPM) earnings rose ($1.39 vs. $1.16 estimates, and revenues $24.38 vs. $24.23 expected), while Goldman Sachs' (NYSE:GS) earnings were quite good ($5.60 vs. $3.78 estimates, and revenues $9.24 billion vs. estimates of $7.91 billion). Other reports from insurer Genworth Financial (NYSE:GNW) and M&T Bank (NYSE:MTB) were also positive in the financial (NYSEARCA:XLF) and bank sector (NYSEARCA:KBE).
Losers included Chipotle Mexican Grill (NYSE:CMG) on higher food costs and Boeing (NYSE:BA) as the Dreamliner fleet was grounded in Japan. Apple (NASDAQ:AAPL) got a boost from timer Tom DeMark, who claimed the stock had hit bottom from his view.
Economic data included: CPI (0.00% vs. .1% expected & prior -.3%, and core rate .1% vs. .1% expected & prior .1%); Industrial Production (.3% vs. .2% expected & prior 1.0%); Housing Market Index (47 vs. 48 expected & prior 47), and the important Fed Beige Book showed little, if any, important economic growth. The employment component within the report was unchanged.
Overseas, China reported the first decline in Foreign Direct Investment for the first time since 2009. The World Bank cut its global economic forecast to 2.4% vs. 3%, and the German government lowered its growth forecast to .4% vs. .7% previously. For the most part, these forecasts are just catching up with reality. The Fed will use this and other data to determine future monetary policies at their next meeting ending January 30th.
So-called "currency wars" are emerging globally as countries attempt to trash their own to remain trade competitive. But there are potential negative consequences to doing so, as noted here.
The dollar (NYSEARCA:UUP) was slightly higher, and so too was gold (NYSEARCA:GLD) once again. Stocks were led higher by tech on the Apple rally, while financials moved mostly sideways. Bonds (NYSEARCA:TLT) were once again higher, as stocks appear out of oxygen after a post-fiscal cliff rally.
Volume is still missing, even as markets seem well-managed at high levels. Breadth per the WSJ was negative.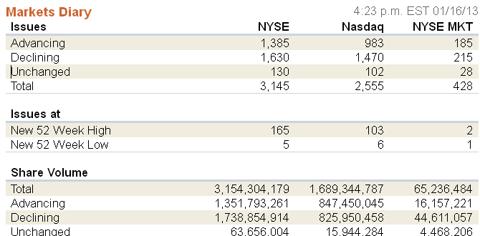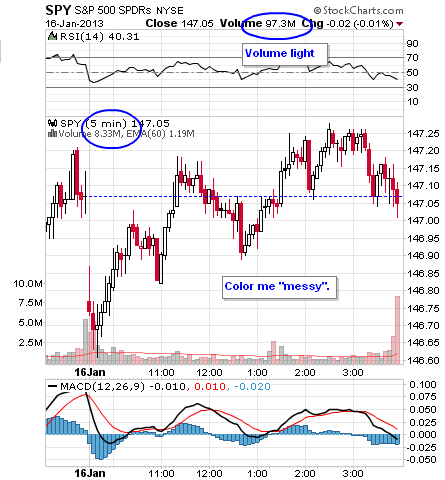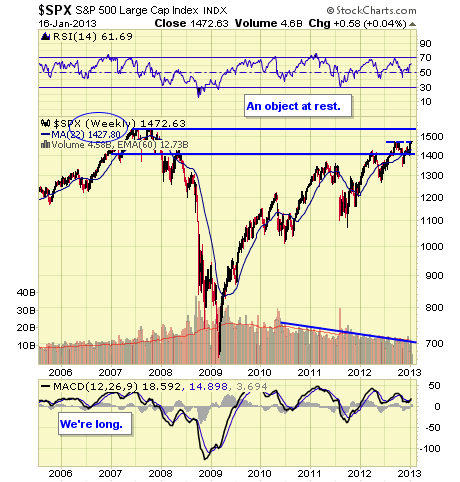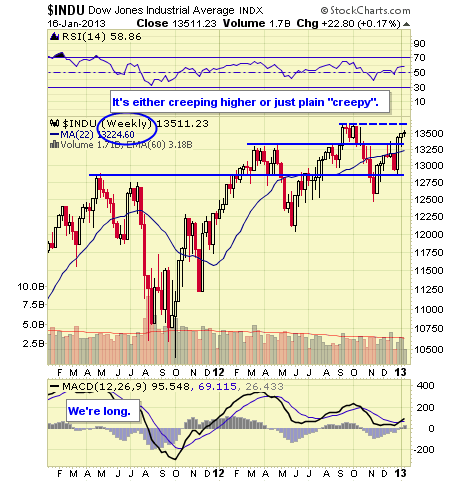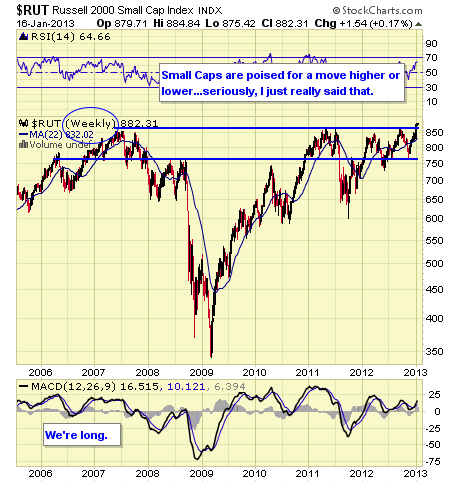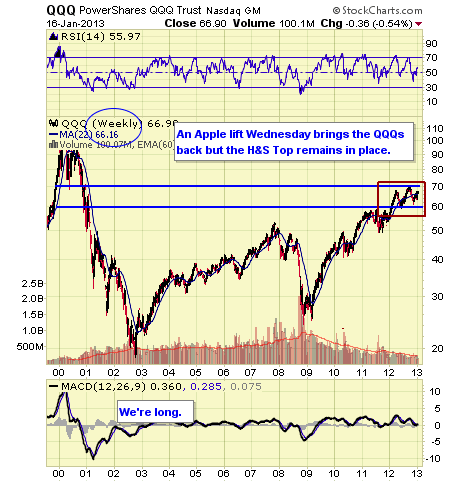 Continue to U.S. Sector, Stocks & Bond ETFs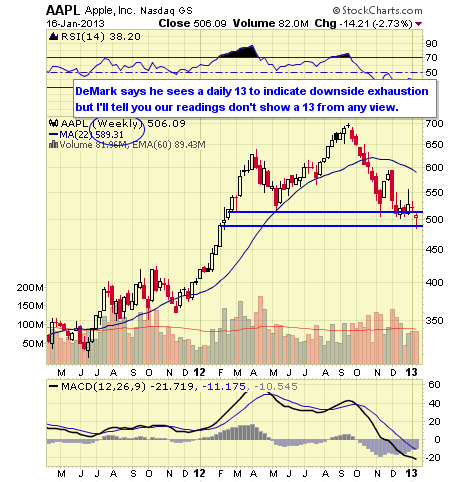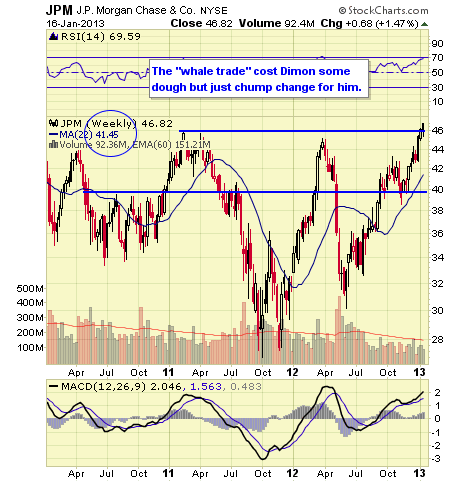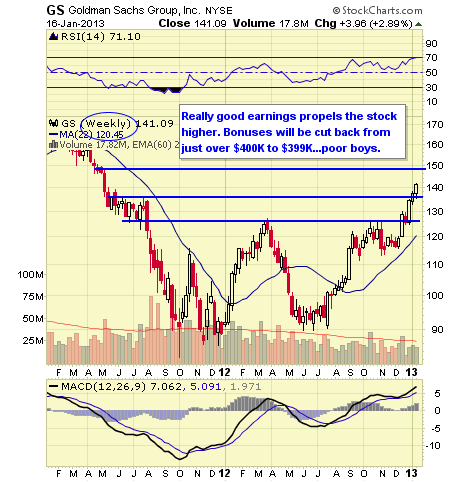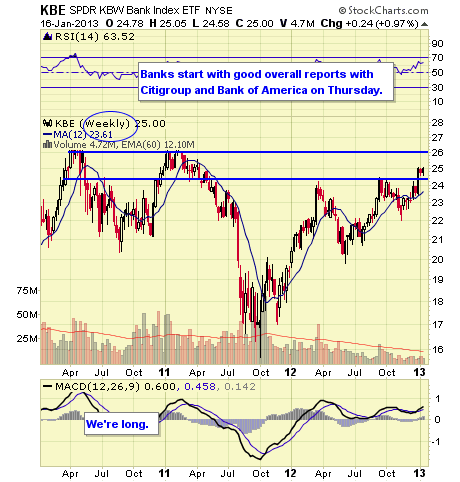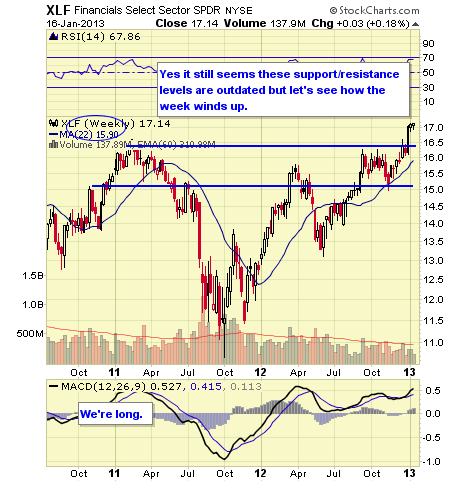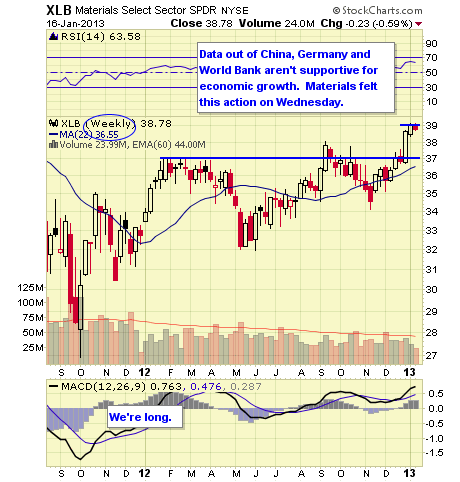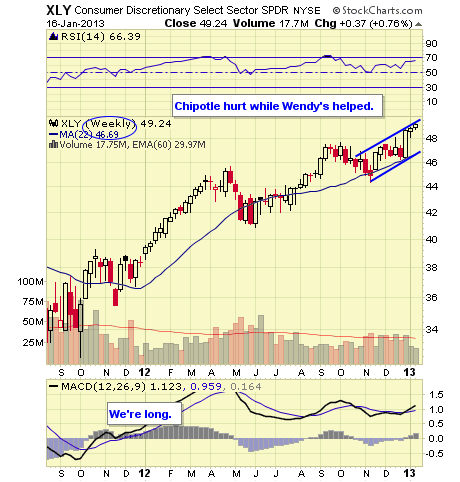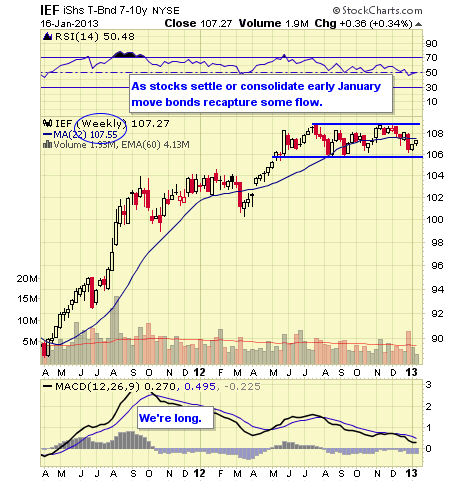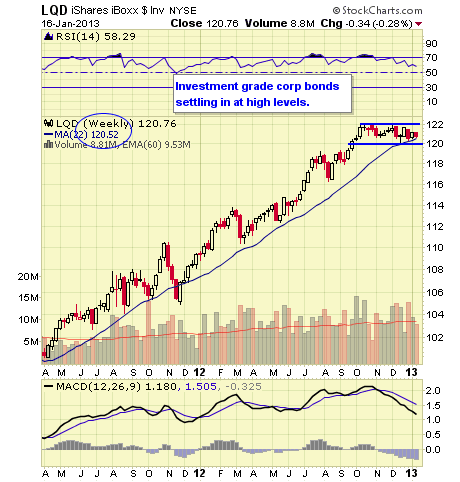 Continue to Currency & Commodity Market ETFs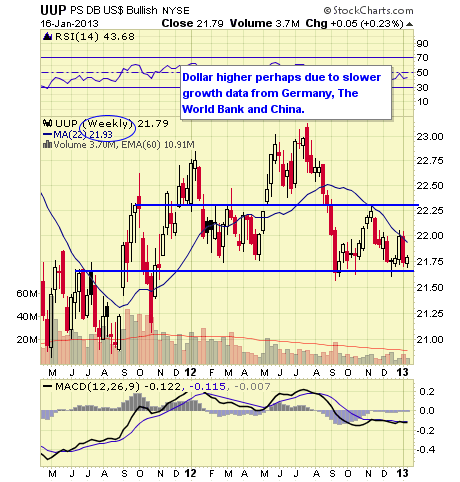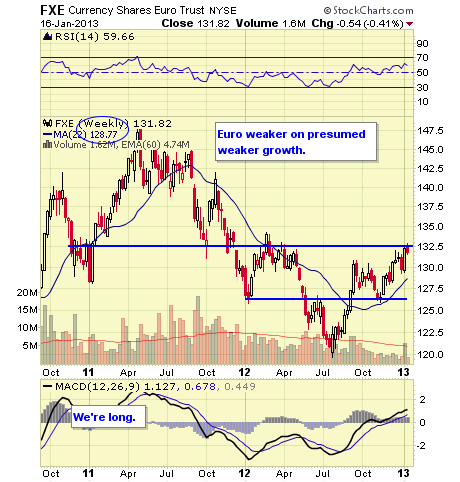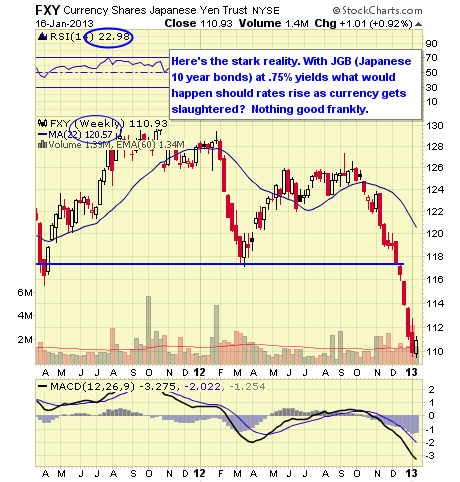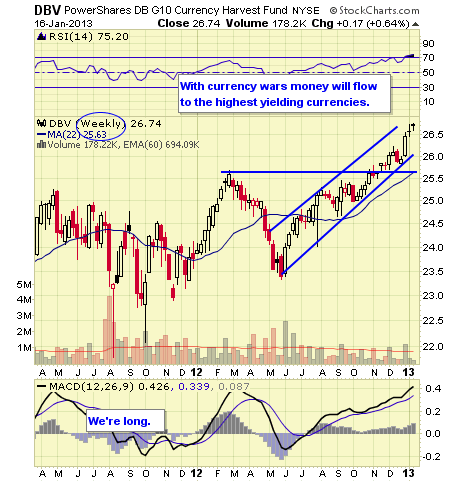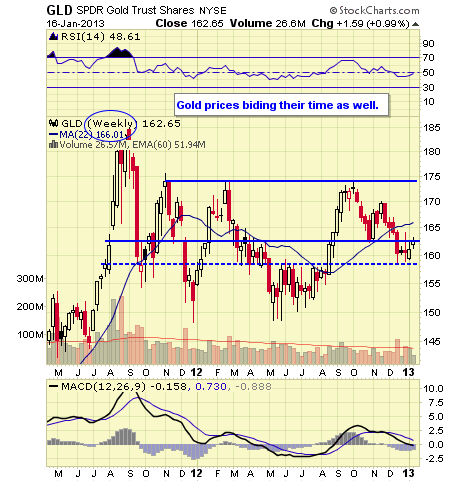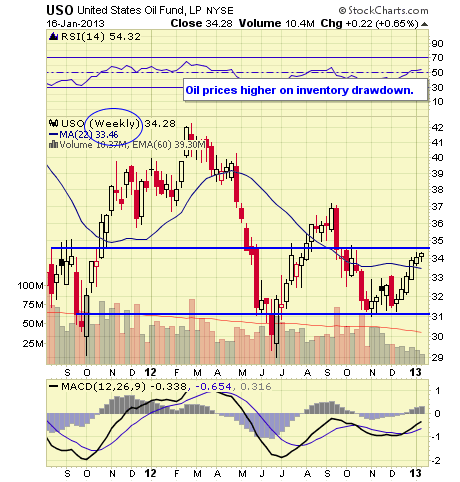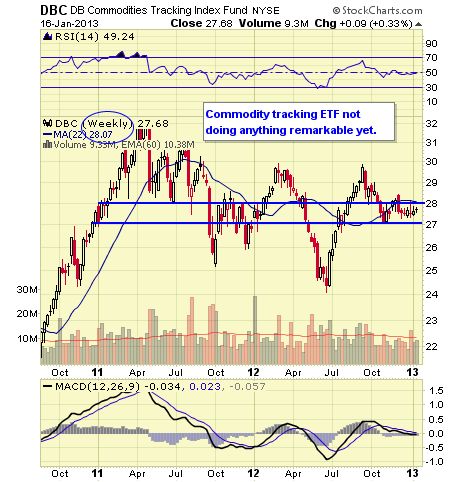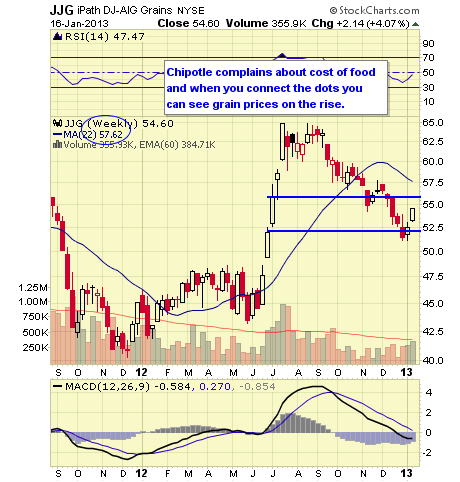 Continue to Overseas Sectors & ETFs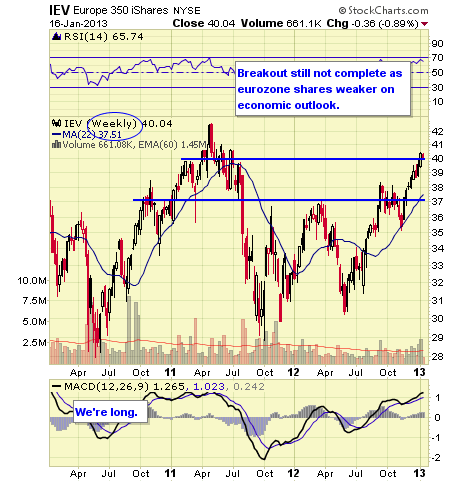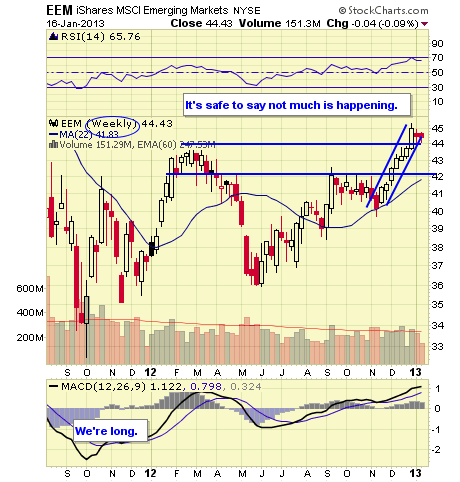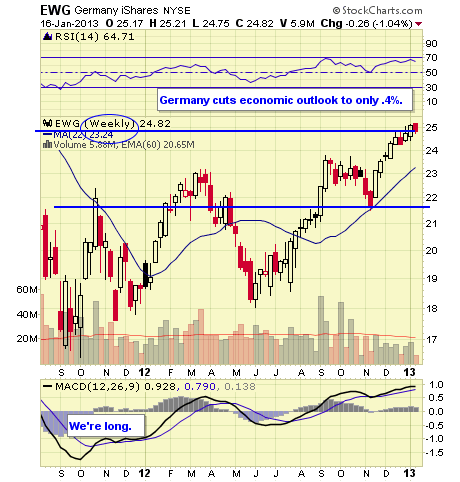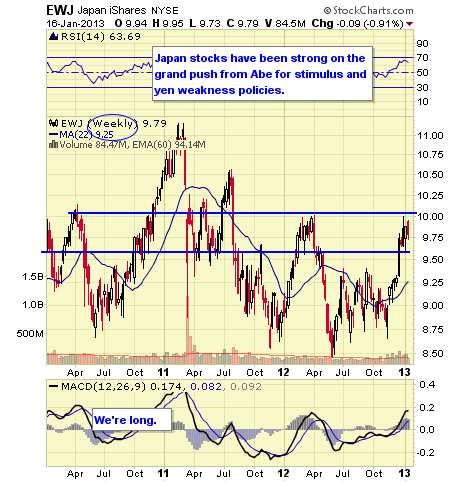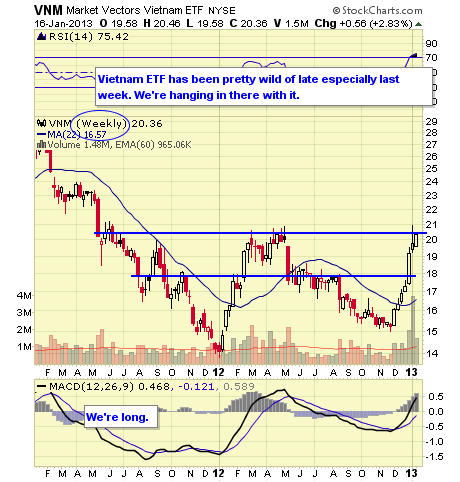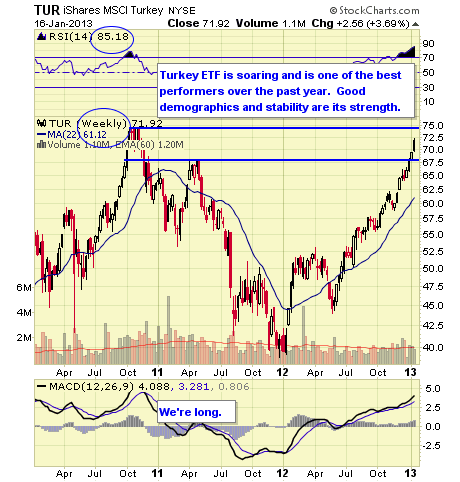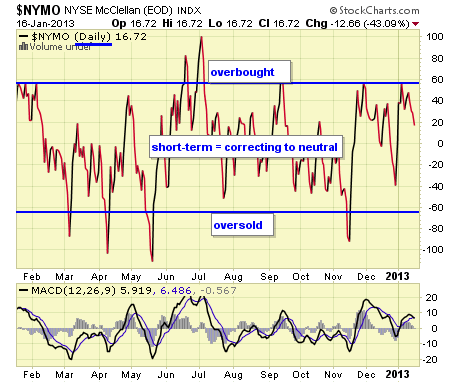 The NYMO is a market breadth indicator that is based on the difference between the number of advancing and declining issues on the NYSE. When readings are +60/-60, markets are extended short term.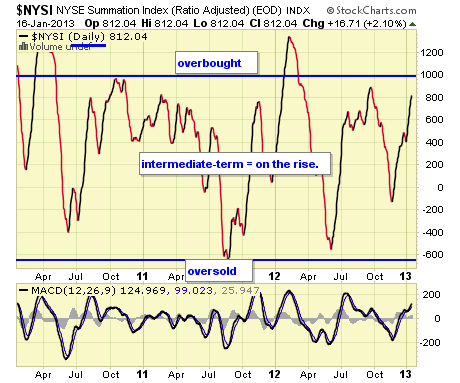 The McClellan Summation Index is a long-term version of the McClellan Oscillator. It is a market breadth indicator, and interpretation is similar to that of the McClellan Oscillator, except that it is more suited to major trends. I believe readings of +1000/-1000 reveal markets as much extended.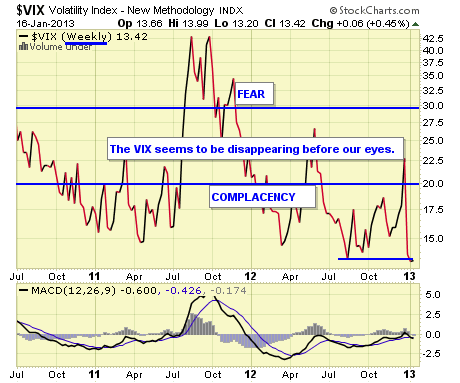 The VIX is a widely used measure of market risk, and is often referred to as the "investor fear gauge." Our own interpretation is highlighted in the chart above. The VIX measures the level of put option activity over a 30-day period. Greater buying of put options (protection) causes the index to rise.
Concluding Remarks
Jobless Claims, Philly Fed and Housing Starts are on tap for Thursday. In addition, earnings from Citigroup and Bank of America will be much watched.
Disclaimer: The ETF Digest maintains an active ETF trading portfolio and a wide selection of ETFs away from portfolios in an independent listing. Current "trading" positions in active portfolios, if any, are embedded within charts: Lazy & Hedged Lazy Portfolios maintain the follow positions: VT, MGV, BND, BSV, VGT, VWO, VNO, IAU, DJCI, DJP, VMBS, VIG, ILF, EWA, IEV, EWC, EWJ, EWG, & EWU.
The charts and comments are only the author's view of market activity and aren't recommendations to buy or sell any security. Market sectors and related ETFs are selected based on his opinion as to their importance in providing the viewer a comprehensive summary of market conditions for the featured period. Chart annotations aren't predictive of any future market action rather, they only demonstrate the author's opinion as to a range of possibilities going forward.
Disclosure: I have no positions in any stocks mentioned, and no plans to initiate any positions within the next 72 hours. I wrote this article myself, and it expresses my own opinions. I am not receiving compensation for it. I have no business relationship with any company whose stock is mentioned in this article.