Several months ago, we profiled JPMorgan (NYSE:JPM) and highlighted the fact that the intrinsic value was reasonably higher than the stock value at the time, which had been reduced due to the hangover effects from the "London Whale." On January 16th, JPM once again reported record earnings that highlight the vastly improved competitive position of the company. Since news of the "whale " broke, the stock price has recovered from the low 30s, but in my estimation, JPM still offers a fairly attractive investment opportunity that should be bought on any pullbacks. It takes adversity to truly gauge skill level, and while the CIO problems likely should have been avoided in hindsight, Jamie Dimon's restructuring of the company in response to the dramatic losses has been quite strong. He cleaned out management and improved processes, while ultimately understanding that he is accountable for the problem. Just about every one of JPMorgan's businesses is growing and winning market share, and while issues such as a potential slowing of refinancing activity and low interest margins are headwinds, any economic tailwinds that could emerge would have an incredible impact on JPMorgan's financial performance.
JPMorgan reported 4th quarter net income of $5.7 billion, and earnings per share of $1.39 on $24.4 billion of revenue. Full year 2012 net income was an astounding $21.3 billion, and earnings per share were $5.20 on $99.9 billion of revenue. This is despite the roughly $6 billion in losses associated with the "London Whale" and the relatively anemic global economic environment, which was a staple of 2012. The impact of mortgage litigation and the non-economic DVA hurt 4th quarter earnings per share by $0.23, while a tax benefit and a reduction in mortgage loan loss reserves helped earnings per share by $0.27. Capital continues to build at the banks and JPMorgan in particular, as the Basel I Tier 1 common ratio now sits at 11%, or $140 billion. The company estimates its Basel III Tier 1 common to be 8.7%, or $144 billion. JPM is targeting finishing 2013 above the 9.5% Basel III common ratio, which should provide the company with much more flexibility on how it manages capital. When you factor the robust capital structure with the $20-25 billion in normalize after-tax earnings power, it is tough to imagine an event that would significantly impair the company in the near future.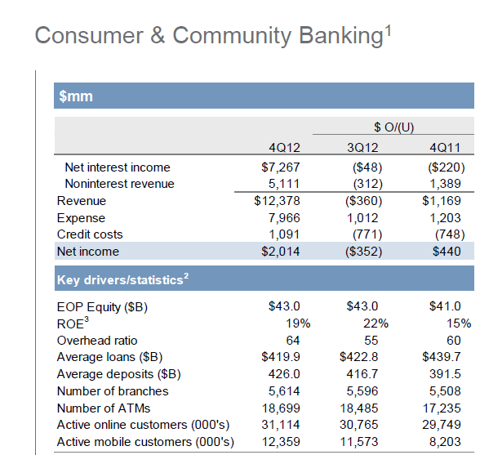 4th Quarter JPM Earnings Presentation
Consumer & Community Banking generated net income of $2.014 billion, which was up YoY, but down sequentially. The overhead ratio was impacted by some extraneous costs, but strong deposit growth should augur well for future performance.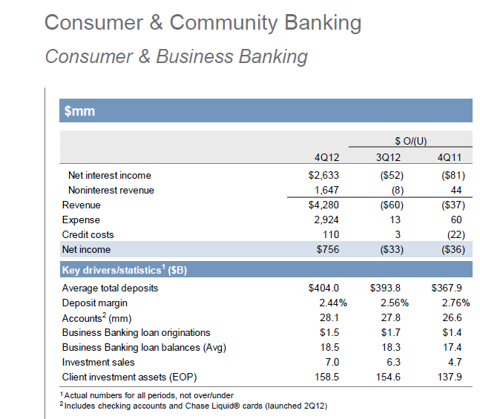 4th Quarter JPM Earnings Presentation
Consumer & Business Banking was down slightly YoY and sequentially, largely due to reduced deposit margins. Any improvement in the yield curve would have a nice benefit, and the company continues to pick up accounts and improve its cross-selling of investments.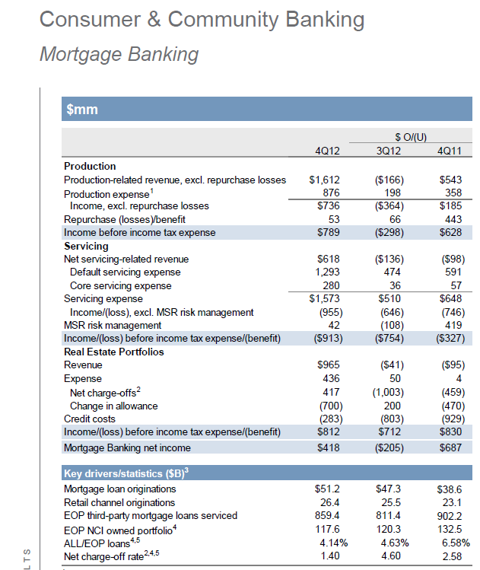 4th Quarter JPM Earnings Presentation
Mortgage banking net income of $418MM was down sequentially, but up YoY. Production and margins have been outstanding and are likely to trend lower after the refinancing boom, but decreases in both litigation and servicing costs should help to offset that. This quarter was heavily impacted by litigation charges.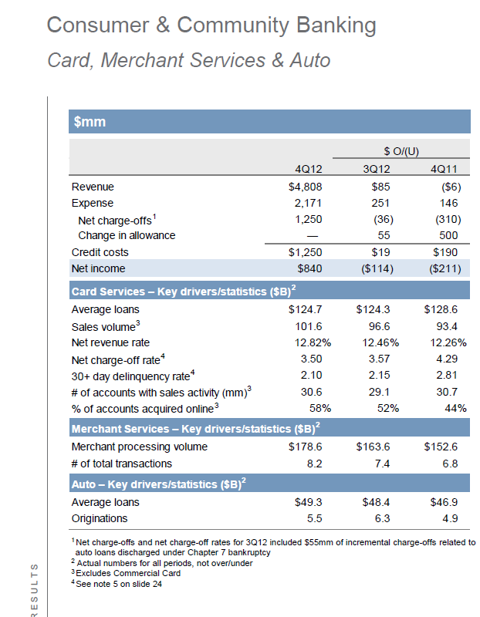 4th Quarter JPM Earnings Presentation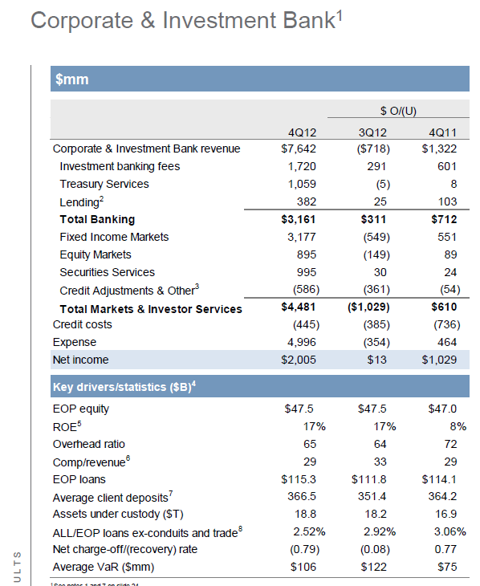 4th Quarter JPM Earnings Presentation
The investment bank is really gaining momentum, especially when contrasted with the horrible environment in the 4th quarter of 2011. JPM has picked up market share in just about all of its businesses. I believe there is huge upside in investment banking if the global economy shows some increased confidence and performance. At some point this will occur, and JPM's investment bank's true earnings power will be unleashed. A 2012 ROE of 17% is certainly not bad when you consider the headwinds the company faced, and in my opinion, is reflective of decreased competition after the "Great Recession" eliminated several of the larger players.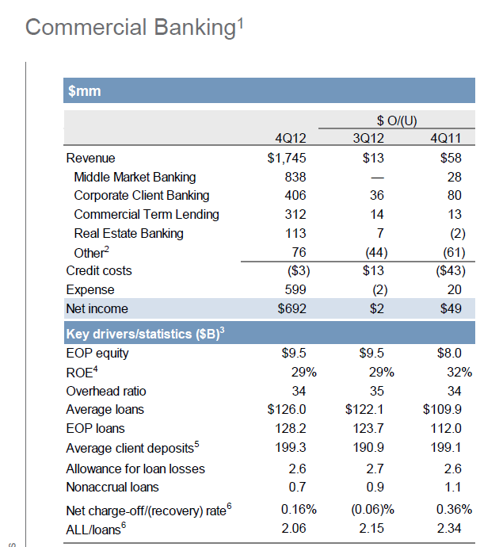 4th Quarter JPM Earnings Presentation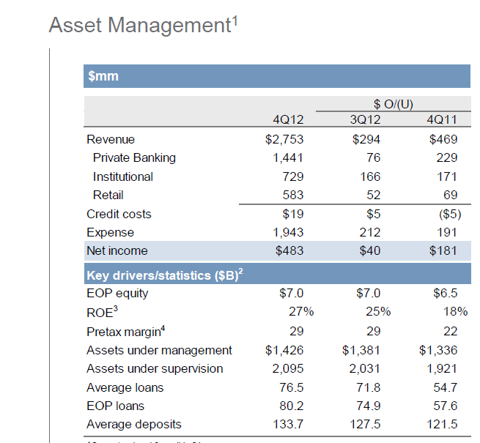 4th Quarter JPM Earnings Presentation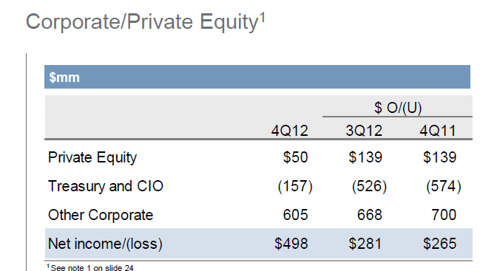 4th Quarter JPM Earnings Presentation
JPM's return on equity for 2012 was a reasonable 11%, while the return on tangible equity was a solid 15%. Once again, these numbers are after the impact of the CIO losses, so I don't believe it takes heroic assumptions to forecast a 13% and 17% ROE and ROTCE, respectively, without those charges. Credit trends have been improving dramatically for the last 3 years, and while most of the easy reverses to provisioning have been taken, improvements in the mortgage market could reverse $2-$2.5 billion in credit reserves moving forward, according to Jamie Dimon. Firm-wide, total credit reserves were $22.6 billion at the end of the quarter, which equates to loan loss coverage of 2.43%. This should be ample given the high quality underwriting at this point in the credit cycle, and the expected improvements in housing prices.
Credit card quality is excellent and likely doesn't have much upside from a credit perspective, but improvements in consumer spending and the general economy could bolster origination volume. While companies such as Bank of America (NYSE:BAC) and Citigroup (NYSE:C) have pulled back somewhat from retail branches, JPMorgan has continued to grow its footprint, particularly in California, where it was strengthened materially after the Washington Mutual acquisition. The branches provide the company with a competitive advantage with consumers and small businesses, and the impact is evident as JPMorgan is picking up market share in mortgages where it is now 2nd in terms of origination, and credit cards where it is 1st. The investment management business is also bolstered by increased cross-selling, which has been a real emphasis for the company.
Year-over-year tangible book value per share has grown from $33.69 to $38.79. If the company was able to grow tangible book value by 15% a share over the next 3 years, tangible book value would grow to $58.98. I'm not predicting that they will do so, because it is difficult to forecast for dividends and stock buybacks in this regulatory environment, but the power of compounding is immense and JPMorgan's business momentum should lead to outsized financial returns relative to the competition. The company has a global liquidity reserved of $91 billion, and deposits grew a phenomenal 10% to $1.2 trillion, leaving ample room for net interest income growth when the yield curve improves.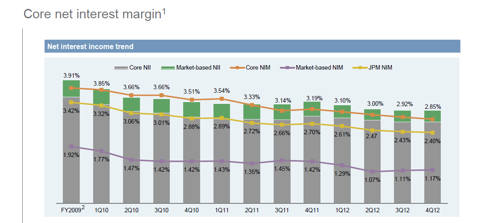 4th Quarter JPM Earnings Presentation
Despite the net interest margin declining by 7 bps from the 3rd quarter, net interest income was actually up. This is reflective of the strong deposit growth. If the banks and JPM can hold on to the majority of these deposits when the yield curve improves, this would bring huge upside to the company's core earnings power. Analysts are fixated on declining net interest margins and are paranoid about the potential for mortgage refinancing activity to slow down, and they aren't realizing that once the economy actually starts progressing at a reasonable rate, the company's earnings will be considerably higher. Earnings growth, combined with a fortress balance sheet, should most definitely lead to a valuation adjustment. Currently, JPMorgan is reasonably valued relative to its peers, but from an absolute valuation basis, it is still too cheap. I'd suggest selling puts on the stock and buying on dips. Instead of focusing exclusively on current tangible book value as a proxy, I believe one needs to take into consideration the large market share gains and the decreasing fixed cost structure that should emerge more clearly in 2013 and 2014. When the smoke clears and the litigation problems become a thing of the past, I believe JPM's stock could trade upwards of $55-60 a share within 2-3 years.
Disclosure: I am long JPM, C, BAC. I wrote this article myself, and it expresses my own opinions. I am not receiving compensation for it (other than from Seeking Alpha). I have no business relationship with any company whose stock is mentioned in this article.