Long: United Dominion Realty (NYSE:UDR)

Basis for Recommendation:
UDR should continue to benefit from its strong corporate strategy, which has been hyper-focused on shedding assets in lower rent, homeowner friendly markets. UDR's strategic focus is on markets with attractive multi-family fundamentals such as Boston, New York (lower Manhattan) and Washington D.C.; all of which are characterized by above average job growth, low single-family home affordability and limited, new supply for multifamily housing supply.
I believe UDR offers stability and diversification with high occupancy and a high average rent per unit, and great opportunities for growth The company's strong core portfolio provides a solid base for re-development in high barrier markets. I believe re-development in these markets will add value and propel growth through future rent increases.
Additionally, the company will benefit from external growth through development and strategic joint ventures in strong markets such as Metro Boston, where cap rates for UDR's 100Pier 4 development (98% interest) are in the mid 4.4% range.

The company has increased its dividend five years in a row, currently paying $.22 per quarter and $.88 annually (a 3.57% yield). The company's most recent dividend increase occurred on April 30, 2012, increasing from $ .215 to $.22 per share, quarterly. United Dominion Realty is currently trading at a -3.83% discount to its NAV per share.
UDR has produced moderately paced, positive earnings this past year, with a trailing twelve month FFO growth rate of 12.40% and same store NOI growth on 6.10%

The company has maintained reasonable debt levels, with a total deb/market cap of 33.4%, well below the sector average.

Corporate Strategy, Strong Focus on Core Markets
With over $83m in cash, the company's two-year plan to generate internal and external growth through re-development and development is a feasible strategy. The company (UDR, Inc.) has a 98% interest in its operating partnership, United Dominion Realty L.P., which operates alongside UDR Inc.
In July 2012, UDR sold 15 apartment communities with nearly 5,000 apartments in Richmond, Virginia; Jacksonville Florida; Dallas, Texas; and Phoenix, Arizona for an aggregate $447m. Additionally, UDR sold a 9 property multifamily portfolio, consisting of over 3,187 units for an aggregate $297.7m. These dispositions are part of UDR's core strategy to develop and redevelop its portfolio in core markets.
UDR has done an excellent job at reducing its debt over the past two years, and has a healthy maturity schedule, which is not top heavy to present.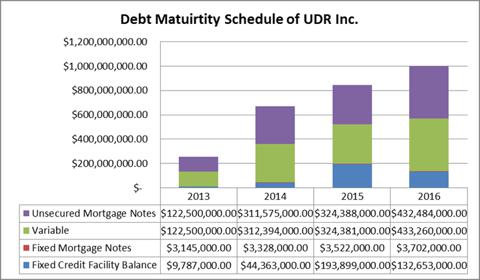 During the nine months ended September 30, 2012, the company completed the redemption of all outstanding shares of its 6.75% Series G Cumulative Redeemable Preferred Stock. A total of 3,264,362 shares of the Series G preferred shares were redeemed at a redemption price of $25 per share in cash, plus accrued and unpaid dividends to the redemption date for a total cost of $82.1m. UDR has currently has $47m in 8.0% Series G convertible preferred stock outstanding. The par value of the convertible stock is $16.60, the company notes that if the convertible preferred stock were converted to common stock:
[T]he additional shares of common stock outstanding for the three and nine months ended September 30, 2012 and 2011 would be 3,035,548 weighted average common shares.
In addition to closing on preferred shares and reducing debt, on June 4, 2012, UDR closed a public offering of 19,000,000 shares of its common stock, including 2,850,000 shares sold as a result of the underwriters' exercise. The stock was issued at $25.70 per share, with gross proceeds totaling $561.5 million and net proceeds of approximately $538.8 million. According to the company:
Proceeds from the sale of shares through this offering were used to repay approximately $363.9 million of the Company's 3.3% (weighted average interest rate) secured debt with various maturities from 2012 - 2014, to redeem all of its outstanding Series G Preferred Stock, to repay a portion of indebtedness outstanding under its unsecured credit facility, and the balance for working capital and general corporate purposes.
UDR's strategic focus towards markets with attractive multi-family fundamentals, such as Boston, New York (lower Manhattan) and Washington D.C. -- markets characterized by above average job growth, low single-family home affordability and limited, new supply for multifamily housing -- now make up 43% of UDR's NOI.
Collectively, UDR's core markets, including Washington State and Southern California (36% of NOI), comprise 75% of its total NOI (based on Q3 mid-period presentation). Maintaining an increasing presence in these markets has allowed UDR to maintain a 3-year average occupancy level of 95.5%.
UDR defines its core markets as Seattle, San Francisco Bay Area, Orange County, San Diego, Austin, Dallas, Boston, New York (Manhattan), Baltimore/Washington D.C. area, and Philadelphia.
The Case for Strategic Growth in Strong Markets
Amidst an uncertain, oscillating housing recovery, I believe it is going to important to choose REITs with portfolio concentrations in markets characterized by low housing affordability, high barriers of entry and consistent rental occupancy.
As I pointed out in a previous article (here), I believe the genesis for the sharp decline in multi-family REITs following the September announcement of QE3 was, in part, due to the massive influx of housing permits following the announcement. An increase in housing permits is an indication of a future increase in housing supply, and may have spooked some investors. During September, the number of housing permits was 45% over the U.S. Census Bureau's estimates.
Reconciling this information by region, the Northeast and West exhibited the lowest increases in housing permits: 1.28% and 23.61%, respectively. Compared to the Midwest's increase of 54.9% and the Southern market increase of 56.44%, this is a substantial difference.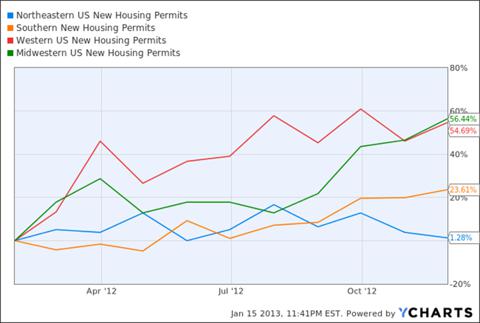 The Northeast and West remain the weakest on the U.S. Census Bureau's monthly estimate of pending homes sales for 2012, with the most pronounced increases occurring in the South and Midwest:

While the Northeast and West remain the lowest in terms of pending sales on a monthly basis, they remain the most expensive places to live, with high rents supported by high housing costs [chart below reflects quarterly rental rates, and home prices by region-2008-2012(Q3)]: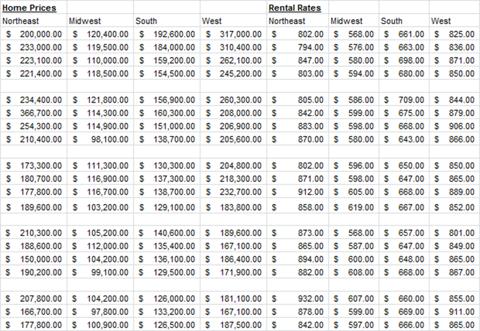 Historically, higher rents in the West and Northeast have been constant; the chart below illustrates 3-year average rental rates of the 4 regions reported by the U.S. Census Bureau: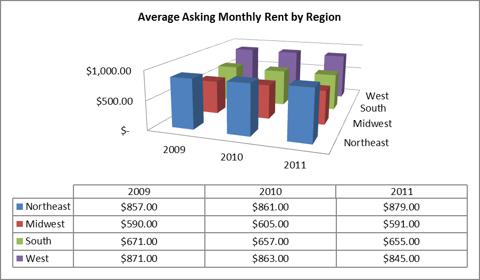 The chart below illustrates the fact that the average rent of 2012, on a trailing twelve month basis (Q1-Q4/4) increased to $874 in the West, a 3.33% increase and $883.5 in the Northeast, and a 4.4% increase over 2011. The South and Midwest saw much lower increases, with an average increase of $665.75, a 1.7% increase in the South and $602 in the Midwest, a 1.8% increase.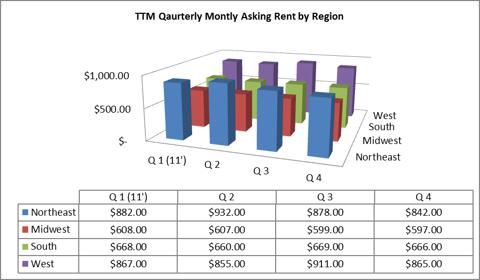 How UDR Stacks Up Against Competitive Regional Players
On the regional level, the Northeast and West have the most attractive fundamentals. REITs such as UDR, Avalon Bay (NYSE:AVB), Essex Properties (NYSE:ESS) and Equity Residential (NYSE:EQR) top the list, with all 4 REITs maintaining the highest concentrations in the strongest regional markets: the West and Northeast.
From my own observations, back tested against the observations of analysts -- JPMorgan (NYSE:JPM), Bank of American Merrill Lynch (NYSE:BAC) and Green Street Advisors -- the following REITs have the largest portfolios of high quality institutional assets:
Company
Avalon Bay
Equity Residential
United Dominion Realty
Essex Property Trust
The REITs listed above have maintained a 3-year average occupancy above 95% and have the highest average rent per unit in the multi-family sector. However, not all of these REITs are currently trading at a discount. UDR, at its current price, seems to be an attractive bargain at the moment.

Equity Residential is a close second, and I will detail my view on the company in my next article, with a particular focus on the acquisition of Archstone. You will notice in the chart above that Equity Residential has a "TBD" dividend yield. Equity Residential declared a $0.7675 per share for shareholder of record on December 21st, paid on January 11th. This dividend will bring the total paid for the year to $1.78 per share, a 12.7% increase over 2011. In 2013, Equity Residential has declared it will pay .44 cents per share for the first 3 quarters of 2013. The 4th quarter dividend will be based on 65% of the company's FFO. So, there remains a certain level of uncertainty what the exact yield will be in 2013.
UDR's Fundamentals Lag Some Non-Regional Competitors
UDR's FFO multiple (TTM), FFO/per share growth and dividend yield lag several competitors:

However, UDR has the highest rent per unit, and a narrow concentration in the West and Northeast. The chart below illustrates UDR's strategic portfolio, with the Northeast and West accounting for 43% and 36% of its NOI, respectively: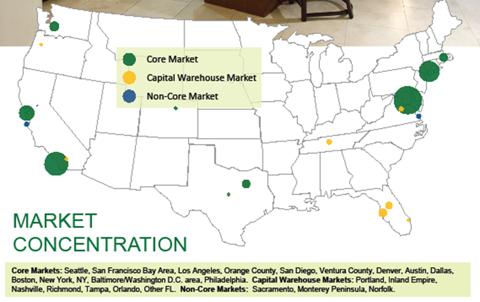 The REITs in the comparative table listed above: Associated Estates (NYSE:AEC), Mid-American Apartments (NYSE:MAA), Home Properties (NYSE:HME) and Apartment Investment Management (NYSE:AIV), have many differences and unique characteristics. While Associated Estates has a strong presence in the Northeast market (amongst the listed competitors), minus New York and Boston, Associated Estates' revenue per unit is far below that of UDR. Associated Estates has a high concentration in regional sub-markets, leaving it with an average same store revenue per unit of $1,053, compared to UDR Inc.'s total average of $1,402 per unit, including UDR's operating partnership, United Dominion Realty L.P. (65 communities) of $1,508 ( all based on third quarter operating results).
Amongst its smaller competitors, only Home Properties has comparable revenue per unit, averaging around $1,489 for same store properties. However, the quality of Home Properties assets, many of which consist of garden style homes, is below that of UDR, and exhibits higher cap rates.
Factoring in UDR's total redevelopment pipeline of 2, 585 homes with 34% completion in 2013 and 66% in 2014 (Metro Washington D.C., New York, Southern California), I expect UDR's same store rental rates to increase in 2013-2014.
Additionally, Associated Estates and Home Properties have no presence on the West Coast, a regional market I believe diversifies UDR's portfolio.
My statements regarding regional portfolio do not intend to discount the stellar operating history of many of the REITs above. Each competitor, besides Apartment Investment Management, has maintained a 3-year average occupancy rate of 95%. However, I believe the combination of UDR's development and re-development pipeline offer more growth potential. Additionally, I believe the concentration of UDR's portfolio in both the West and Northeast offers considerable value via diversification.
Compared to the smaller competitors listed above, UDR has a robust development pipeline: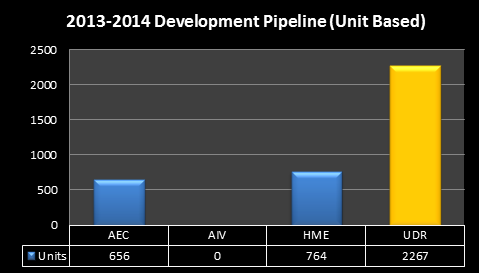 UDR's combined development pipeline of 2,267 homes with 64% of its completion due in 2013 offers great near-term growth opportunity. At an estimated cost of 747m, UDR's pipeline includes developments in Metro Washington D.C., Dallas, Southern California and San Francisco.
The company's joint ventures comprise $3.7b in total multi-family communities with various interests. UDR estimates the pipeline will add $1b in accretive NAV via development and redevelopment through 2014. Company estimates regarding the book value of UDR's joint ventures are within 453,283m.
Joint Ventures of Interest
Amongst its most promising developments, UDR has a 98% interest in 100 Pier 4 in Boston's Seaport (rendering pictured below).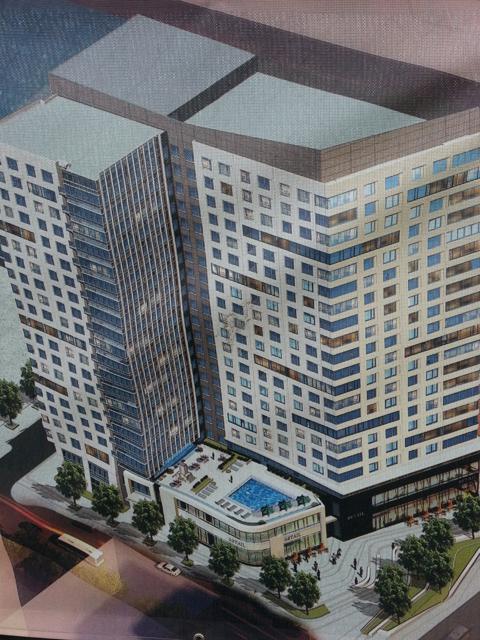 UDR entered into an agreement in May 2012, with the Hanover Company, an unrelated third party to develop a 395 unit multi-family building overlooking the water. Rents in the area currently average $3.70-3.90 psf. The total cost of the project, estimated at $195m, should add considerable value to UDR's portfolio.
Boston's Seaport is among the most thriving urban development areas in the country. Vertex Pharmaceuticals (NASDAQ:VRTX) will be re-locating its entire corporate campus to Fan Pier, directly adjacent to 100 Pier 4. The addition of Vertex will add 500 new jobs to the area. The Seaport currently has 20,000,000 square feet under development, with only 1 multi-family development currently under operation (465 units). Park Lane, the Seaport's only operational multi-family development, has an average 98% occupancy, and was sold to JPMorgan in 2010 at a cap rate of 4.4% (developed in 2005). 2013-2014 will see the addition of Waterside Place, developed by the Drew Company, and 100 Pier 4, by UDR, adding a total of 690 units.
Conclusion
2012 became somewhat of a letdown for multi-family REITs. The announcement of quantitative easing, or QE3, the Federal Reserve's agency MBS buying program, seemed to have temporarily discouraged confidence in multi-family REITs and bolstered hope for homebuilding equities.
The year-to-date return of the broader MSCI REIT Index, reached its peak on September 14th with a 16.84% gain, only to plummet 9.3% after what could I perceived as a reaction to the Federal Reserve's announcement of a third round of quantitative easing (9/13). Subsequently, the total return for multi-family REITs was de-railed. The FTSE NAREIT Residential Index (NYSEARCA:REM) ended with a 6.39% return, which vastly underperformed the return of the broader MSCI REIT index (RMZ) at 12.65%.
The curious case of 2012 may have left a sour after taste for many investors, however, macro level multi-family fundamentals remain strong, especially in certain regions. For instance, the U.S. rental vacancy rate for 5+ unit buildings dropped from 8.6% to 8.1% (9/30/12) in 2012.
The downward spiral of multi-family REITs has subsequently reversed. The FTSE NAREIT Residential Index has returned to a price of $49.88, topping 2012's high of $49.63. While the market segment index has surpassed recovery, there are still some bargains trading at a discount their NAV. My current favorites: United Dominion Realty, Avalon Bay and Equity Residential have yet to return to their 2012 highs, and are currently trading at discounts (depending on the trading day) to their Net Asset Value (NAV) per share. These companies have strong fundamentals, and more importantly, have a strong history of occupancy, with assets in strong, low homeownership markets.
In conclusion, I believe UDR's corporate strategy, regional diversification, development pipeline and JV interest represent a great growth and deep value opportunity.
Sources: SNL Financial, UDR Inc. Fall 2012 Prospectus, UDR Inc. Q3 2012 Report
Disclosure: I have no positions in any stocks mentioned, however, I may initiate a position in UDR by Tuesday, January 22. I wrote this article myself, and it expresses my own opinions. I am not receiving compensation for it (other than from Seeking Alpha). I have no business relationship with any company whose stock is mentioned in this article.