Last week I wrote this article about Boeing (NYSE:BA). The stock was dropping because of the issues that the new 787 "Dreamliner" plane had been facing. Traders took advantage of the drop in price to send the shares right back up when the company said that the problems were not unusual.
Today we learned that the largest fleets on the 787 have been sidelined:
"All Nippon Airways and Japan Airlines Co., two big, loyal Boeing customers, grounded all of their 787 Dreamliners Wednesday following yet another disturbing problem with the new aircraft."
In concert with this announcement, the stock took another drubbing today and is now seemingly at a price that makes it a very attractive addition to the "Team Alpha" retirement portfolio. BUT, hang on folks!
Now, the FAA has taken action as well:
"As a result of an in-flight, Boeing 787 battery incident earlier today in Japan, the FAA will issue an emergency airworthiness directive (AD) to address a potential battery fire risk in the 787 and require operators to temporarily cease operations. Before further flight, operators of U.S.-registered, Boeing 787 aircraft must demonstrate to the Federal Aviation Administration (NYSEARCA:FAA) that the batteries are safe."
To me, this seems like a buying opportunity for Team Alpha.
Our Team Alpha portfolio now consists of McDonald's (NYSE:MCD), Exxon Mobil (NYSE:XOM), Johnson & Johnson (NYSE:JNJ), AT&T (NYSE:T), General Electric (NYSE:GE), BlackRock Kelso Capital (NASDAQ:BKCC), KKR Financial (KFN), Procter & Gamble (NYSE:PG), CSX Corp. (NYSE:CSX), Realty Income (NYSE:O), Coca-Cola (NYSE:KO), Linn Co, LLC (LNCO), Wal-Mart (NYSE:WMT), Cisco (NASDAQ:CSCO), Bristol-Myers Squibb (NYSE:BMY), Healthcare Select Sector SPDR (NYSEARCA:XLV), General Dynamics (NYSE:GD), and iShares S&P U.S. Preferred Stock Index Fund (NYSEARCA:PFF).
Adding A Broken Stock, Not A Broken Company
Boeing has been a wonderful company, as well as a great stock for many, many years. The issues that this new plane is facing will not be the death knell of the entire company. While it is disconcerting, Boeing will survive and thrive and eventually fix the issues that the 787 is having.
Now that the FAA has grounded the entire fleet of 787's, adding this stock at discount prices could be advantageous to income seeking investors.
I can see another 5-10% drop in the share price based on today's news.
While a 5% drop is not that stunning, another 5-10% drop would place the share price at between $66.00 to $71.00 share
Owning shares of BA at $67.00/share will give our portfolio another dividend winning mega cap blue chip stock with a yield of almost 3%. Given the recent track record of dividend increases by Boeing, owning this stock for the retirement portfolio makes plenty of sense.
BA might have missed a few increases but their performance has been stellar, not to mention their basic fundamentals:
1) Enterprise value of $56 billion makes this company one of the largest in the world.
2) Total cash available is over $11 billion.
3) YOY revenue growth of about 12.90% and an anticipated dip in YOY earnings of 6%, due mainly to the entry price sales of the new 787, actually beat analysts estimates last quarter.
4) A very strong dividend growth track record with a low payout ratio of 30%.
5) A modest P/E of 14.99 for 2013.
Nothing is risk free as we know, and now that the 787 is completely grounded, there will be a cost overhang for Boeing going into the next earnings season. That being said, the 787 is too huge a project with too many global partners, for the issues not to be addressed.
I expect a very quick and precise response from Boeing. The Global footprint and impact is too great a risk not to. I outlined that in the first article noted above. Here is a chart of the global partners: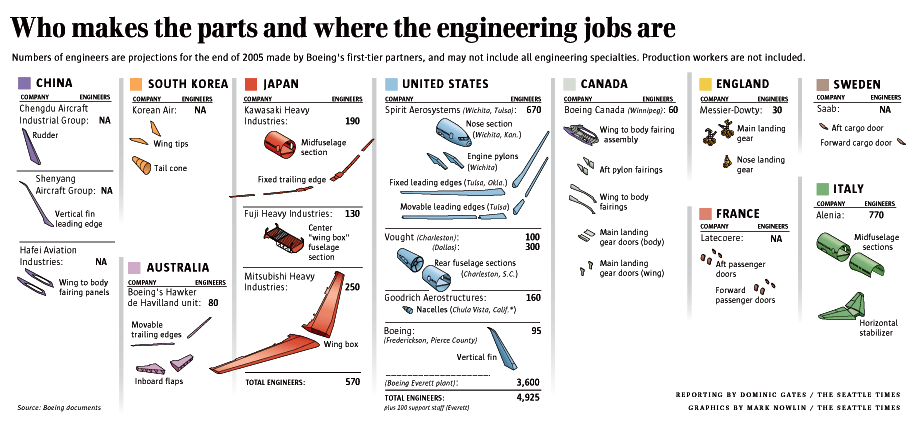 Watching this stock for further share price erosion will create a strong buying opportunity.
The Bottom Line
Owning shares of Boeing, at a reduced share price, appears to be an opportunity for long term investors seeking income with some potential for capital appreciation. This stock could become an accidental high yielder, which in turn could bring investors back in, and move the share price higher.
Do your own research of course, and do not buy or sell any equity based on the opinions written here.
Disclosure: I am long XOM, JNJ, GE, T, WMT, GD, KO, O, BMY, CSCO, BKCC, KFN, XLV, PFF, LNCO, MCD. I wrote this article myself, and it expresses my own opinions. I am not receiving compensation for it (other than from Seeking Alpha). I have no business relationship with any company whose stock is mentioned in this article.