"Now this is not the end. It is not even the beginning of the end. But it is, perhaps, the end of the beginning." - Winston Churchill
There has been a lot of excitement and hype over Japan's markets in recent weeks as Prime Minister Shinzo Abe pushes for aggressive stimulus to return the country back to its glory days and battle deflation. The yen (NYSEARCA:FXY) has taken a beating, pushing exporter stock prices higher given the direct benefit to revenue currency devaluation can have.
Historically, the yen has appreciated relative to the U.S. dollar (NYSEARCA:UUP) during risk-off periods, and depreciated when the environment favored risk-taking. That relationship is being questioned in the face of all of the measures being taken and expected to be taken by the fiscal and monetary side of the world's third largest economy.
While a weakening yen in theory is beneficial for Japan from a revenue standpoint in terms of exports, it can be very negative from a cost and margin perspective. Japan is largely dependent upon other countries for its natural resources. That means that it must import commodities, ranging from industrial materials to oil. A weak yen increases the costs of these items, squeezing profit margins and countering some of the beneficial impacts a devalued currency can have on a deflationary environment. In essence, there are no free lunches. Note I am not even addressing the fact that more debt is being taken on by Japan's government as a result.
Take a look below at the price ratio of the Wisdom Tree Japan Total Dividend ETF (NYSEARCA:DXJ), which is currency hedged, relative to the S&P 500 (NYSEARCA:SPY). As a reminder, a rising price ratio means the numerator/DXJ is outperforming (up more/down less) the denominator/SPY.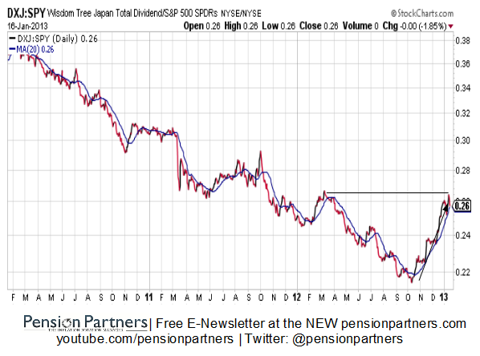 Clearly Japan has been a tremendous laggard over the past three years as the ratio trended lower, hitting a low around mid-October of last year. Since then, Japan has been on fire, sending the ratio back to the 2011 March peak. While the trend has not formally broken, there could be major resistance happening now, particularly given what could be a set up for an oversold bounce in the yen. For those looking to potentially make a bearish bet, watching the behavior of Japan's equity markets in the coming weeks could result in an interesting trade.
Disclosure: I have no positions in any stocks mentioned, and no plans to initiate any positions within the next 72 hours. I wrote this article myself, and it expresses my own opinions. I am not receiving compensation for it (other than from Seeking Alpha). I have no business relationship with any company whose stock is mentioned in this article.
Additional disclosure: This writing is for informational purposes only and does not constitute an offer to sell, a solicitation to buy, or a recommendation regarding any securities transaction, or as an offer to provide advisory or other services by Pension Partners, LLC in any jurisdiction in which such offer, solicitation, purchase or sale would be unlawful under the securities laws of such jurisdiction. The information contained in this writing should not be construed as financial or investment advice on any subject matter. Pension Partners, LLC expressly disclaims all liability in respect to actions taken based on any or all of the information on this writing.