So far this week I wrote about 4 Intelligent REITs I Adore, But Can't Buy Right Now and 4 Intelligent REITs I Can Own Right Now. As I summarized, all 8 of the REITs have demonstrated above average operating fundamentals but the 4 blue-chip REITs - Realty Income (NYSE:O), Federal Realty (NYSE:FRT), Essex Property Trust (NYSE:ESS), and Ventas Inc (NYSE:VTR) - appear to be worth more to Mr. Market than to the intelligent REIT investor. Conversely, CapLease Inc. (NYSE:LSE), Monmouth REIT (NYSE:MNR), Ashford Hospitality Trust (NYSE:AHT), and Omega Healthcare Investors (NYSE:OHI) appear to be price-aligned for buying today.
By utilizing the powerful F.A.S.T. Graph tool, I have been able to measure historical cash flow data - better known as funds from operations (FFO) - to assist me with identifying sound investment opportunities. F.A.S.T. Graphs - what I call the "modern day" margin-of- safety instrument - is a non-human resource that allows me to filter out the best REITs or simply the ones that enjoy the most defensive cash flow attributes. The best thing about this dispassionate risk minimization tool is that I am able to deduce the vetted REIT options with the purely unbiased and non-personal aid of my trusted assistant: FACTUAL DATA.
Now, without factual data, it would be extremely difficult to provide an accurate assessment of facts. Clearly the more input you have, the better decisions you make. So in order to achieve the most favorable results, investors should utilize all of the available resources to filter out the most disadvantageously positioned securities.
But what if the company is a newbie and there isn't much historical data available? Can you still find a "margin of safety" if there is little cash flow history? Or is there simply too much risk to form a valid opinion on valuing a REIT that is less than three years old?
4 New Kids on the Block (That Rock)
My college basketball coach is a lot like Mr. Market. When I was in college (decades ago) I was always trying to get Coach's attention...dribbling, passing, shooting threes, and anything to get playing time (nothing like PT baby!). But I was not the fastest, the biggest, or the smartest. In a nutshell, I was just not experienced.
To be honest, I was a rookie and I was always trying to be "like Mike", "look like Mike", and "think like Mike". But Mike (Jordan that is) is the biggest, baddest, playa' around and he can do anything I can do better.
In REIT-dom Realty Income and Ventas are the big boys and Mr. Market is paying them a lot of attention (especially of late). These stalwart contenders are high scorers daily and their skills make them appear virtually invincible. As I have experienced firsthand, the rookies just don't get much attention and Coach hasn't placed a lot of emphasis on my skills.
So what about the "new kids on the block"? Are there any potential Kobe's or LeBron's waiting to get in the game? Will Mr. Market give them a chance? Let's check out the stats. Better yet, let's see what Coach F.A.S.T. Graphs has to say.
Last year, I was scouting the REIT-dom and I landed upon a west coast REIT, Excel Realty (NYSE:EXL). While researching an article (Excel Trust's Innovative Strategy Should Generate 20% Annual Returns) I quickly observed that the newly formed shopping center REIT (organized on December 15, 2009 and completed its initial common stock offering on April 28, 2010) had game. What really caught my eye was that the players weren't young kids but many of the talent was "old school".
Many of the executives at Excel were assembled during the time in which the company's Chairman, Gary Sabin, launched Excel Realty Trust (not to be confused with the original Excel Trust). Sabin's career goes back over three decades (1978) and his successful track record is a strong indicator of the potential for the new team.
Since the IPO (initial proceeds of $194.6 million), Excel has ramped up to over $1 billion of assets. The current common shares are trading at $12.38 with a market cap of around $553 million. As the stats indicate below, Mr. Market thinks Excel Trust is undervalued (P/FFO of 16.1) and the free-throw shooting looks darn good - dividend yield is 5.25%.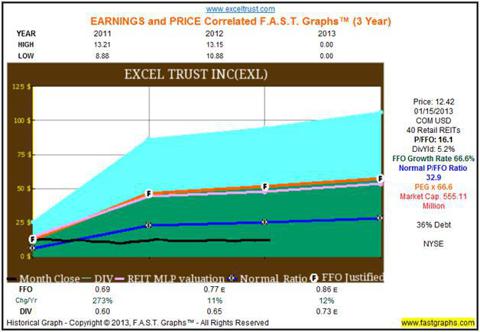 Now, the sometimes underappreciated players can turn into all stars. Recognizing Excel's high-quality management team (including President, Spencer Plumb and CIO, Mark Burton) and sharp shooting acquisition skills, I expect that Excel's talent will become more obvious in 2013 - especially as the bigger banks start to scout the team. As the snapshot below illustrates, Mr. Market doesn't see the growth potential (yet) but this tells me that it could be a good time to consider this "new kid on the block".

My Excel Trust Target: The dividend is good (5.25%) and well-covered (FFO payout 90%). I like the potential (management team) and I will add a limited quantity (1.5%) of shares ($12.38) in my small-cap composition (limited to 20% of small caps in the SALSA Portfolio).
Now, I really like the Lakers and I really, really like the offensive skills of Kobe Bryant. However, there is another west coast offensive threat headquartered in San Diego: Retail Opportunity Investment Corporation (NASDAQ:ROIC). I scouted the team a few months back when I wrote an article (Make My Day' With A Low-Leveraged Sharp Shooting West Coast REIT):
Well the stars have lined up perfectly for ROIC, and the West Coast "sharp-shooting" REIT should "make the day" for any shareholder or potential investor. There appears to be considerable growth ahead for ROIC as Stuart Tanz (and his veteran gunslingers) has made great strides in building a West Coast shopping center portfolio differentiated by focused high-quality value-add opportunities.
Like Excel Trust (mentioned above), ROIC has also blossomed into a $1 billion REIT where the company focuses on value-add retail in the three states of California, Oregon, and Washington. Mr. Market must be looking at the young team as the shares have climbed around 7% over the past 60 days.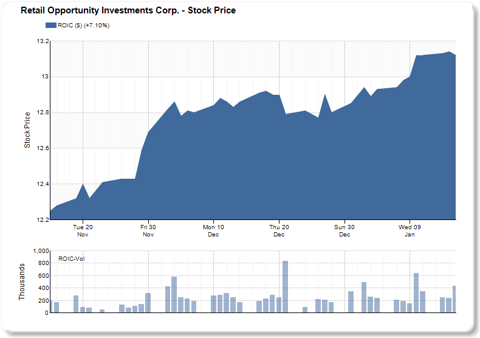 ROIC is led by veteran CEO Stuart Tanz who played ball at another all-star team known as Pan Pacific Retail Properties, Inc. At PPRP, Tanz (as Chairman and CEO) and company grew from $447 million to over $4 billion where he was responsible for acquiring around $2 billion of retail assets (18 million square feet) from 1997 - 2006.
So with the new team Tanz grew from a "blank check" IPO with $400 million in cash (in 2010) to assets in excess of $1 billion and plenty of room to grow. Today ROIC shares are trading at $13.12 with a market cap of around $694 million. As Mr. Market has determined (below), ROIC is another underappreciated rookie with a growth chart that looks like Shaq when he was in ninth grade.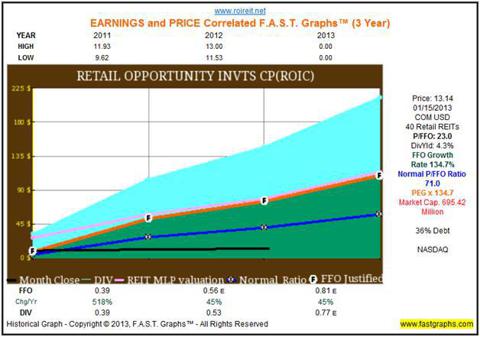 ROIC's three year performance stats are solid: Total annualized ROR of 18.7% compared with the S&P 500 at 10.4%. This tells me that ROIC is headed to the big leagues and there is plenty of playing time for the west coast team to score points.

My ROIC Target: The dividend is good (4.27%) and with plenty of room to grow. I like the potential (management team) and I will add a limited quantity (1.5%) of shares ($12.38) in my small-cap composition (limited to 20% of small caps in the SALSA Portfolio).
This past summer (June 2012) I wrote a scouting report on Healthcare Trust of America (NYSE:HTA). At that time, the "pure play" Medical Office Building (MOB) REIT was converting from a non-traded REIT to a publicly-listed REIT. In the article (Healthcare Trust Of America: Breaching Liquidity And Transparency By Going Public) I explained:
By tapping the public markets, HTA's current investors will be able to access targeted full-cycle liquidity while also achieving full investor confidence in an industry that is perceived to be less main-stream. This is a significant milestone for the sponsor as well as the REIT industry as bad news has plagued several non-traded REIT sponsors like Apple REIT (see Michael Terry's article here), Inland Group, Behringer Harvard, and others.
Like all non-traded REITs, HTA started out with very little institutional support as non-traded REITs are made up of accredited retail investors. Conversely, Mr. Market has paid little attention to the team as the institutions have not had a chance to see what skills exist for the "ballers" from Scottsdale. But recently, as I reported on The Street:
HTA, considered a new kid, listed as a public REIT last year, has begun to carve out a niche in medical office buildings. Just a few days ago Wells Fargo issued an outperform rating on the $2.122 billion (market cap) company with shares trading at $9.90. Wells believes the shares could reach $11.50 (I do too) with a steady and reliable dividend yield of 5.81%.
Now with less than a year of publicly-traded REIT experience, F.A.S.T. Graphs doesn't help me. Instead I rely on other important metrics such as debt ratios (debt to market cap is 32% and just 18% secured debt), S&P rating (BBB-), occupancy (91.1%), P/AFFO (18.1), tenant credit quality, liquidity (undrawn $575 million line), diversification (1,600 leases), among many others. For more due diligence on HTA check out the article here.
What really attracts me to HTA is management. Back in August I interviewed HTA's CEO, Scott Peters and he explained his company's differentiated health care platform:
HTA is focused almost exclusively on the Medical Office Building sector. Within the healthcare sector, medical office is considered to have the lowest risk profile. It has the lowest exposure to government reimbursement. It also is driven by traditional real estate fundamentals and is not dependent upon the success or failures of a single operating company. Additionally it allows us to concentrate all of our efforts on maintaining and building our relationships with health systems and developers in this sector; relationships which are key to our long term success.

This is significantly different than the model of the larger, diversified healthcare REITs you mentioned. Each of these invests in a disparate set of businesses, from skilled nursing and assisted living facilities, to medical office and even life science buildings. HTA is dedicated to only one asset type, medical office buildings.
This HTA ball club will get more popular as the big boys find out the REIT can play at a high level. Sometimes other non-traded REITs struggle to get on the court, but HTA will command more attention as management is dedicated to creating a strong brand based on income and growth.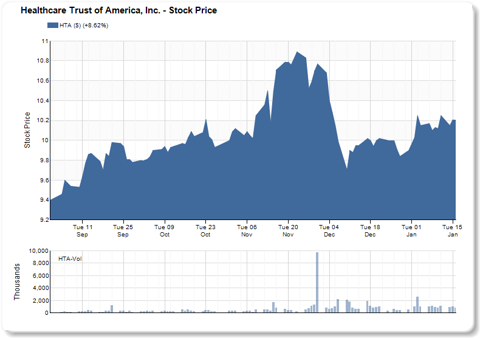 My HTA Target: The dividend is strong (5.63%) and with plenty of room to grow. I like the potential (management team) and I will add around 2% of shares ($10.21) in my SWAN portfolio and around 2% in the SALSA Portfolio.
Back by popular demand. A few days ago, I wrote an article (Somehow There Must Be A REIT That Screams Wow) on STAG Industrial (NYSE:STAG). It is clear to see that the little known REIT from Boston has been running plays like the legendary Celtics legend Larry Bird. In fact, Team STAG hit an all-time high Wednesday with shares trading at $19.27 with a market cap of $796 million.
Taking a look at F.A.S.T. Graphs, STAG has a P/FFO of 16.5 and the black line is showing me that there is still some opportunity ahead. Also, with a steady and growing dividend (5.62%) STAG is beginning to look like it could one day hit some all-time dividend records.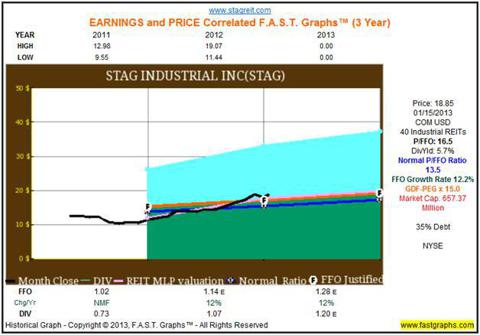 STAG announced Tuesday that the company was issuing another 5 million shares of common stock. That tells me that the squad has an appetite like Shaq and the pipeline for new accretive deals is solid. This is further evidenced by STAG's "almost" bullet proof balance sheet and conservative capital fundamentals will make the durable team a true contender.
Investors should be cheering for STAG. The company has returned an eye-popping 78.57% (year-over-year) and the total annualized ROR (3 year) is 32.7%. This is simply a rock star REIT and it's plain to see that Mr. Market may be calling these boys up to the big leagues real soon.

What You See, Is What You Get
So over the past three days I have researched and analyzed a dozen REITs, all uniquely positioned targets for income investors. As we learned in kindergarten, you have options such as one's too hot, one's too cold, and one's just right.
For me, F.A.S.T. Graph is an excellent tool that has helped me to find the right risk temperature and minimize that risk by vetting the disadvantageously positioned REITs. In other words, helping me to qualify the best picks for my Sleep Well at Night portfolio (as seen in my Forbes newsletter).
Of course, it's impossible to eliminate risk all together; however, by utilizing the margin-of-safety principle, hazardous speculations can be segregated from qualified investment opportunities. That is why intelligent investors can determine the winners and losers before the clock starts ticking. The secret to that success is not "win or loss" on the court…it's simply won by conclusive facts or as Ben Graham explained:
You are neither right nor wrong because the crowd disagrees with you. You are right because the data and reasoning are right.

Source: F.A.S.T. Graphs
Disclosure: I have no positions in any stocks mentioned, and no plans to initiate any positions within the next 72 hours. I wrote this article myself, and it expresses my own opinions. I am not receiving compensation for it (other than from Seeking Alpha). I have no business relationship with any company whose stock is mentioned in this article.