Back in September 2011, I wrote an overview of the LED sector, focusing on four key stocks: SemiLEDs (NASDAQ:LEDS), Cree (NASDAQ:CREE), Veeco Instruments (NASDAQ:VECO), and Aixtron SE (NASDAQ:AIXG). In it, I noted the then-attractive fundamentals at the companies - AIXG and VECO, for instance, both held P/E ratios under 6 - and their contrast with the obvious short-term headwinds facing the industry.
Sixteen months later, much in the industry has changed. As many feared, earnings have in fact decreased, as oversupply from subsidized Chinese competitors created a supply glut and created comparisons to the now-plunging solar industry.
What really hasn't changed are the share prices of the sector's major players. Many have been volatile, but their current prices haven't moved a great deal from their late-2011 ranges:
LED Sector Share Prices
| | | |
| --- | --- | --- |
| Stock | Price 9/26/11 | Price 1/15/13 |
| CREE | $28.80 | $32.18 |
| VECO | $28.55 | $30.06 |
| AIXG | $16.21 | $12.91 |
| LEDS | $4.03 | $0.70 |
SemiLEDs - a tiny player on the scene - has continued its long-term collapse. But the leaders have seen little change in the prices over the last year-plus. All three companies did succumb to the LED supply glut, with earnings dropping sharply, but for the most part, the companies have managed to maintain their profitability (Aixtron will dip into the red this year according to guidance) and keep strong balance sheets (all three companies have 20% or more of their market cap in cash).
Back in 2011, I argued for a "sell" of SemiLEDs, a "buy" of Veeco, and a "hold" on both Aixtron and Cree. With the sector now more mature - but still volatile - the question becomes: where should investors go from here?
We'll start with the easy one. At this point, it's probably not worth shorting LEDS, but it's definitely not worth buying. Yes, the company is trading at a significant discount to cash (greater than 50%) and tangible book value (about 80%). But, to paraphrase Dwight Yoakam, I'll give you "three good reasons for leaving" LEDS alone:
1. This piece I wrote back in April details the bear case. Note that SemiLEDs itself, in its SEC filings, repeatedly argued that its very viability was "significantly dependent" on a successful joint venture in China (known as China SemiLEDs). In Q4, SemiLEDs completely wrote off its investment in that JV, because its partners (all connected to the Chinese government) would not restructure the failing company.
2. In Q1, gross margin was negative 53%; operating margin was negative 131%, due in part to "a decrease in average selling prices." Meanwhile, revenue was down year-over-year by 8%, and GAAP net loss was greater than the company's sales.
3. This: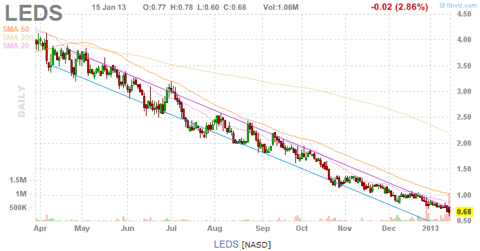 chart courtesy finviz.com
That's not the worst of it; LEDS traded as high as $29.50 soon after its late 2010 IPO, and has dropped straight down pretty much ever since.
For the rest of the industry, the risk/reward profile remains difficult to decipher. Industry executives have repeatedly noted that business is not exactly booming:
"Our principal customers remain hesitant about adding new capacity... given the recent LED pricing decline and consequent margin pressures they are suffering from, as well as their concerns regarding the sustainability of this current strong demand coming from LED backlighting for LCD TVs." - Paul Hyland, CEO of Aixtron on the Q3 conference call.

"The macroeconomic environment continues to be a headwind and continues to make some customers more cautious." - Charles Swoboda, CEO of CREE on the fiscal first quarter conference call.

"We are successfully managing through a tough year. Bookings were weak in all three of our businesses... Q3 bookings represented a perfect storm." - John Peeler, CEO of VECO on its Q3 call.
In short, the near-term headwinds forecast in 2011 have arrived; overcapacity has hurt equipment sales for Veeco and Aixtron, and lowered prices - and margins at Cree, which saw earnings fall sharply in fiscal 2012 (ending June) versus the year prior. These pressures have kept the stocks roughly flat during a period where the S&P 500 has risen over 26%.
In the long term, LEDS would appear to have created a solid niche in products ranging from consumer and commercial lamps to automobile headlights to signage and electronics displays. (The one broad-based risk to the industry would be the emergence of an alternative, such as FIPEL technology or even laser-based lighting. However, neither technology appears to have any near-term chance of commercial availability). But growth forecasts in the industry are projecting rather modest revenue gains: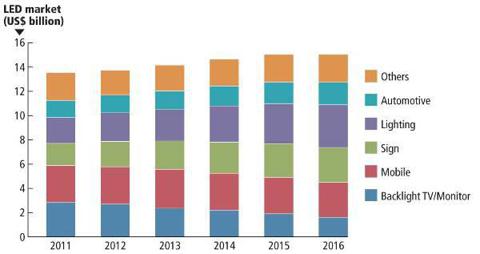 chart from Strategies Unlimited via LEDs Magazine
IMS Research predicts similarly modest growth, with LED shipments expected to begin to decline in 2015, in part because longer-lasting LED light bulbs will substantially lengthen replacement cycles. Overall, increased unit shipments of LED chips look to be undermined by progressively lower selling prices, which one industry venture capitalist estimates may fall 90% by 2015.
In that flat market, there are also worries about share. The massive subsidization of LED equipment in China led to dozens of companies cropping up in the country, across all aspects of the supply chain. On the other side, major players such as General Electric (NYSE:GE) and Osram - soon to be spun off from Siemens (SI) - have their eye on the market. Increased competition will only further pressure selling prices, margins, and profits.
Given all the risks, however, there is still reason for optimism. While showing near-term caution, all three LED suppliers also have repeatedly forecast long-term promise for the business, with Aixtron arguing that Q3 represented a "trough point" in its order cycle. All three stocks remain reasonably valued on a fundamental basis, and still stand a good chance of maintaining market share. China's attempt to commoditize the LED market has been largely unsuccessful; few analysts have argued that the country yet has the ability to match the quality of its American and European counterparts. While the subsidies for equipment in China have expired, a country-wide lighting program is in effect, boosting demand. Efficiency standards were passed in the U.S. despite a political controversy, and in its 10-K Veeco noted similar programs to speed adoption in Japan and Korea.
There are potential rewards here; but given the risks, investors should be cautious not to pay too much for a chance at the sector's upside. That's why my rankings on the three major stocks remain the same as they were nearly a year-and-half ago. Cree is no doubt an industry leader; its purchase of Ruud Lighting in 2011 gave it what the company describes as a "fully integrated vertical model." That model however, entails competing with its own customers in the lighting market.
The larger issue has been margins, a concern at the time of the acquisition. While there has been improvement, it's worth pointing out that in the conference call discussing the Ruud acquisition, CEO Swoboda noted the company's model was to get margins "towards the mid-40s." But in discussing Q2 guidance for non-GAAP margins of 38.5%, Swoboda wouldn't even commit to a target of 40% when questioned by an analyst in the Q&A. He did note that margins had improved for four consecutive quarters, but added "I don't want to make any predictions at this point."
At Tuesday's close of $32.18, Cree is trading at 33 times trailing non-GAAP earnings; even after backing out the company's $7 per share in cash (with no debt), the trailing P/E sits at $26. And yes, the company has posted solid growth; net revenue grew 17% in the fiscal first quarter after 18% growth the year before. But it appears significant growth is priced in. The average estimate for fiscal 2014 earnings, according to Reuters, is $1.65 per share. With no price appreciation, and $2 per share added to the cash balance (based on trailing FCF figures), Cree would still trade at 14 times earnings ex-cash in a maturing industry. Even at the highest estimate of $2.33 per share in FY 14, Cree's enterprise multiple would sit right around 10. Given the projected slowdown in LEDs, particularly lighting, post-2015, Cree's near-term growth could outpace expectations, but multiple compression in the face of a stagnant market in the latter half of the decade could erase those share price gains. And given those estimates, it's hard to see how Cree could reach $50 per share in two years. It would require not only growth that outpaces most, if not all, analyst predictions, and the maintenance of a P/E in the range of 15-20 come 2015. With so many risks facing the sector and the stock - regulatory, economic, technological, and political - the potential rewards for Cree seem limited, and so does the bull case.
For the Western equipment manufacturers, it seems hard to choose Aixtron over Veeco. Both companies have roughly similar market capitalizations ($1.18B for VECO, $1.32B for AIXG), but Veeco's enterprise value is far lower, thanks to the company's over $14 per share in cash. That cash provides a strong downside cushion, as do other facets of Veeco's model, notably its focus on creating a variable cost structure. Veeco outsources many of its functions, including "all or substantially all" of the manufacturing of new MOCVD (metal organic chemical vapor deposition) systems used for manufacturing LED (and other chips). This model has given the company great flexibility; VECO was able to maintain positive operating income even in 2009, when revenue was less than half of its trailing twelve-month sales. In 2010 and 2011, the company earned over $10 per share combined, as sales boomed and Veeco was able to take advantage. In contrast, Aixtron is guiding for a net loss in 2012, and never saw the heights Veeco reached in terms of either net income or free cash flow. Given that Aixtron's enterprise value is roughly two-thirds greater than that of Veeco (about $1 billion versus $600 million), while its sales, earnings, and cash flow are lower, it's difficult to see why an investor would choose Aixtron over Veeco.
Veeco has some risks, notably the fact that the company did not file its 3rd quarter 10-Q on time. In a filing with the SEC, the company asserted that it was attempting to determine when revenue for products that were already paid in full should have been recognized. The issue, thus, should not affect Veeco's past financial statements as a whole; the only change would be the quarter and/or year in which revenue was recognized. Still, the news dropped the stock by nearly 8%, and six weeks later there has been little movement. The company has until next Tuesday to update NASDAQ on the status of the 10-Q.
It seems unlikely that the delayed filing will do anything for Veeco's stock price beyond perhaps a small relief rally. Movement of revenue from the third quarter of 2011 to the first quarter of 2012 should have little effect on the company's valuation. With exposure to a growing industry, a variable-cost model to protect itself from revenue downturns, and a fortress balance sheet with nearly half of its market capitalization in cash, the tiny risk of the filing issue is mitigated by the stock's substantial downside cushion. The LED sector looks to be highly volatile and risky going forward; Veeco remains the lowest-risk way to play it.
Disclosure: I have no positions in any stocks mentioned, and no plans to initiate any positions within the next 72 hours. I wrote this article myself, and it expresses my own opinions. I am not receiving compensation for it (other than from Seeking Alpha). I have no business relationship with any company whose stock is mentioned in this article.