Click to enlargeConocoPhillips (NYSE:COP) has been in the news lately with a couple of bullish developments.
COP Nears Full Bohai Bay Return
The first noteworthy event was a Reuters' report that China's National Development and Reform Commission has approved the development plan for the Penglai 19-3 and Penglai 25-6 oilfields in northern Bohai Bay. Restarting full production will require other official approvals, but this is a necessary hurdle in the process.
ConocoPhillips owns a 49 percent stake in the Bohai Bay oilfields and is the operator. CNOOC Ltd has a 51 percent stake. COP was ordered to halt all operations at the oilfield in September 2011 after failing to stop a leak. Two incidents occurred on June 4 and June 17 that resulted in the release of approximately 700 barrels of oil into Bohai Bay and 2,500 barrels of mineral oil-based drilling mud onto the seabed.
Production from Penglai averaged approximately 56,000 net barrels of crude oil per day in 2010 for COP. Its share of production the day before the spill was 62,000 barrels/day. Conoco gradually resumed output last year, but its share of production was only 45,000 barrels/day at the end of the third quarter.
Conoco Sells Cedar Creek Anticline Properties for $1.05 Billion
Tuesday, COP announced the sale of its Cedar Creek Anticline properties to Denbury Resources (NYSE:DNR) for a billion bucks. That works out to about $12,200/acre.
The Cedar Creek Anticline properties comprise approximately 86,000 net acres in southwestern North Dakota and eastern Montana. ConocoPhillips' 2012 net production from these properties averaged 13,000 boe/d through November.
The sale does not include any of COP's assets in the Bakken Formation where ConocoPhillips owns 626,000 net acres, consisting of 207,000 net lease acres and 419,000 net mineral acres.
Don Walletter, COP executive VP, said:
This disposition represents further optimization of our portfolio. The transaction will allow us to focus our investments in North Dakota and Montana on our significant Bakken unconventional position. We are pleased that Denbury Resources Inc. recognizes the value of these properties."
COP expects to record a net earnings benefit of approximately $120 million after-tax in the fourth quarter of 2012. That works out to about $0.10/share. The transaction is expected to close in the first quarter of 2013.
COP's Q4 2012 earnings are due out after the close on January 30, 2013. The earnings call will take place on January 31 at 9:30 EST.
Including the DNR deal, COP has announced total asset sales of approximately $12 billion since the beginning of 2012. The divestment of these assets is part of ConocoPhillips' plan to increase value for shareholders through portfolio optimization, focused capital investments that deliver growth in production and cash margins, improved returns on capital, and sector-leading shareholder distributions.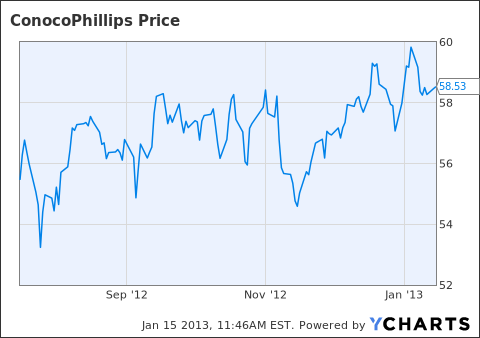 COP = $58.53
Mkt Cap = $71.15 Billion
P/E = 10.5
Div (Yield) = $2.64 (4.5%)
EPS ((ttm)) = $5.56
Conoco has struggled to match the performance of its downstream spin-off, Phillips 66 (NYSE:PSX), in the spring of 2012. PSX's stock took off as it became clear its refineries would profit handsomely from the increasing spread between Brent and WTI. Investors like Warren Buffet poured money into the company. However, COP has shown some signs of life in the last 6 months. Its Q3 2012 earnings were $1.8 billion, or $1.46 per share. Quarterly production was 1.525 million BOE per day. Production in the liquids rich Bakken and Eagle Ford shale plays began a sharp ramp-up in 2012. Eagle Ford reached a record production level of 86 thousand BOE per day in Q3. For the quarter, the Bakken and Eagle Ford shale plays delivered approximately 102 thousand BOE per day: a 51 thousand BOE per day increase (100% growth) compared to Q3 2011.
Strong Production Growth In The Eagle Ford Shale
The following slide from a November 2012 Conoco presentation at a Jeffries conference paints a very bullish picture for its Eagle Ford play: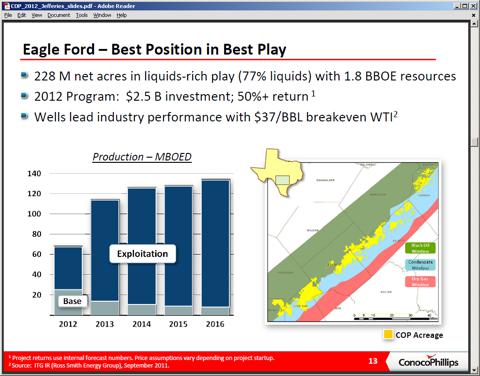 Click to enlarge
In my article ConocoPhillips: Exploiting the Eagle Ford Shale, I pointed out the breakeven price for COP's Eagle Ford production is $37/barrel. This is why many oil execs believe the EF to be the most economic shale play in the U.S. During Q3 2012, COP was running 14 rigs in the Eagle Ford and the average daily production was 76,000 BOE/day with 79% liquids. The peak production rate achieved in Q3 was 86,000 BOE/day. On the Q3 conference call, management said they expect a peak rate of 100,000 BOE/day in Q4. The company is also adding infrastructure to maximize light crude sales prices at pipeline spec and to maximize its capture of NGLs.
If the company is correct on its 100,000 BOE/day Q4 Eagle Ford production, that would be an average of 24,000 BOE/day higher than the previous quarter. Being conservative, let's say COP realizes $75/barrel. At the $35 breakeven costs, that will be an extra ($40/barrel)*(24,000 barrels/day)*(91 days/quarter) = $87.36 million of profit for Q4 (approx. $0.07/share). So, even though the company produces over 1.525 million BOE/day, its Eagle Ford production is starting to impact earnings in a meaningful way. It's going to be a big profit producer over the next few years.
I expect COP to outperform its peers in 2013. Its 4.5% dividend already does.
Disclosure: I am long COP, PSX. I wrote this article myself, and it expresses my own opinions. I am not receiving compensation for it (other than from Seeking Alpha). I have no business relationship with any company whose stock is mentioned in this article.
Additional disclosure: I am an engineer, not a CFA. Please do your own research and contact your investment adviser. I am not responsible for investment decisions you make. Thanks for reading and good luck!