It never ceases to amaze me when reading some of the countless comments around the web surrounding what is currently my one and only investment, Sirius XM Radio Inc (NASDAQ:SIRI). If the equity is not appreciating day in and day out, it seems some investors start to get frustrated in under a week.
Take a look at the comment sections of many articles on Seeking Alpha for Sirius XM and you will find what I am talking about. As soon as the stock enters a phase of consolidation after a fit of gains, more and more people complain that the stock is "dead money" or that the stock is "going nowhere." Coupled with this frustration, investors start to conjure up ghosts and goblins from the shadows about things like "pyramids of shorts" and "hedge fund dumping" and that these ghosts and goblins MUST be there because the stock is not under accumulation by everyone on the planet. Throw in a bit of random wild speculation and doom and gloom and you have yourself the makings of an angry mob.
Whatever happened to having just a little bit of patience?
I'm going to let you in on a few "secrets" here. I put the word in quotes because to be honest with you, while these may seem like secrets to some, they are not secrets to everyone. Knowing these things can help you keep a level head if you are invested in Sirius XM, and these "secrets" can be applied to any company out there to allow you to analyze some of the behind the scenes activity in your investments.
Secret number 1
Common sense and patience.
Sirius XM has appreciated +9% year to date and +73% since the beginning of July 2012. Add in December's $0.05 special dividend and you are sitting at a +76% gain. You will be hard pressed to find a stock out there which has done as well in the last 6 months. Just ask the guys invested in Apple (NASDAQ:AAPL) how they are doing with their -16% loss in the same timeframe. Dead money? There is nothing about Sirius XM's gains that indicate dead money or that the stock is going nowhere.

The chart above shows a stock which is actually quite healthy. The first "secret" that investors should consider is that you want to see gains followed by periods of consolidation. See that yellow line? It's the 50 day SMA and Sirius XM has used it as support for the price for over 6 months. Right now it is increasing at a rate of $0.008 per day, 0.25% of the share price per day, 1.25% of the share price per week, or roughly 65% per year. The catalyst? Buying pressure from John Malone's Liberty Media (NASDAQ:LMCA) along with a slew of good news benefits such as:
Strong continuing automobile sales
Increased net subscriber additions hitting 2 million for 2012
Respectable conservative preliminary guidance for 2013
CRB royalty rates coming in below expectations for the next 5 years
Announcement of a $2 billion share repurchase program
The secret for investors is keeping your cool during periods of consolidation. The fundamentals of the company are strong and promising, and while anything can be spun negative or one can whip out the magnifying glass and try to find the chinks in the armor, the big picture is solid, has been solid, and should continue to be solid moving forward. While it is prudent at times to utilize that magnifying glass, it is equally important when you are done to step back and consider the big picture.
Patience is a virtue. Be virtuous.
Secret number 2
Watch the money flow.
I've mentioned money flow in previous articles before, and I continue to stress that paying attention to money flow is important for investors to do. The site I use for this indicator is AVAFIN.com and money flow can be accessed from the trade flow tab on the main page. Avafin will give you an updated money flow count every 5 minutes of trading, and can be used to see if there is net buying pressure or net selling pressure in the stock. Bored with the sideways trading? Want to see if the stock is under accumulation or distribution? Check the money flow.
For instance, for the last three trading days for Sirius XM, where the stock has moved up and down a few pennies per day at most, the following money flows were recorded: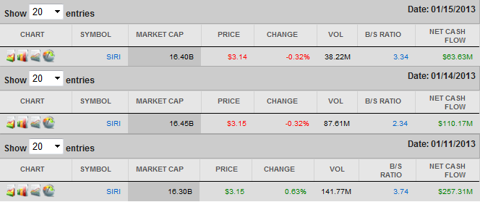 +$430 million. Also notice the "B/S ratio" which is a ratio of shares bought vs. shares sold. These are currently at record levels that I have not seen in well over a year now. Generally, a value on the B/S ratio above 1 is a positive sign. Above 3 indicates extremely high accumulation rates. Investors should look at recent data as heavy buying which may be related to the FCC announcement that Liberty Media has the green light to go over 50% ownership of Sirius XM. The bought / sold ratio chart also tells a story of increasing accumulation: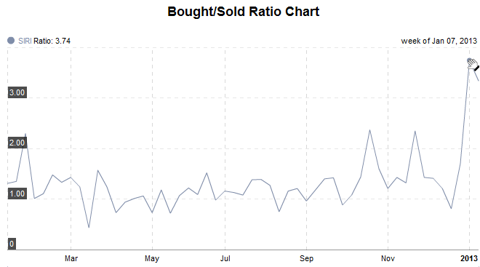 Does the buyer here have to be Liberty Media? No. Liberty is not the only game in town when it comes to interest in Sirius XM, and other large players could very well be purchasing here, or another entity could be purchasing the Liberty in a forward contract.
Why doesn't the price move, then, if there is so much buying? I chalk it up to buyer patience and good market making. Filling orders as Sirius XM appears overextended as traders, longs, and computer algorithms continue to sell the asking price allows the buyer to pick up shares all day long. As the stock is in overbought territory from a technical standpoint, competition on the buy side is likely minimal. It is here that Sirius XM should actually be retracing lower, but it is holding the line. Longs should be pleased with this activity, and remember, sideways consolidation is far preferable to a bounce up and then quick bounce down.
Secret number 3
You are not alone, and Sirius XM does not exist in a bubble.
The market is not simply made up of those who are long on the long term prospects of Sirius XM, and those who are short and believe in its imminent downfall. Many investors would be surprised at how many individuals in the market trade the daily ups and downs. These traders are responsible for a good deal of the volume you see on a day to day basis, and a number of them trade purely on technicals and look very little into the deeper fundamentals of a stock.
Likewise, Sirius XM is not immune from the overall market. In a bear market the share price may suffer, and in a bull market the share price may soar, and this may have little or nothing to do with how the company is performing at the time.
That can be exploited by those seeking to accumulate a stock like Sirius XM. While investors who read Seeking Alpha may have a deeper understanding of Sirius XM and all of the behind the scenes activity, a trader may simply see a stock which appears to be rolling over. It may look to them as if Sirius XM is about to retrace and is high on certain technicals like the RSI. He or she may short out a block of shares (or many blocks of shares) in the hopes to capitalize on a 5 or 10 cent move in the stock. There are also computer programs out there which may do this automatically. Similarly, those trading the long side may choose to sell here and lock in recent significant gains.
Every investor must understand that not all, and likely not even half, of the daily trade volume is longs with a long term sentiment. The important thing here is watching the share price, understanding "trader" sentiment, paying attention to money flows, and making some deductions based on the data provided?
How can this be applied to recent activity in Sirius XM? What deductions and assumptions can be made?
Sirius XM is in a state of consolidation after a rapid 9% rise in share price. This is healthy, and the fact that it is consolidating without losing much value is bullish.
Money flow is positive and the B/S ratio is at record levels. Sirius XM is under heavy accumulation with the vast majority of trades going for the asking price.
With Sirius XM in overbought territory as the technicals catch up to the share price, a large buyer can find significant numbers of sellers here looking to lock in gains, or looking to short on what appears to be an impending technical retrace.
Because of this, I would expect that once technicals catch up to the share price of Sirius XM, that another jump up in share price is in order. Consider the trader sentiment. Longs who sell here in overbought territory may very well buy again when technicals catch up. Shorts who short here in overbought territory may very well seek to cover when technicals catch up. The longer it takes whomever is buying here to fill their order, the higher the point at which the share price bounces as traders switch from sell, to buy. How far the share price goes and when it bounces is anyone's guess. I'm watching the 10 day and 20 day moving averages for a bounce point. And let's just say I am fairly comfortable with my estimation that $3.30 will be hit, and likely exceeded, before Sirius XM's Q4 earnings call which usually comes at the beginning of February.
"Secrets"
I have been asked at times what the "secret" is to investing in and understanding Sirius XM. My answer is that these "secrets" above are really not secrets at all. A little patience, a little due diligence, and a little education and understanding of the market and the players within all will go a long way towards helping an investor stay informed of everything that goes into the share price of their investment.
Disclosure: I am long SIRI. I wrote this article myself, and it expresses my own opinions. I am not receiving compensation for it (other than from Seeking Alpha). I have no business relationship with any company whose stock is mentioned in this article.