I had to do a double-take and then a triple-take, but there it is at the website for the iShares Silver Trust (NYSEARCA:SLV) - the trust's holdings are now 10,734.99 tonnes.
A day ago, they held 10,163.36 tonnes, meaning that an incredible 571 tonnes of the metal was added on Wednesday, a pile of silver bars worth more than a half billion dollars.
I've hosted a screenshot of the data here - just in case this is some sort of typo, you can't blame me.
As I said, incredible, as shown below.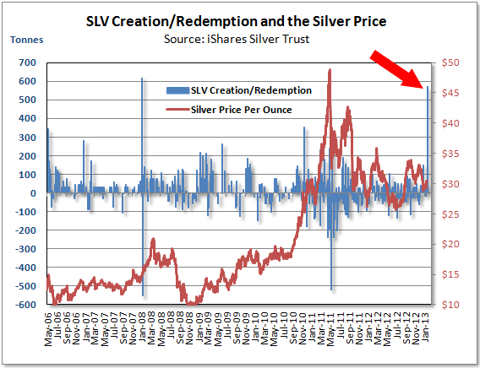 There was an even bigger inflow of 617 tonnes back on the last day of 2007, however, that was followed by an outflow of 555 tonnes on the first day of 2008.
I don't recall if there was ever an explanation offered for this, but, it was more likely some sort of year-end book-squaring rather than anything else.
Aside from this 2007-2008 oddity, the only thing that comes close to what just happened was the 352 tonne addition on November 10th, 2010, back when the silver price was really starting to take off from its sub-$20 doldrums.
Naturally, it will be important to watch what happens to these holdings in the days ahead, but, my guess is that some very well-off investors have taken a new liking to silver in the new year and someone or some group just took a very large stake in silver bullion.
Disclosure: I am long SLV. I wrote this article myself, and it expresses my own opinions. I am not receiving compensation for it (other than from Seeking Alpha). I have no business relationship with any company whose stock is mentioned in this article.
Additional disclosure: I also own silver coins and bars