The uranium bull may have awoken a bit too soon, or maybe we were a bit too late in our transition. The point is that M&A activity is heating up in the space and with some of the 10-20% jumps in the explorers yesterday we are getting the itch to move in on some of the cheaper names. We have to wait for our options to be exercised this month before we make a move with that capital but as we have mentioned over the past few weeks this is a bull market which will take place in 2014 when the world awakens to the fact that Russia has spent the past five years taking control of uranium deposits and companies around the world in order to increase prices once the 'Megatons to Megawatts' program ends. We figured 2013 would be a year for accumulation, but they have pushed up the timeline by buying the rest of Uranium One which they did not already control.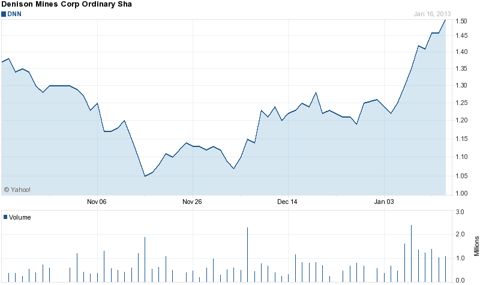 Click to enlarge
Chart courtesy of Yahoo Finance.
It sure appears that the rally has begun and an uptrend is in place.
Commodity prices this morning are as follows:
Gold: $1681.40/ounce down by $1.80/ounce
Silver: $31.475/ounce down by $0.067/ounce
Oil: $94.40/barrel up by $0.16/barrel
RBOB Gas: $2.7288/gallon up by $0.0074/gallon
Natural Gas: $3.41/MMbtu down by $0.025/MMbtu
Oil & Natural Gas
There were two movers in the oil and natural gas sector we would like to point out this morning. One was a loser and one was a winner. We always like to get the bad news out of the way and then move on to the good, so in that order let us discuss Cobalt International Energy (NYSE:CIE) and PDC Energy (NASDAQ:PDCE).
First, investors were hit with news that the private equity backers behind Cobalt International were going to do a secondary offering whereby they would sell 40 million shares with the possibility of 46 million in total if the banks who are handling the sale exercise the option for an additional 6 million shares to cover any overallotments. The sellers include names such as Riverstone Holdings, LLC, First Reserve Corp., Carlyle Group and Goldman Sachs among others and this is simply profit taking after a huge run-up in the shares after the company has enjoyed some exploration success here in the US and in Africa. The deal priced at $25.15/share yesterday which ended up being above the close at $24.84/share after the shares closed down $1.91, or 7.14%, on the news.
While these are the types of secondary offerings we dislike the most as it does nothing to further the interests of the company by bringing in more cash, etc. we have done quite well in the past via actual purchases and recommendations for readers to buy on the dips created by these pullbacks. The reason is simple, there is an artificial increase in supply as these large positions are reapportioned among smaller players but after that the shares generally return to some normalcy - especially if the company continues to deliver on results.
One of our recommendations has been PDC Energy, a company which possesses tremendous upside with assets focusing on the wetter types of plays in the country. If the midstream issues ever get fixed out west they would be big beneficiaries as they have great drill results and a growing inventory of wells waiting to be hooked up and able to produce. The stock closed yesterday at $37.18/share after rising almost 3% on absolutely no news and hitting a new 52-week high in the process. We are holders of this in our retirement fund and we were looking at adding to our position on pullbacks.
Although we have been able to add some shares, this move might be part of something bigger and we will obviously have to wait until a general market correction now in order to nibble some more here. We like the shares under $35/share and think that the $32/share area is a screaming buy (assuming no dramatic changes to fracking laws or prices of the underlying commodities - i.e., oil, NGLs or dry natural gas).
Iron Ore
Yesterday we discussed Dahlman rose and their outlook for the iron ore sector as their view is that iron ore pricing is at a high right now and due for a pullback, even with the global economy showing signs of growing. One name they did not mention, but we have been watching is Vale (NYSE:VALE) which worked so hard to break above the $20/share level recently. The shares had held strongly above that level even during some rough days in the market, however yesterday we saw the shares break down and fall below that level and watched as shares were unable to once again break above the $20/share level even though numerous attempts were made. It sure looks like the $20/share level has once again become upward resistance which brings us to one of our sayings that, "if it isn't support, it's going to be resistance." It could be an anomaly and we see a general market recovery which carries us higher (for instance the jobs numbers could do this today) and yesterday becomes a moot point.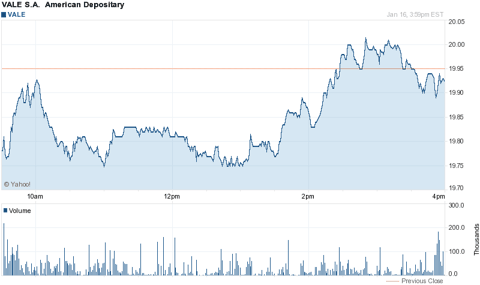 Click to enlarge
Chart courtesy of Yahoo Finance.
Refiners
Another industry we discussed yesterday was the refiners and their amazing run which appears to still have legs based on the flurry of oil deals and increased capital expenditure budgets we are seeing for 2013 for many of the E&P plays we follow. Yesterday, Phillips 66 (NYSE:PSX) rose $2.28 (4.36%) to close at $54.52/share as the entire sector rose on investors optimism. The company also announced that they restarted a portion of the Wood River Refinery, located in Illinois, that has total production capacity of 356k barrels of production per day. We would just like to point out to readers that the 356k figure is their total production capacity at the facility, not what was restarted.
Uranium
Our thinking about the uranium sector was right, however we only wish we had rotated back into the play earlier as it appears the end game may very well be underway. The Russians are locking in actual mining production capacity as well as deposits around the world which makes them an even more dangerous player in the sector as they will be able to put a stranglehold on the industry by controlling much of the above ground stockpiles (via their decommissioned nuclear arsenal) and a growing share of world mine production which is already dramatically below current world consumption/demand.
After the Russians announced their intentions of taking Uranium One private, Dennison Mines, Ltd. (NYSEMKT:DNN) yesterday announced that they will buy Fission Energy, a small Canadian explorer which has two deposits of significance. We have previously discussed on other forums that this was a no brainer, and inevitable, based upon the companies' proximity to each other for a deposit which appears is shared and which seems to be tied into Hathor's Roughrider deposit.
This acquisition further consolidates the Athabasca Basin and, in our opinion makes Dennison an even more attractive takeover target for Hathor's new parent. One might as well control the entire mineralized area and save on infrastructure costs is the thinking here (although we do understand it would be possible for a joint venture, we just believe a big company would rather go it alone than have to worry about a junior attempt to raise the necessary capital to help fund the project and potentially tie up progress).
This news sent Fission shares higher, but more importantly investors were receptive to the deal and even pushed Dennison shares higher too. That is extremely bullish in our view and had the added effect of pushing many of the well positioned Canadian juniors with actual deposits higher yesterday.
We own shares in Fission from when they were spun out of Strathmore Minerals but the holding in our view is immaterial. One note about the acquisition we would point out is that the company plans to spin out the Patterson Lake project in the western part of the basin. The breakup fee for the deal is $3.5 million, or roughly 5% of the entire value of the deal.
Disclosure: I am long FSSIF.PK, OTC:STHJF, PDCE. I wrote this article myself, and it expresses my own opinions. I am not receiving compensation for it (other than from Seeking Alpha). I have no business relationship with any company whose stock is mentioned in this article.