By David Sterman
U.S. Investors poured a stunning $54 billion into emerging-market exchange-traded funds (ETFs) in 2012, according to research firm ETFGI. That's amazing growth from just $3 billion in 2011. The two largest ETFs in the category, Vanguard FTSE Emerging Markets ETF (NYSEARCA:VWO) and the iShares MSCI Emerging Markets Index (NYSEARCA:EEM) now have a hefty $125 billion in assets under management.
Many investors have moved beyond those catch-all funds, and are now focusing on country-specific ETFs such as the iShares FTSE China 25 Index Fund (NYSEARCA:FXI) or the iShares MSCI Brazil Index (NYSEARCA:EWZ). But many still don't know about the two most important factors that will affect their returns.
I'm talking about currency and inflation.
The Nikkei's blunted rally
While Washington was mired in year-end talks over the "Fiscal Cliff," Japanese investors were breaking out the champagne. A new government in Tokyo, promising to provide a major stimulative boost to the economy, kicked off a major stock rally.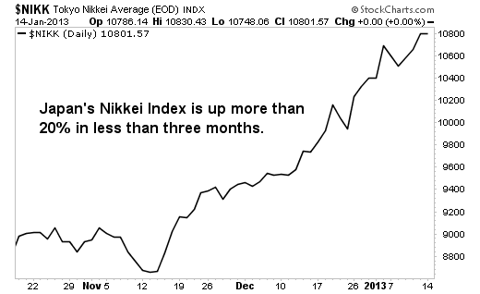 But U.S. investors who had the foresight to invest in Japan aren't quite so happy. Since the start of November 2012, the Japanese yen has weakened, from 79 yen to the dollar to a recent 89.3. The yen's 13% depreciation has offset some of the Japanese stock market's gains, meaning U.S. investors have failed to fully prosper from the rally.
However, it works both ways. A number of economists say the rally in the yen has come too quickly, aided by short-covering by investors who were betting against the dollar. These economists say the yen will restrengthen in coming weeks, which means that an ETF such as the MAXIS Nikkei 225 Index (NKY) will likely get a lift from the currency reversal. The key takeaway is to steer clear of any country-specific ETFs if you think the country's currency is too strong and due for a drop. (Indeed, the Japanese yen had been trading near all-time highs against the dollar until the recent pullback).
The inflation bug
Japan's economy is quite advanced, and on par with our own. As a result, inflationary concerns are nearly non-existent at the moment, as is the case in Europe and the United States. But in more dynamic emerging economies, inflation is an ever-present threat.
Nearly two years ago, I extolled the virtues of Vietnam and recommended the Vietnam Fund (VNM) as a solid investment choice.
Soon thereafter, the Vietnamese economy started to choke on its own growth, as bottleneck pressures led to rising inflation. Here's the problem with inflation: It forces government to take a series of punitive measures to slow the economy to help reduce inflationary pressures. Vietnamese inflation figures are now starting to trend lower, which helps explain why the Vietnamese ETF has begun to rally.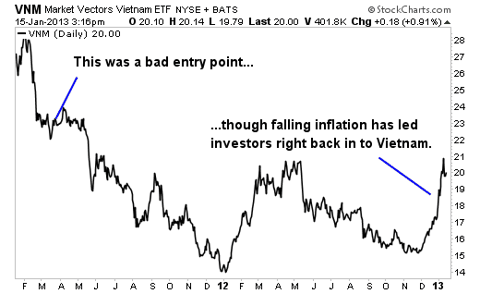 Back in 2011, I looked at India as well, noting that:
years of steady growth -- 14.4% annually in the past decade -- have created choke-points in the economy where the roads, bridges and rail lines simply can't keep up with the rising level of economic activity.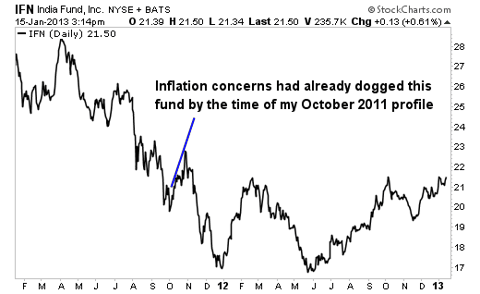 Fast forward to 2013, an India that finally appears to have inflation under better control. As The Wall Street Journal recently reported, India's inflation rate has slowed to its lowest level in three years. A slowing economy gets some of the credit, as do several key investments in infrastructure in major cities that have removed some bottlenecks.
The drop in inflation is expected to lead to government policies that augment economic growth (whereas the Indian government had sought to slow the economy while inflation was rising). As a result, the Indian economy looks set to rebound in 2013 and 2014, making for a more timely entry point for this fund.
Risks to Consider: Investors are pouring into emerging-market funds, but they will need to have a strong stomach. These funds can quickly lose steam if the U.S. market stumbles, which is why you need a multi-year time horizon with your emerging market investments.
Whenever you are assessing emerging markets, you must spend time analyzing the country's currency and inflation pressures. An already-weak currency and a benign inflation backdrop, are two key positives you want to look for.
Disclosure: I have no positions in any stocks mentioned, and no plans to initiate any positions within the next 72 hours. I wrote this article myself, and it expresses my own opinions. I am not receiving compensation for it. I have no business relationship with any company whose stock is mentioned in this article.