JPMorgan Chase & Co. (NYSE:JPM) specified the determination of its own review into the bank's largest-ever trading loss, indicating the bankers erroneously underestimated the complexity of their bets, and the relative illiquidity of such substantial derivative positions. The bank's report indicated that the trading employees made mistakes and that the management's initial risk aversion was insufficient.
The extensive report indicates that some of the most significant problems started with simple mistakes in spreadsheets. For example, an employee of the bank had accidentally used the sum of two numbers instead of the average to calculate volatility. Both such equations were likely one click away from each other. The losing traders also initially made efforts to conceal the losses, which may have exacerbated the situation that on its own caused the bank to realize $6.2 billion in losses in the first three quarters of 2012, and which moved the market valuation of JPM by around $50 billion.
The transactions that resulted in this loss were handled by London-based trader Bruno Iksil, nicknamed the London Whale because his positions were large enough to move markets. Even before JPM announced the trading loss, derivatives traders identified the 10-year Markit CDX North America Investment Grade Index Series 9, called IG9, as one of the bank's largest high-risk derivatives positions. For weeks prior to Jamie Dimon's disclosure of the loss, the market was rumbling about JPM's London Whale, who was trading derivative positions large enough to demonstrably move IG9 prices.
The IG9 credit-default swaps benchmark was created in 2007 and is linked to the debt of 121 companies in the United States and Canada. BlueMountain, a hedge fund run by a former JPMorgan executive, was apparently one of the companies that bet against JPM's IG9 position and subsequently helped JPM out of the losing position. BlueMountain had a decent chunk of positions against JPM and brokered deals to acquire other derivatives needed along with BlueMountain's for JPM to unwind its position.
The report blames CEO Jamie Dimon for relying upon information given to him by senior managers, without doing more. The CEO is also faulted having risk management in place that allowed for such risks to be taken. Still, the report indicates that once Dimon became aware of the seriousness of the situation, "he responded forcefully by directing a thorough review and an extensive program of remediation."
Dimon removed three London traders involved in the loss, moved some senior managers and accepted resignations from other executives, including Ina Drew, JPM's former CIO. Iksil, the whale, also left the bank.
JPMorgan's shares are now far from weighted down on account of the fallout from this awful trade. Shares are now higher than they were when the company reported its predicament, and have appreciated by about 50 percent from their bottom.
See a recent performance chart for JPM: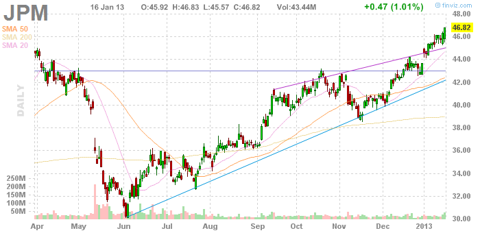 Despite this strong recent performance, now that JPM has released this report, some shareholder lawsuits may emerge, as may some regulatory actions.
On January 14, the Federal Reserve and Office of the Comptroller of the Currency ordered JPMorgan to strengthen risk and auditing controls. Some regulators may ask specific questions of JPMorgan or Dimon based upon the bank's report. Potential lawsuit claims may include that JPMorgan took too much risk, made negligent decisions and had poor supervisory oversight of significant activities, among other possible claims. Shareholders may not want to sue for damages, but may still end up pushing for board changes.
Within 2013, JPMorgan will also likely deal with its exposure to alleged LIBOR (the London inter-bank offered rate) rigging. LIBOR sets payments on many financial instruments, including most standard commercial mortgages and interest rate-based derivatives, and the banks that set LIBOR may have massive liabilities worth hundreds of millions of dollars and possibly totaling tens of billions, if not more, due to rigging the benchmark. Bank of America (NYSE:BAC), Citigroup (NYSE:C) and JPMorgan Chase are the three U.S. banks that are involved in setting LIBOR.
This far, few LIBOR-rigging related settlements have occurred, and none of the U.S. banks have yet resolved their potential exposure to the issue. It was anticipated that some deals would be announced late in 2012 and early in 2013, and some European banks settled with both European and U.S. regulators in the second half of 2012. The most recent settlement came in December, when UBS AG (NYSE:UBS) entered a $1.5 billion settlement for manipulation of interest rates and related charges against two former trader-employees.
Barclays (NYSE:BCS) also entered a settlement with the same regulators in June. Barclays paid about $450 million to settle U.S. and British government agency liability, plus it spent about $150 million on its attorney fees. The DOJ indicated Barclays was let off easy for cooperating more-so than the other banks, indicating that the settlement rates for the remaining banks, including Bank of America, Citigroup and JPMorgan may be more in line with UBS' $1.5 billion dollar settlement.
Any lawsuits stemming from JPM's trading error are little more than nuisance claims, and will likely be settled for a minimal sum or otherwise resolved. If such claims occur, they will likely not drastically affect share prices, though substantial shareholder complaints that look to change the bank's board and executives could. The market is also likely anticipating JPMorgan's LIBOR settlement to come in somewhere between one and two billion dollars.
Disclosure: I am long C. I wrote this article myself, and it expresses my own opinions. I am not receiving compensation for it (other than from Seeking Alpha). I have no business relationship with any company whose stock is mentioned in this article.