As earnings season is about to hit us with its full force, investors need to be prepared. As part of my earnings coverage each quarter, I always do a pre-earnings season article about stocks to be careful with going into earnings. Originally, the segment was focused on stocks to not be long through earnings. The segment has evolved, adding stocks to not be short through earnings, along with possible trades for these names when they report. I also will include stocks to just plain avoid at certain times. But there is one important point, or disclaimer, I must make. Just because I say be careful with a stock going into earnings, doesn't necessarily mean that longs (and shorts potentially as well) should exit their positions before earnings. It simply means that there are certain items you need to think about before deciding on what position to hold (or not) going into the report, or even leading up to it. This quarter, I will discuss ten names, covering the first half of those names today. You can see the second half here.
Apple (NASDAQ:AAPL) - Wednesday, January 23rd, after close:
While the point of this series originally was to focus solely around the day before, of, and after earnings, Apple has changed the thought process. When I say "be careful into earnings," I mean it with Apple. Apple closed at $527 on January 4th, and I subsequently wrote an article called "An Apple Repeat of Last Quarter?" The point of this article was to caution investors that if we saw Apple analysts take down their estimates and issue negative reports on Apple before earnings, the stock would drop. I stated that if we saw a repeat of last quarter, Apple's stock would probably drop below $500, and potentially down to $475. Well, we've broken $500 already, and Tuesday's low was under $484 before Wednesday's rebound.
On Tuesday, the note was from Nomura, which slashed its price target on Apple from $660 to $530, citing iPhone and gross margin worries. Current Q1 estimates call for $54.70 billion in revenues and $13.41 in earnings per share. Analysts have raised their Q1 forecasts over the past two weeks by $0.16 billion and $0.08, respectively. However, they have cut the Q2 averages by $0.83 billion and $0.30, respectively. Analysts have also taken down later quarters, so the full fiscal year (ending September 2013) estimates continue to be cut, since there are more analysts that provide full-year estimates than quarterly ones. The table below shows how full-year estimates have come down since Apple's last report in October. Just notice how much the estimates have been cut since December 31st.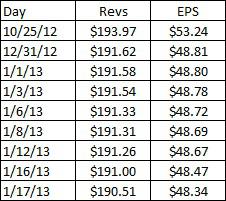 What's the key takeaway here? Well, if we continue to see more analyst negativity, Apple will continue to fall. We are still about a week away from Apple's report, and last quarter, most of the estimate cuts came in the two to three days before earnings. Of course, a lot of that was due to CEO Tim Cook's "100 million iPad" speech, which caused analysts to whack their quarterly iPad forecasts.
I'm not surprised that Apple has fallen, although I'm a little surprised at how fast we have fallen. I'm a little more worried than I was previously, because of the velocity of this fall. If this price action keeps up, we could see $450 before earnings, and that is truly scary for a stock that was at $705 just a few months ago, especially for a company that's not exactly in trouble.
As I usually do, I will have my official Apple earnings preview published the day before earnings, which will be next Tuesday.
Deckers Outdoor (NASDAQ:DECK) - date not yet announced:
Deckers is a very interesting case, and it's one that I've followed extremely closely over the past year plus. Deckers is the company that brings you those famous UGG boots, and also owns the Teva and Sanuk brands. Last year around this time, a very mild winter in the United States squeezed Deckers sales. The lack of sales growth led to higher than expected inventory levels, forcing the company to discount certain products. Product discounting, along with higher sheepskin costs took a chunk out of margins, leading to an expected fall of earnings by 33% this year. That number includes the fact that Deckers has bought back a significant amount of shares over the past year. Net income is falling even faster.
Current estimates for Deckers have revenues in Q4 growing by 3.8% year-over-year, and earnings per share declining from $3.18 to $2.63, a decline of 17.3%. Those numbers leave a bit of room for a beat if Deckers comes in at its own guidance, revenue growth of 6%, and a 14% earnings decrease. Bulls are also excited by data that shows UGG boots were the #2 searched item on Cyber Monday. However, I always use this caution when thinking about data like that. Consider the following example. A husband bought his wife a pair of $400 UGGs for Christmas 2011. For Christmas 2012, he buys his two daughters each a pair of $200 UGGs. From this example, Deckers sold twice as many pairs of boots. However, revenues are flat, and due to this year's higher cost of goods sold and operating expenses, earnings are even lower. It's just an example, but it describes an important point.
The one item that makes Deckers somewhat unique is that it gives both quarterly and updated yearly guidance at every report. So when Deckers reports its fourth quarter and full-year results, they'll give us Q1 guidance as well as full-year 2013 guidance. The Q4 results are important, but investors will be really focused on 2013 guidance as it is expected to be a rebound year for earnings. Some short sellers are covering, but this stock has an extremely large short count. That's understandable, given that this company has given below-analyst expected guidance for four straight quarters.
For Deckers, the earnings trade is going to be a fun one, as this stock probably will move in the 10-20% range, or maybe even more if we get some really big news. I'm going to suggest a trade on this one, and it is hedging your bet if you try to gamble on this one, but only if options (preferably the weeklies) are cheap enough. For example, let's say Deckers goes into earnings at $40, and you are expecting a $6, or 15% move. If you want to be long, and can get a $40 put for like $1.00 to $1.50, it probably is worth it. You won't get the maximum gain if the stock jumps, but if you're on the wrong side of this trade, you'll be well protected. If those options are going for $2.00 or $3.00 though, it might not be the best idea. The same is true if you want to be short. Buy some calls.
lululemon (NASDAQ:LULU):
lululemon is a Canadian based athletic apparel maker, known best for its line of yoga products. It's sometimes called the Canadian version of Nike (NYSE:NKE), and closely compared to Under Armour (NYSE:UA) as well. While the company is based in Canada, only about a quarter of its stores are. About two-thirds of the slightly over 200 stores are based in the United States, with some also in Australia and New Zealand.
The stock recently took a hit after the company pre-announced Q4 guidance, despite Q4 not being finished yet. This wasn't a typical case where a company gives financial guidance after the quarter has ended. However, this wasn't a warning either. Revenue guidance was forecast to be at the high end of the company's guidance, with earnings per share expected to beat. Again, there are about two weeks left in their actual quarter. But the revenue guidance was lower than analysts expected, sending this high-growth stock down.
My take is that analysts will take down their guidance on this name up until earnings, which probably sets up the company to "beat" analyst expectations. However, if analysts had listened when the company provided original guidance, we wouldn't have a "beat" after this "miss." The company has been known for beating its own guidance, but analysts have never adjusted their forecasts well. You can't blame the company for that.
The one caution I have is that when the company usually reports, their guidance is often below analyst estimates, like we just saw, and the stock takes a hit on the news. Even if they end up "beating" the Q4 numbers, guidance that is lower than estimates for Q1 or their next full year (ending January 2014) could send the stock lower. But over the past couple of years, the initial fiscal year guidance for the company turns out to be well below where they finish the year. Usually, we get two or three guidance raises during the year.
Groupon (NASDAQ:GRPN) - February 27th, after close:
Groupon has been on this list before, and it makes a return appearance this time around. The daily deals site is not a stock I would recommend at this point, for a variety of reasons. I'm not a fan of the competitive aspects of the business, I don't like the management issue, and of course, anytime you have accounting issues, I run. Groupon has all of these problems, as well as several others, as the article linked above describes.
The one issue this time around is that at Tuesday's closing price of $5.23, Groupon shares had more than doubled from their 52-week low of $2.60. That worries me, especially when I see earnings expectations decreasing over the past few months (since their last report). Groupon closed down a few percent Wednesday, but is still above $5.00.
But the biggest worry is that this stock never trades well after earnings, as you can see in the table below. Now, the stock did soar initially after that Q1 report, but by the time that day finished, the gains were almost completely gone. Will this be the time that the company holds its gains? History says no, and I certainly won't be trying to play this one.

*Initial Q4 report. **After Q4 restatement.
Baidu (NASDAQ:BIDU) - date not yet announced:
Baidu has been a bit disappointing in the past year or so as emerging threats such as Qihoo (NYSE:QIHU) have caused investors to bail. Over the past 90 days, analysts have taken down their 2013 profit forecast from $6.21 to $5.94. For a company that is reliant on high growth, when the growth forecast comes down, so does the stock. Qihoo won't destroy Baidu anytime soon, but Baidu will lose a bit of market share over time.
Baidu also hangs under the Chinese "cloud," as the SEC is investigating a number of Chinese firms for fraud and accounting problems. There have been a number of problems with Chinese based, US-listed firms. I'm not arguing that Baidu is doing anything wrong, but anytime there is an issue, most of the Chinese names fall in sympathy.
Baidu is also up about 30% since its 52-week low. This could be another buy the rumor, sell the news stock. Even if Baidu has a good quarter, a lot may already be priced in. Additionally, analysts are expecting more revenue growth in Q1 than in Q4, and Baidu's guidance has not been extremely strong in recent quarters. If guidance is soft, analysts will take down this stock again.
Final Thoughts:
Earnings season is upon us, and the potential for huge profits is there. However, the potential for big losses is as well. One of my main goals in writing is to help investors avoid losses. I'd rather see an investor miss a small gain than hear about a huge loss that they incurred. Additionally, investors need to pay attention to a stock's movement going into earnings. Sometimes, a quarter can be great, but if the stock has run too much into earnings, you may encounter the "buy the rumor, sell the news" phenomenon. Other times, like we've seen with Apple recently, it's been sell until earnings.
Disclosure: I have no positions in any stocks mentioned, but may initiate a long position in AAPL, LULU over the next 72 hours. I wrote this article myself, and it expresses my own opinions. I am not receiving compensation for it (other than from Seeking Alpha). I have no business relationship with any company whose stock is mentioned in this article. Investors are always reminded that before making any investment, you should do your own proper due diligence on any name directly or indirectly mentioned in this article. Investors should also consider seeking advice from a broker or financial adviser before making any investment decisions. Any material in this article should be considered general information, and not relied on as a formal investment recommendation.