A true friend freely, advises justly, assists readily, adventures boldly, takes all patiently, defends courageously, and continues a friend unchangeably - William Penn
As the Fed begins to examine a strategy to tighten monetary policy through the reduction of its quantitative easing program or even an increase in the Fed Funds Rate, investors should also commence the search for 'policy-tightening-friendly' assets that will benefit their portfolio. The Greek philosopher and polymath, Aristotle categorized friendship into 3 types: friendship based on goodness, friendship based on pleasure and friendship based on utility. Aristotle's notion on friendship complements one's view of a fixed income investment portfolio. Friendship based on goodness reflects credit quality. Friendship based on pleasure may be attributed to capital appreciation and friendship based on utility mirrors the utility of the asset.
Thus in preparation for Fed policy tightening within the next two years one must consider a friendly strategic position in the iShares LATixx Mexico CETETRAC (CETETRC), the iShares Mexico Corporate Bond TRAC (CORPTRC) and the iShares LATixx Mexico M5TRAC (M5TRAC) : known as 'Los Tres Amigos'. The securities within 'Los Tres Amigos' are expected to maintain the investment grade credit quality of the sovereign of BBB, outperform the markers in the event of rising USD yields by having a short effective duration of 1.56 and a strengthening Mexican Peso, and also reduce the interest rate risk on one's portfolio. A viable friendship in 'Los Tres Amigos' can equate to approximately 3% to 5% in one's global fixed income investment grade portfolio.For investors who are unable to access 'Los Tres Amigos', they can initiate a relationship with some acquaintances: Market Vectors LatAm Aggregate Bond ETF (BONO), SPDR Merrill Lynch Emerging Markets Corporate Bond ETF (NYSEARCA:EMCD), iShares Emerging Markets Corporate Bond Fund (BATS:CEMB), the SPDR Barclays Emerging Markets Local Bond ETF (NYSEARCA:EBND) and the iShares Emerging Markets Local Currency Bond Fund (NYSEARCA:LEMB). These acquaintances have approximately 16.02%, 9.66%, 8.59%, 8.36% and 7.44% respectively. While these ETFs are not 100% Mexican, their allocations in Mexico should benefit them
Mexico, ¿Por Que? Friendship based on goodness
Mexico continues to have an investment grade credit rating with a stable outlook from all 3 major credit rating agencies. Expectations for the rating to change in 2013 are minimal as the economic activity for nation remains positive. Compared to the LatAm giant, Brazil, the Mexican economy proves to be a better FDI investing opportunity than Brazil as its operating costs are just as cheap as China. One of the reasons for this is Mexico's open economy. Most of the tariffs between Mexico, the United States and Canada were eliminated in the North American Free-Trade Agreement in 1994. Now Mexico has approximately 44 free-trade deals with countries, more than any nation. Some of these deals involve items such as electrical components, aircraft parts, televisions and fridge-freezers.
Along with free trade deals Mexico also has a relatively low wage cost. In 2011 Chinese manufacturing wages averaged US$1.63 per hour while Mexican manufacturing wages stood at $2.10 per hour. This, coupled with the close proximity to North America, makes Mexico a prime target for industrial production. The chart below shows China and Mexico's wages over the past decade.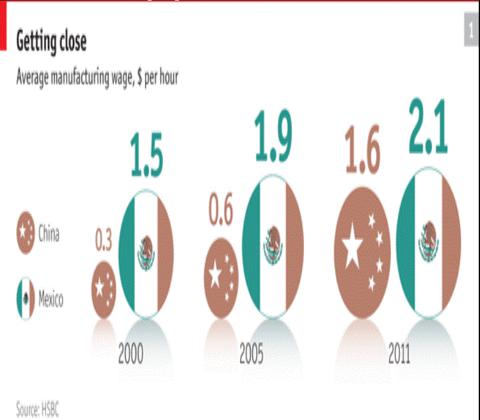 To illustrate this cost efficiency, a container can take three months to travel from China to the US, whereas products trucked in from Mexico can take just a couple of days. Some companies are taking advantage of these opportunities. For instance, Nissan is building a US$2Bn factory. About 80% of the parts in each car are made in Mexico. By using local suppliers, the company is "armored" against currency fluctuations. Along with Nissan, Mazda and Honda are also building factories. The German car company Audi is constructing a US$1.3Bn plant. For 2012 Mexico is expected to produce roughly 3 million vehicles, making it the 4th largest automobile exporter.
For 2012 Mexico is expected to grow faster than Brazil for the second consecutive year, with a rate of 4%, which is less than Brazil's 2%. The chart below displays Mexico's real GDP growth.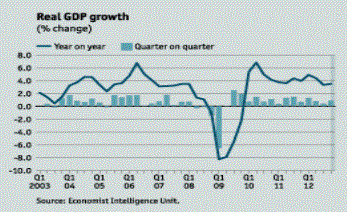 For 2013, Mexico is expected to hit somewhat of a soft patch, growing at a 3.5% rate yet this rate is still higher than most developed economies. The table below shows Mexico's Ministry of Finance expectations for 2013.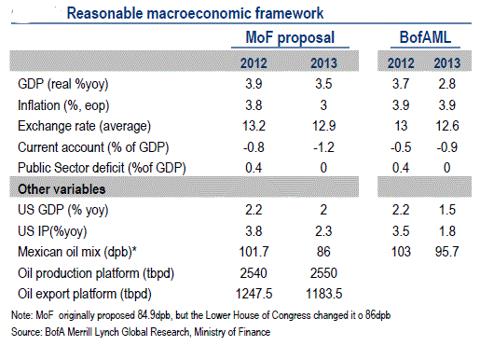 This soft patch is largely a result of US austerity measures. Tax increases and spending cuts will dampen economic activity in the US which will result in reduced activity between Mexico and the US. This is clearly seen as the US is Mexico's top export market as displayed in the chart below.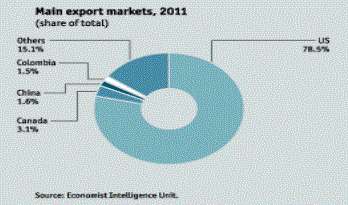 However there are some bright spots as the rebound in the US housing market are likely to increase remittances to Mexico.
The fiscal policies in Mexico are also noteworthy. On the top of the Pena administration's agenda is macroeconomic stability. Quite recently a budget was released with a zero target deficit. This will be the first time since 2007 a zero deficit occurs and it will be in agreement with the Federal Responsibility Law. The deficit difference will be 0.4% and will lead to greater demand for Mexico's fixed income securities as a reduction in supply are expected to reduce yields. Furthermore Mexico's debt profile looks extremely appealing. Borrowing is about 26% of GDP, compared with 61% in Brazil and 71% in Chile. This can be attributed to the 'tequila crisis' in 1994 where a currency devaluation triggered the collapse of the country's loosely regulated banking system. The chart below gives a perspective of Mexico's external debt as a percentage of GDP over time.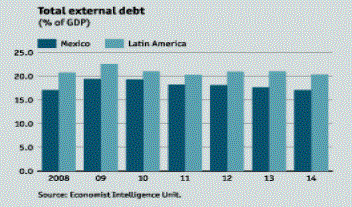 On January 7th, Mexico raised US$1.5Bn from issuing 30-year global bonds at a record-low rate of 4.19%. This amounts to a spread of just over 100 basis points over US Treasuries. Also these yields are over 50 basis points lower than the yields of the 2044 global bonds which were originally issued in March 2012. According to Mexico's Ministry of Finance, the bonds had not only the lowest yield ever for a similar maturity, but the lowest spread the government has ever achieved. This is evidence of an increasing risk appetite by investors.
Mexican inflation is expected to remain within range of the target of the Central Bank of Mexico (Banxico) of 3.0% +/- 1.0%. In the 12 months to December 2012 Mexican CPI fell to 3.6% from 4.2% in November. The chart below shows Mexico's CPI.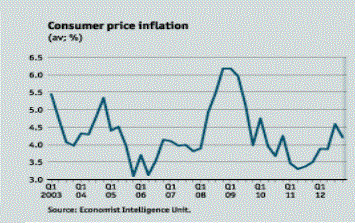 Latest Banxico minutes suggest that concerns over inflation have declined and some members even believe that Banixco should do more to facilitate inflation convergence with the official target. Currently Banixco's benchmark rate stands at 4.5% and it is expected that the benchmark will stay the same over the next six months. Banixco's focus remains on increasing the growth momentum on the economy as Mexico appears to be in the middle of a soft-patch.
The main risk to 'Los Tres Amigos' and its goodness to the portfolio remains the Mexican Peso. As a result only 5% of a global investment grade fixed income portfolio should have a position in Mexican Debt. Despite its volatility the Mexican Peso is expected to outperform the US Dollar over the next 6 months. With the Mexican economy growing at 3.5%, the government pursuing a zero deficit, total external debt less than 50% and Banixco remaining relatively accommodative, a position in Mexican Pesos is warranted. After making weekly highs of 14.5997 in the beginning of June 2012, the Mexican Peso strengthened 16.05% in over 6 months. Currently USDMXN stands around the 12.58 price level. Price momentum forecasts continued strengthening of the in the Mexican Peso over the next 6 months by 2.77%, with USDMXN falling to the 12.24 price level as USDMXN is in a downtrend. The chart below gives the weekly price movements of USDMXN over the past 3 years.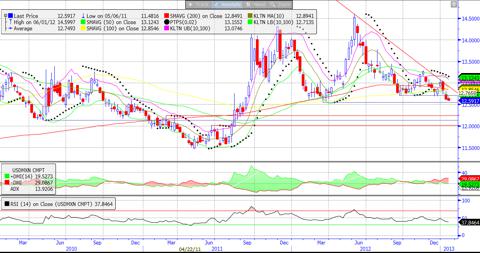 The acquaintances of 'Los Tres Amigos' provides much more complexity when it comes to the currency exposure. Along with the Mexican Peso these ETFs also contain the Chilean Peso, Venezuelan Bolivar, Brazilian Real and the South Korean Won. Investors should be cognizant of how friendly 'Los Tres Amigos'' acquaintances can be.
Friendship Based on Pleasure
Friendship based on pleasure is usually geared towards young people because the lives of the young are typically regulated by their feelings. As such their chief interest is in their own pleasure and the opportunity of the moment. When looking at the 'Los Tres Amigos' we realize that friendship, like financial assets has its ups and downs. While there is pleasure there also can be pain. As mentioned earlier the major risk for this portfolio is the movement of the Mexican Peso. The gives below shows the historical total returns of the portfolio in US Dollars.
Also below shows the total returns of 'Los Tres Amigos' acquaintances which provide similar pleasures to a portfolio.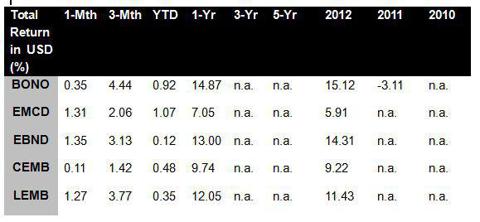 Friendship Based on Utility
People often befriend one another to gain an advantage for themselves. From a portfolio context investors' investment grade fixed income portfolios can benefit from 'Los Tres Amigos'.
'Los Tres Amigos' provides an average 12-month distribution yield of approximately 6.35%. This amount is much more than one will receive for investment grade assets inside the US. To put things into perspective the iShares 1-3 year Credit Bond Fund (NYSEARCA:CSJ) has a 12 month distribution yield of 1.56%. Also the iShares 3-7 Year Treasury Bond Fund (NYSEARCA:IEI) has a 12 month distribution yield of 0.87%. Investors can take advantage of this above average distribution yield. Furthermore an average life of 2.33 and an effective duration of 1.56 mitigate one's portfolio from interest rate risk. 'Los Tres Amigos' price is expected to decline only 1.56% for every 1% increase in yields. The table below shows 'Los Tres Amigos' utility components.
'Los Tres Amigos' acquaintances provide different utilities. While their average distribution yield is lower and duration is higher than the Mexican ETFs, they provide diversification to a portfolio. Diversification also mitigates risk. The table below gives the acquaintances utility components.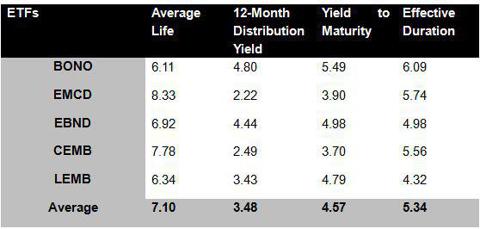 Bienvenido a Mexico
Investors should consider a position in Mexican debt. Despite the volatile currency, the ETFs considered provide a higher distribution yield than most investment grade fixed income ETFs in the US. Also, in the event of rising yield risk is mitigated as seen by the portfolio's low duration. 'Los Tres Amigos' clearly shows Aristotle's notion on friendship to one's portfolio.
Disclosure: I have no positions in any stocks mentioned, and no plans to initiate any positions within the next 72 hours. I wrote this article myself, and it expresses my own opinions. I am not receiving compensation for it (other than from Seeking Alpha). I have no business relationship with any company whose stock is mentioned in this article.