In an earlier column for Seeking Alpha, I wrote what Apple (NASDAQ:AAPL) needed to do to get the shares moving back up following a bout of weakness that had seen the stock price fall nearly 25% in a few months. Less than a few weeks later, the S&P 500 and NASDAQ are each up about 4% but Apple has fallen another 5%. The persistent selling has a drip-drip-drip flavor to it, and that vaunted $1,000 level that some commentators, analysts, and investors had hoped for when the stock touched $700 now seems as far away as the pie-in-the-sky price targets given to some Internet stocks in March 2000. I thought that there were certain actions that Apple could take to ease the transition in its shareholder base and move the stock up, or at least brace the decline. Needless to say, CEO Tim Cook and the Apple board didn't take my word.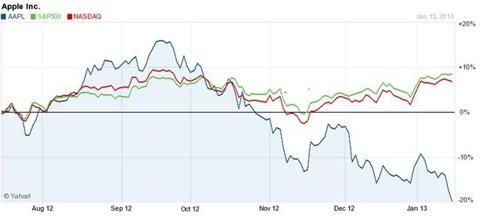 Originally the Apple weakness in October, November, and December had been attributed to selling before capital gains rates rose in 2013. But the downdraft has continued which shows it was not simply tax-related selling. Besides, many Apple holders bought their shares recently (within the last 18 months) and did not have the massive gains of those who may have bought - and held on - after buying the stock in the early-to-mid 2000's. And of course, many hold the stock in qualified retirement accounts like IRAs or Roth IRAs which do not have any tax-selling implications. So what ails Apple shares ?
I believe Apple's stock is caught in a vise with several pressure points. First, the Law of Large Numbers - and common sense - tells you that Apple simply cannot grow at the rates it has in the past. This applies to the stock price as well as revenue and earnings. If Apple stock were to appreciate at the rate of the last 10 years it would approach $25 trillion 10 years from now, larger than the market capitalization of all U.S. stocks today. That is unrealistic and mathematically impossible. Similarly, revenue and earnings growth must flatten out, as they did for Wal-Mart (NYSE:WMT), Microsoft (NASDAQ:MSFT), and Dell Computer (NASDAQ:DELL), previous fantastic growth stocks who had major runs that lasted a decade or more.
If Apple's share price and business prospects are no longer as 'growthy' as they were 10 or even 3 years ago, then growth investors - the largest holders of Apple stock - are not likely to add shares. In fact, it is apparent that many of them have been selling the shares. It doesn't take many big holders to depress the share price, and that includes hedge funds and momentum funds that are more active buyers and sellers.
The second problem I see is that while Apple stock and business prospects are no longer as compelling to growth investors, it still hasn't caught the attention of value investors. Partly this is a result of investor myopia: Apple's share price has gone up 50-fold in a decade and sports a near-$500 price tag. Most value investors do not look at a stock that has gone up that much and sells at that price level and scream 'cheap stock !' A similar problem has existed at times with Berkshire Hathaway, but there at least Warren Buffet owns 23% of the stock himself, meaning there is a lot less stock to be sold during turbulent times. There's a lot of supply (Apple sellers) and not much demand from new investors to provide support to a $500 billion market cap company (twice that of Berkshire Hathaway and without any one person controlling a quarter of the float).
The good news for Apple stock is that its actual P/E valuation relative to its market cap and growth prospects are quite reasonable. Consumer staple stocks like Coca-Cola (NYSE:KO) and drug companies like Pfizer (NYSE:PFE) sold for 30x earnings in the 1990's and needed a decade of earnings growth and multiple contraction to make the growth-to-value transition. Yet Apple trades at only 10x consensus 2013 EPS and under 8x earnings if you strip out the cash. That's not expensive for a company that should still be able to grow earnings a minimum of 8-12% the next few years. The S&P 500 trades at 14x earnings and EPS growth historically is 7% annually. Apple even pays a dividend, but at 2% it doesn't exactly scream 'Buy Me !!' to the value crowd or retail investors seeking out dividends or income.
Now it is possible that Apple is not getting full credit for her $125 billion in cash, since 2/3rds is located oversees and is difficult to repatriate. And perhaps Apple is not even getting credit for the ability to earn almost $50 EPS in 2013 and about $57 in 2014, according to the consensus estimates. But even if the iPhone and iPad hit an air pocket from the supposedly 'cooler' and 'hipper' competition from Samsung and Android-based products, and you throw in slowing economic growth, you can knock those earnings estimates down by 20% and the stock would still be cheap. So what's the problem ?
I think it goes back to a theme of my original article: Apple is stuck in No-Man's Land. If it were a $25 or $50 billion market capitalization company, the transition from growth investors to value investors would be much easier and only take a few months or quarters. At the margin, you would not need to endure that much selling or need much buying to affect the transformation of the shareholder base. But with a market capitalization of $500 billion, including many leveraged holders like hedge funds, you have sellers who want out dwarfing potential buyers.
An analysis by Sanford C. Bernstein showed that while Apple was present in most of the largest growth-oriented mutual funds and was over-weighted relative to market indices, it was not present in as many value-oriented funds and was under-weighted in those portfolios. This despite selling at a P/E level below that of many traditional value stocks such as Altria Group (NYSE:MO). So the sellers of Apple stock have excess supply and the potential buying power of the value group, while ample, has not materialized yet. Apple stock is like a crowded movie theater with only one very small exit. And too many shareholders have been heading for the exit door.
Throw in outflows from U.S. equity mutual funds approximating $300 billion the last 2 years, and there is not a lot of money available from value-oriented mutual funds to pick up the slack. And value funds and their analysts and portfolio managers tend to be very patient, slow, and methodical in their decision-making meaning they don't buy full or big positions over night. Ditto for endowments or foundations, whose investment policy committees are even slower, sometimes meeting only quarterly before deciding on allocations to specific stocks. So while the growth investors want out of Apple now, the potential value buyers are still doing their due diligence or sitting on the fence.
Apple is back to Square One, as I postulated in my earlier article. If Apple's market share is NOT under assault from Samsung/Google, then the company's revenue and earnings estimates the next few years are easily achievable and the huge cash balances in the U.S. and overseas are not necessary. If Apple management doesn't want to part with the cash because they believe the revenue and earnings estimates are too aggressive in light of new competition, they need to say so. Apple management can no longer have it both ways, claiming to need the largest corporate war chest in history while saying their low-CAPX, low-working capital business model is both fine and not in decline but poised for growth (if not at previous rates of increase).
I still believe that major corporate tax reform which allows companies to access overseas cash is likely within the next few years. The political and financial benefits are compelling, and in a few years the share of earnings attributed to overseas sources for the S&P 500 will be over 50% (up from 40% today, 20% in the 1980's, and 5% in the 1950's). Apple should be willing to jump-the-gun and tap the cash using some creative financial maneuvers and boost her dividend to the 5-6% level. That would be a financial earthquake that would not only brake the selling from growth funds but also ring a huge bell for value investors looking for dividends and income (a trend you may have heard something about in recent years). Retail investors would be able to buy Apple stock and double or triple their CD or bond investment yields and still have the upside of Apple stock to boot.
Previous mega-caps that faced the transformation of their shareholder base had the disadvantage of selling at much higher valuation levels as measured by P/E levels. Apple does not face this problem, so years of P/E contraction faced by Wal-Mart, Microsoft, Pfizer, etc., are not necessary. Apple's earnings do not need to grow into her P/E. What Apple needs is to be as aggressive in using her balance sheet as she has in pushing technological and consumer innovation during the last decade. One-time special dividends, share buybacks, and Dutch auctions mostly reward exiting shareholders, not new buyers or remaining holders. If Apple wants to attract the value investors and income-oriented retail base who are her new natural shareholder base, the best way to affect this transformation is a significant boost to the dividend and a commitment to keep it at that level pending tax law changes that should be in place by 2015 or so.
There are many large-cap stocks which have growth prospects even less than Apple's which sell at market or premium P/E levels. There is no reason that Apple stock cannot gather such a P/E level and premium stock valuation. Apple has shown that it pays attention to the consumer and changing trends for the products it sells. Now it has to show that it is paying attention to the financial markets and the message of the market with her changing shareholder base. If it does that, it can reclaim her 2012 highs of last September and the talk will renew about that sainted $1,000 level.
Disclosure: I have no positions in any stocks mentioned, and no plans to initiate any positions within the next 72 hours. I wrote this article myself, and it expresses my own opinions. I am not receiving compensation for it (other than from Seeking Alpha). I have no business relationship with any company whose stock is mentioned in this article.