According to the International Energy Agency's (IEA) annual Medium-Term Coal Market Report 2012, coal will rival oil as the world's top energy source by 2017. I believe that New Hope Corp Ltd (OTCPK:NHPEF) will be a key beneficiary of this trend.
The IEA anticipates an increase in coal usage in every region of the world except the US, where natural gas is replacing the black mineral as feedstock for the generation of electricity. The world will burn around 1.2 billion more metric tons of coal per year by 2017 compared to today. That's the equivalent to the current coal consumption of Russia and the US combined.
Coal is available in abundance, and demand for power in emerging markets seems to have no limits. According to the IEA, coal was burned to satisfy nearly half the increase in energy demand during the first decade of the 21st century.
The IEA's second report about the commodity, like the first in December 2011, concludes that strong demand in China and India, particularly for electricity generation, will keep coal among the world's primary fuels for the foreseeable future.
The outlook for the commodity and for Australia-based companies exporting to Asia is positive.
China will surpass the rest of the world in coal demand during the outlook period, while India will become the largest seaborne coal importer and second-largest consumer, surpassing the US.
Global demand grew 4.3 percent in 2011, or 304 million metric tons, with China, now the world's largest importer, accounting for 233 million metric tons or 77 percent of this growth. Global and Chinese demand continued to grow in 2012.
With a population of more than 1 billion, electricity shortages and the largest pocket of energy poverty in the world, India will make a significant contribution to rising coal consumption through 2017 and beyond. The IEA forecast is for India to be the largest seaborne coal importer by 2017 and the second-largest coal consumer.
The IEA predicts that Australia will reclaim its long-held title of "World's Biggest Coal Exporter" after surrendering it to Indonesia when flooding in Queensland in fiscal 2011 constrained output.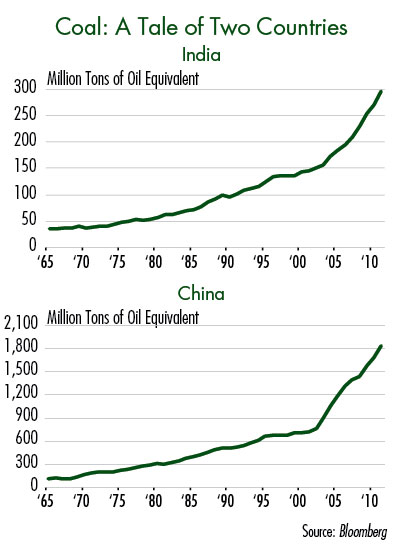 The IEA's analysis suggests Australia, despite rising labor costs and a strong Australian dollar, will invest enough in infrastructure and mine expansion to export 356 metric tons of coal by 2017, exceeding Indonesia's 309 metric tons.
Australia-based New Hope Corp Ltd's primary activity is the production of thermal coal, also known as steam coal, which is used all over the world to generate electricity.
Japan, China and Taiwan are New Hope's three main export markets. Volumes with customers in those markets are generally booked under long-term contracts. The prospect of rising demand from India bodes well for future growth. Most of its coal is sold quarterly on a fixed- or negotiated- price basis, some monthly on an indexed-price basis.
Fiscal 2012 (ended Jul. 31, 2012) operating numbers were solid, particularly in light of consistently declining coal futures prices over the course of the year. Revenue from ordinary activities rose 15.9 percent to AUD767.5 million ($808.6 million), as coal production was up 11.5 percent to a company record 6.29 million metric tons and sales grew 10.6 percent to 6.25 million metric tons.
Of this total, 5.83 million metric tons were exported and 0.42 million metric tons were held for domestic usage. On-site operating costs increased by 0.5 percent from the previous year, reflecting New Hope's ongoing and successful focus on cost management.
New Hope's 100 percent-owned Queensland Bulk Handling (QBH) facility exported 8.67 million metric tons of coal on 120 vessels during the 12 months ended Jul. 31, 2012, a 33 percent increase on the 6.52 million metric tons shipped on 88 vessels in fiscal 2011.
The company declared yet another special dividend along with its regular final dividend for fiscal 2012, paying a total of AUD0.31 ($0.33) to shareholders, up 22.8 percent from fiscal 2011.
One of my top Australian dividend stocks, New Hope's cash and short-term investment reserve total approximately AUD1.5 billion ($1.58 billion), and management has reduced debt to zero over the past 10 years. A strong balance sheet will also enable New Hope to take advantage of opportunities created by the current downturn for the coal market.
Disclosure: I have no positions in any stocks mentioned, and no plans to initiate any positions within the next 72 hours. I wrote this article myself, and it expresses my own opinions. I am not receiving compensation for it. I have no business relationship with any company whose stock is mentioned in this article.