As of the week of December 14th 2012, there were a total of 1381 rigs drilling for oil in the U.S. This is 185 more than last year, which is a 15.5% increase year over year, according to Baker Hughes.
The natural gas rig count was down 49.1% to 416 rigs due to the ongoing weakness in U.S. natural gas prices. This weakness in natural gas drilling could reverse in the coming years, as the U.S. becomes an exporter of Liquid Natural Gas (LNG). Forecasts for U.S. on-shore drilling rig utilization for 2013 range between flat to slightly up, showing that the drilling boom in the U.S. is expected to continue for the foreseeable future.
As the drilling continues and becomes more technologically advanced with horizontal drilling, fracking and the use of advanced software for exploration and drilling purposes, there are companies that are filling niche needs in the oil field services industry to support these modern drilling techniques and technologies.
Many of these companies are seeing significant revenue growth as they penetrate the markets with their specialized services. These niche companies are providing services that the traditional oilfield service powerhouses such as Halliburton Company (NYSE:HAL) have limited or no service offerings. Many of these niche oil field services companies developing into strong businesses. Below are two microcap companies that we believe represent up and coming niche market growth companies with the potential for substantial share price growth from current levels.
GreenHunter Energy, Inc. (NYSEMKT:GRH) through its fully owned subsidiary of GreenHunter Water, L.L.C. focuses on water resource management in the oil and natural gas sectors in shale oil and natural gas plays. The company was founded in 2006 initially focusing on developing wind, biofuel and biomass energy resources. Now, GreenHunter fully focuses on oil and gas operators active in the Eagle Ford, Marcellus, Utica and Bakkan shale plays by improving efficiencies and lowering the cost of handling, hauling and disposing of produced water and frac flowback. The most current Green Hunter Presentation has conservative 10-year combined market estimates of $30-40 billion of potential revenues in these shale plays for water resource management.
Gary Evans the Founder, CEO and Chairman of the GreenHunter Energy, Inc. was the CEO and Chairman of Magnum Hunter Resources from its formation in 1985 until its sale for $2.2 billion in 2005. Mr. Evans is also the Chairman and CEO of the new Magnum Hunter Resources Corporation (MHR) which has a market cap of over $600 million. Mr. Evans leads a management team at GreenHunter that has the oil and gas industry experience to lead and succeed in the rapidly growing oil and gas water resource management market.
Since management decided to forgo the biofuels market and pursue the water resource management market in 2012, the management has done an excellent job of transitioning the company. Over the last four quarters GreenHunter has grown revenues from $876,000 in the quarter ended December 2011 to $4,871,000 in the quarter ended September 29, 2012. GreenHunter also significantly expanded gross margins over the same timeframe according to data from Yahoo Finance and has been EBITDA positive in every quarter of 2012. 2012 has been a complete overhaul of the company from a green energy project company to a water resource management company while the management has made sure they have the financing and infrastructure in place to grow the water business beyond 2013. Below is a sampling of the events through November 2012 that are spurring GreenHunter's growth:
During this time GreenHunter has made strategic acquisitions, divested non-strategic assets and in the last quarter wrote off a bio-fuel plant from the previous business for about $12.8 million. December was busy too; the Company increased their Appalachian trucking fleet, launched their Modular Above Ground Water Storage Systems rental service and closed on $6.3 million of funding. GreenHunter finished out the year with an acquisition of two oilfield water services and construction companies in the Eagle Ford Shale play. Jonathan D. Hoopes, GreenHunter President and COO, said of the acquisition, "The White Top and Black Water team members have been anxiously awaiting the time when they can begin marketing GreenHunter Water's entire suite of Total Water Management Solutions including Frac-Cycle™ water recycling and reuse and MAG Tank™ modular above ground storage equipment rental. This transaction greatly improves GreenHunter's footprint in the fast growing Eagle Ford Shale region where we anticipate seeing a significant increase in the utilization rates of our SWDs as the White Top and Black Water assets and team become integrated into our organization." GHR now has the financial and corporate resources to significantly grow their water management business. Investors should expect to see more synergistic acquisitions by GreenHunter, further accelerating the growth of the company.
GreenHunter's management has put the company in the position for future success by filling out their corporate structure and capital structure. GreenHunter's management projects 2012 full year revenues of $18.4 million up from $1.1 million in 2011. The management foresees topline growth of over 50% in 2013 to $30.5 million in revenues. GreenHunter has an Enterprise Value of $95 million, $9 million in debt and a market cap of about $50 million and the potential of 50% growth in large growing markets. The risks investors should pay attention to are difficulties assimilating acquisitions slowing growth, the continued availability of accretive acquisitions and GreenHunter's financing mechanism of a 10% Series C Cumulative Perpetual Preferred Stock which can make determining dilution difficult. GreenHunter appears to be a good value at these price levels with plenty of upside for investors as management continues to aggressively grow their business in these large high growth markets. GreenHunter has been servicing this sector for a little over a year and has shown tremendous growth so far. GreenHunter will likely continue to see strong topline growth for several years, adding to the attractiveness of an investment in GRH.
ERF Wireless (OTCQB:ERFB)
Over the past year ERFB's revenues from the oil and gas drilling market has grown over 90%. ERF Wireless is the only company that has the extensive rural network to properly serve the specialized oil and gas drilling market and provide the necessary broadband speeds needed by oil and gas companies to run their sophisticated software managing exploration and drilling activities. As these software packages become more sophisticated to manage modern exploration and drilling techniques, the latency in broadband available from VSAT (satellite) can cause disruptions in the software transmissions causing delays at the drill site. ERFB provides 1.5-5MB of upstream and downstream broadband service to drill sites allowing seamless operations.
ERF Wireless was restricted from selling their services until February 2012 due to an exclusive three-year reseller agreement with a larger oilfield services company. The contract produced no revenues. The contract had guaranteed minimums worth $120 million over the life of the contract according to a transcript of a company conference call at the time of the contract. This issue is currently headed to binding arbitration and has the potential to be additive to the company's value at some point in the future. ERFB survived this period by servicing their existing customers and generous cash infusions from the family of the Founder and CEO. The Founder has provided about 70% of all outside cash invested in the ERF Wireless. The management is very motivated for success.
Dr. Dean Cubley the CEO and Founder of ERF Wireless is an expert in wireless communications, working on satellite transmissions for NASA prior to going into private business. Dr. Cubley has held the company together over the past three years while preparing for their future growth potential in the oil and gas industry. In a recent interview with The Dickinson Press of North Dakota, discussing ERF Wireless' business in the Bakken, Dr. Cubley is quoted in the article saying, "We're expanding like a mushroom cloud in all directions in the Bakken. By the end of 2013, we will have network coverage capability for most of North Dakota with much of our activity centered now in the Ray and Williston areas." And "We cater to what the oil and gas industry needs out in the field to make the job easier. We saw a growth rate of about 92% last year (in the oil and gas markets), so we're growing our business."
Now that ERFB is selling their own services again, they are seeing strong growth and recently added their second Fortune 200 customer. ERFB's revenues in the second quarter grew 29% year over year and the gross profit increased 59%, in the third quarter revenues increased 51% year over year and gross profits grew 228%. ERFB is on track for strong revenue growth in 2012 and 2013, as well as going cash flow positive in 2013. Last year at this time the stock price was about $3.00/share and it has come down to about $1.00/share since then while the company had very strong fundamental performance. This price performance is indicative of the risks of investing in low priced stocks, as they can have large percentage moves in short periods of time. A risk ERFB investors should be aware of is the potential for competitors to enter the space, although as of now there is not any. A second risk is access to capital, if it is needed by the company, as the current environment can make raising money difficult.
ERFB has a low share count and even smaller float, so new interest in the company could have a large effect on its share price. Since ERFB has been nearly dormant as a company for several years, only serving their existing customers, it is not well known to investors and the stock could be significantly undervalued at these levels, especially with the potential for strong revenue growth from established customers over the next few years.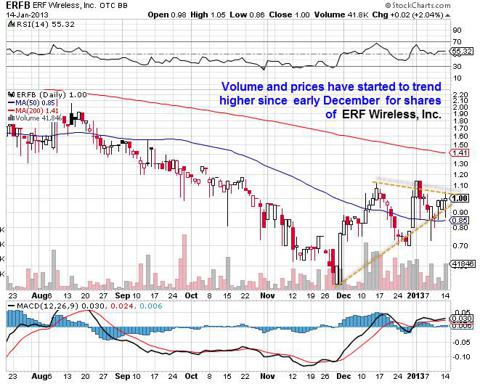 Disclosure: I have no positions in any stocks mentioned, and no plans to initiate any positions within the next 72 hours. I wrote this article myself, and it expresses my own opinions. I am not receiving compensation for it. I have no business relationship with any company whose stock is mentioned in this article.