Apple (NASDAQ:AAPL) had a good day yesterday. The question is: Will it last?
In September Apple reached an all time high of about $705 and immediately turned tail to enter its deepest retractions since the 2008 recession. Recently the question was whether it would break below $500 or not, and on Jan. 15 it did just that, opening lower, and closing at $485.92, its lowest level since last March.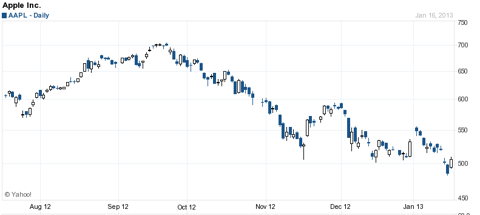 Yesterday
Yesterday (16 Jan, 2013) saw a strong reversal as Apple shares surged $20 or 4.15% to retake $506.
The Fly on the Wall reported yesterday:
Apple breaks out, heads for bear gap, levels to watch

Shares are breaking out above resistance, now testing near Monday's high at $507.50. Next resistance above that level would be the top of the bearish gap, the low of last Friday, at $519.02. Support is at $502.68.
So is this the end of the retraction? Do we begin a new leg up here to new highs?
But wait!
Look at 31Dec-02Jan in the chart. There was a similar pattern of continued drop to a local low, followed by a strong rise and a gap up, only to sink once again to an even lower low, breaking the $500 resistance level.
Is yesterday's rise just a trap for bulls before another leg down? In the 6-month chart above, we can see three major such false recoveries.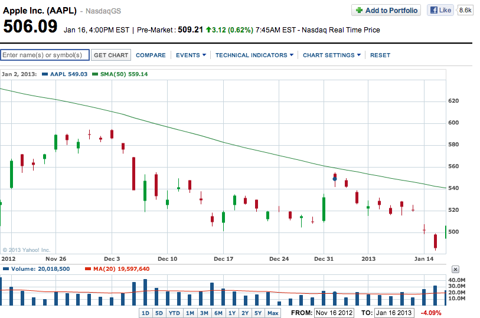 Bear Case - Bull Trap
Just yesterday, Pacific Crest Securities downgraded Apple and reduced the price target to between $440 and $550 for the next twelve months, according to a Business Insider report.
They write:
In short, Apple is an iPhone company. The days of the iPhone's mega growth are over and thus, Apple's fantastic stock run is too.
Alone this would mean little, but there have been a whole slew of analysts lowering revenues, EPS, and price target estimates lately.
A week ago, Money Morning reported:
Among the prominent bears is Doubleline Capital CEO Jeff Gundlach, who predicted on Thursday that Apple stock would continue all the way down to $425. He said that's about where AAPL was when it started its dramatic climb in January, and he expects it to return to those levels.

Gundlach is down on Apple because he thinks the Cupertino, CA-based company's new products are no longer cutting edge.
On the other hand…
The Bear Trap
These the thoughts of Barry Ritholtz, CEO of Fusion IQ as interviewed for Yahoo Finance.
Looking forward, the money manager and blogger says Apple could fall to as low as $350 based strictly on technical indicators.

But Ritholtz stressed that's an "outside possibility" and says the stock is setting up as a "bear trap" ahead of its earnings next week.

"I'd rather not be short here," he says. "I'm not excited about being long but there's such risk this thing could explode to the upside."

[emphasis added]
Additionally, other analysts remain bullish, with Yahoo reporting the average rating of 1.9 (buy) and the mean price target of $727.
Finally, analyst Tom Demark said in an interview for CNBC Fast Money on Tuesday:
"This looks like a very strong rally of at least 22 percent,"
In fact, he predicted Wednesday's rally:
"We wouldn't be surprised tomorrow to see Apple gap up above $494, $495 despite trading lower in the aftermarket today, and it will just move forward from there and be strong for the next couple of weeks and reach $600."
But why listen to him? Demark notes in the interview:
"On September 21, we turned bearish on Apple, and it was above $700...we made a prediction that the stock would go down to $494 - $494.97, to be precise. We've held to that forecast all the way down, despite those intermittent rallies." [Business Insider]
It all comes down to earnings
With so much negative news lately, the proof of the pudding is going to be with the earnings release after close next Wednesday.
According to research by Philip Elmer-Dewitt of Fortune, mainstream analysts have revenue/EPS estimates ranging from $51.7B/$11.53 to $59.6B/$15.50. Independent analysts take that up to a high of $62.8B for revenue and EPS estimate of $16.85 (cutting the outlier which is another dollar higher yet).
While in the past, the independent analysts have tended to be more accurate than the professionals, this has not held true for the last two quarters, as can be seen by his chart.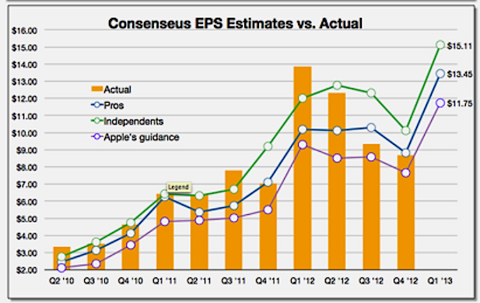 Chart: tech.fortune.com
Conclusion - Risky Business
Betting on Apple at this point is risky business. By 10:50 this morning it had been down as low as $502.61 (down $3.48), after opening up at $510.43 (up $4.34).
All will probably depend on next week's revelation. If the results handily beat the street's lowered expectations, then a rebound is likely, perhaps with a run up to new levels. If not, then the bears are likely to have a picnic in the Apple patch.
=====
Related Article: Apple Fire Sale Ends?.
====
Disclosure: I am long AAPL. I wrote this article myself, and it expresses my own opinions. I am not receiving compensation for it (other than from Seeking Alpha). I have no business relationship with any company whose stock is mentioned in this article.
Additional disclosure: I may open long or short options positions in AAPL within the next 72 hours.