Microsoft's (MSFT) future has been, for the last few months, the cause of many heated discussions among investors. On the one hand, bears are emphasizing the decline of the PC market, Apple's (AAPL) dominance in smartphones and tablets, and the not-so-great sales of Microsoft's Surface RT and Windows 8.
On the other hand, bulls argue that the decline in the PC market is cyclical in nature and demand will bounce back sooner or later. Furthermore, they believe that users moving from PCs/laptops over to tablets will be more likely to choose a Windows 8 tablet due to their wide compatibility and the ability to run over 4,000,000 available desktop applications. Finally they are counting on Xbox and Cloud Computing to be new sources of growth for Microsoft.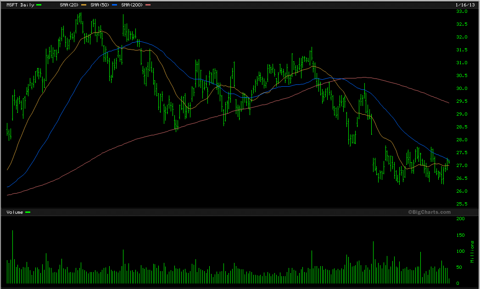 (Source: BigCharts.com)
I believe that it's more likely that the bulls are right about Microsoft. Here are the reasons why:
1) Smartphones
After the launch of Apple's iPhone and Google's (GOOG) Android, Microsoft's market share in smartphones has shrunk to 2.6%. However, after it launched the Windows Phone 8 OS, Microsoft has finally caught up with the competition and analysts at IDC predict that its market share will rise to 11.4% by 2016.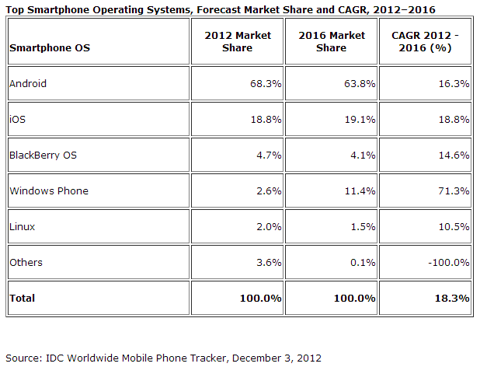 2) Tablets
As I argued in a previous article the Windows 8 OS is a game changer for Microsoft. With this new OS, Microsoft has managed to transform tablets into mini-laptops and thus winning over all those users that want to replace their laptop/PC with a tablet (or a convertible laptop) but don't want to stop using desktop software or lose the compatibility of a universally adopted OS.
A lot of ink has been spilled on the fact that the Surface RT tablet was not well accepted by consumers. What some commentators don't understand is that Windows 8 don't need the Surface to succeed. Microsoft isn't a hardware company, and that's fine. The Surface is clearly intended as a demonstration (for OEMs and consumers) about the way Microsoft wants its OS to be perceived and used. It is also a way of setting a minimum quality standard for the devices that OEMs are going to build around Windows 8.
3) The Upgrade Cycle
Windows Vista & Windows XP run on 49% of the Windows powered PCs/laptops out there. The owners of these devices will upgrade sooner or later to Windows 7 or 8. Even in the case that they dump their PC/laptop and go to buy a tablet the majority of them will just buy a Microsoft powered tablet.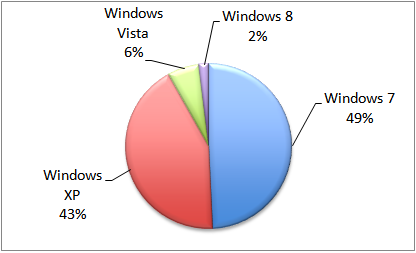 (Source: NerMarketShare.com)
Another way to look at this is the following one. It doesn't matter if the PC market is shrinking, as long as people buy a Windows tablet. However it still too early to call out the winner in the tablet market because if there are still only a few Windows 8 tablets out there. Although I believe Microsoft will see tremendous growth in this market, the odds are that this won't be obvious enough until the end of 2013.
4) The Cloud
Microsoft has made a lot of progress in cloud computing and has already taken a leading position. It offers one of the most complete cloud solutions for businesses and is building a strong distribution network that will help it reach as many small and medium-sized businesses as possible.
Furthermore, its Office 365 service has scored significant wins with retail companies, various government agencies, and municipalities that demonstrate that is more than able to build up its market share significantly.
5) Xbox
Through Xbox 360 and its kinect sensor, Microsoft is steadily conquering the living room. With more than 67 million devices sold since 2005 and over 40 million Xbox LIVE members, Microsoft's media platform has a strong foothold under our TVs. And by offering more and more content it's ready to go head on with the set-top boxes of cable providers.
Valuation
The average analyst estimate for Microsoft's fiscal 2013 EPS is $2.87, which at yesterday's close ($27.21) gives us a forward P/E ratio of just 9.5. Microsoft has $7.60 surplus cash per share and if we discount it from its stock price the 2013 P/E ratio drops to 6.9.
To calculate its fair price we can assume 0% to 5% average EPS growth over the next decade and we'll end up between $36.30 and $51.60. To get some perspective about how conservative this 5% growth projection is, keep in mind that Microsoft can accomplish that, solely through stock buybacks. The average 10-year FCF it generates is 8% of its current $230 billion market cap.
Microsoft's track record for share buybacks is a good one. From the end of fiscal 2005 until Sep 30, 2012 it has reduced its shares outstanding by 23%.Finally if you add to the mix it's 3.4% cash dividend you have a blue chip stock that's extremely undervalued and has a huge margin of safety.
To sum up, Microsoft is doing a lot of things to increase its revenue. Even if it fails to accomplish that, it's still 35% below its 0% growth fair price, giving investors a huge margin of safety. However it's fair value easily sky-rockets to 190% of its current ($27.21) price if we consider that it can easily deliver a 5% average EPS growth through share buybacks alone.
Disclosure: I am long MSFT. I wrote this article myself, and it expresses my own opinions. I am not receiving compensation for it (other than from Seeking Alpha). I have no business relationship with any company whose stock is mentioned in this article.