AG Mortgage Investment Trust Inc. (NYSE:MITT) is an REIT that invests in Agency RMBS, Non-Agency RMBS, CMBS and ABS. It had approximately a $4.9B investment portfolio as of the end of Q3 2012. A large portion (80.3%) are Agency RMBS. Overall MITT's average yield on its investment portfolio was 3.45% in Q3 20112. Its average cost of funds was 01.04%. This left a net interest margin of 2.41% for Q3 2012. The weighted average leverage at the end of Q3 2012 was 6.06x. More specifically the leverages were 6.6x for Agency RMBS, 3.8x for Non-Agency RMBS, 2.8x for ABS and 3.5x for CMBS. The table below shows a breakout of the Non-Agency RMBS and other assets.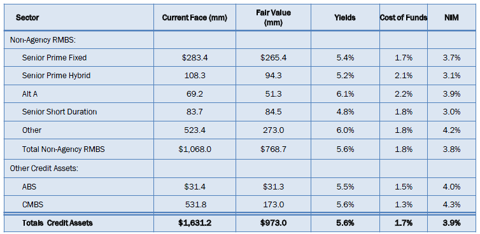 Click to enlarge
Even though this entire segment is only about 20% of the overall portfolio, it has a big effect on raising the overall interest margin figure. Please also notice that the overall current face value of these assets is far above the fair value ($1.6312B versus $973 million or about 68% higher). These securities are currently being bought at this huge discount to face value. This means there is huge potential for increased gains in this area over time. With the Fed backing the real estate market, it seems likely that at least some of these potential profits will be realized (in addition to the interest spread profits). Recent signs of real estate market health, such as the November 2012 Existing Home Sales data, affirm this view. Existing Home Sales were up 5.9% in November 2012 and median prices for those sales were up 10.1% year over year.
The Fed recently completed Operation Twist. It currently has both QE3 (buying $40B/month in MBS) and QE4 (buying $45B/month in long term Treasury Bonds) active. Both of these are working to keep interest rates and mortgage rates low. However, QE4 will not likely do as good a job as Operation Twist had been doing at this. It amounts more directly to "printing money," and it is likely to cause some inflation. This will mean that long bond yields will rise, and mortgage rates will follow those in time. Many mortgage rates are based on long US bond yields (others are based on LIBOR). The following chart shows that 30 year US Treasury yields have been roughly trending upward since July of 2012.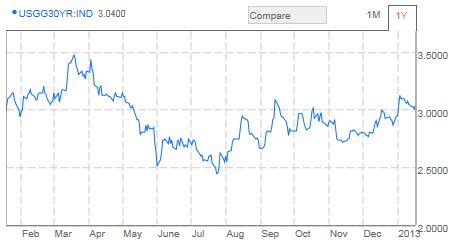 MITT has also been buying increasingly more of these high profit potential Non-Agency MBS and ABS. It has announced its intention to continue along this line. With recent data indicating that the real estate market is improving, this seems a smart strategy. It shows MITT management is adapting to the markets. Attentive management is usually thought to be a good thing. The chart of the investment portfolio below shows MITT's expansion of its business and its relative movement into these profitable assets. These are thought to be becoming less risky as the real estate market improves.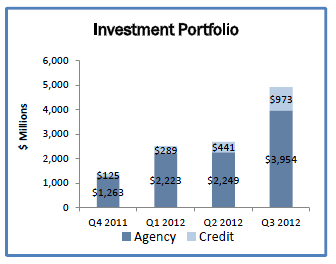 CPRs (constant prepayment rates) have also remained relatively low for MITT. CPRs have moved from 5.00% in Q4 2011 to 6.20% in Q3 2012. However, this seems relatively normal with generally decreasing mortgage rates over that time. Such decreases may have hit bottom in Q3 2012. CPRs may move lower in 2013. This should help MITT make more profits.
Even with the above mentioned higher CPRs, MITT has been growing "core earnings" dramatically in the last year (see chart below).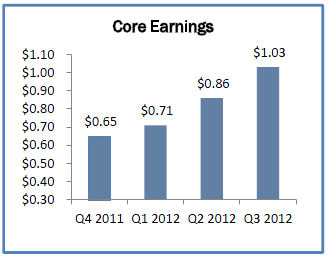 This is great performance compared to many of the more heavily Agency only weighted mortgage REITs. It speaks extremely well of MITT management. Further MITT has raised its dividend from $0.70 per unit in Q4 of 2011 to $0.77 per unit in Q3 2012. Recently MITT announced a Q4 2012 dividend of $0.80 per unit. This is fantastic performance compared to many peers that have been lowering their dividends recently as their interest rate spreads have narrowed. This just makes MITT's move into more Non-Agency assets look that much better.
MITT's Q3 results confirm all of this. It had net income per share of $3.10. It had core earnings per share of $1.03. This more than covered its $0.77 dividend/distribution per share. As of September 30, 2012, MITT had approximately $1.19 per share of undistributed taxable income. In other words it has a good buffer to help it support its dividend, if need be. All this translates into a 40.9% annualized return on MITT stock as of September 30, 2012. The book value has also appreciated. In Q3 it moved from $21.78 per share at the end of Q2 2012 to $23.71 per share (a raise of $1.93 per share or about 8.9% in just one quarter). There is a lot to like about MITT.
The two-year chart of MITT provides some technical direction to this trade.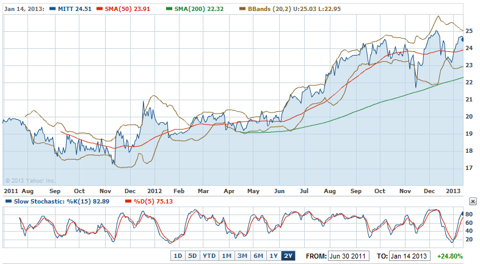 Click to enlarge
The slow stochastic sub chart shows that MITT is near overbought levels. The main chart shows that MITT is in a long-term uptrend. It may be due for a minor pullback; but it seems a strong stock. Most investors will want to buy this one. It seems likely to outperform the mortgage REIT industry, which in itself is probably one of the best areas of investment in today's market. The saying, "don't fight the Fed," applies doubly when an industry is being directly supported by the Fed.
MITT trades at a huge PE bargain of 2.99. It pays a great dividend of 12.95%. Zacks recently added MITT to its list of #1 ranked investments (strong buys). CAPS gives it a five star rating. It has had both net insider buying and institutional buying recently. These facts are all good news to investors. MITT is a buy even in these trying times. However, an investor may wish to average into a position in MITT over the next year or so. There is no telling exactly how the overall market will behave this year. The Fed is propping it up, but more austerity from the government is likely coming. Averaging into this top performer will help you avoid any major downswings in the value of your holdings.
NOTE: Some of the fundamental data above is from Yahoo Finance.
Good Luck Trading.
Disclosure: I have no positions in any stocks mentioned, but may initiate a long position in MITT over the next 72 hours. I wrote this article myself, and it expresses my own opinions. I am not receiving compensation for it (other than from Seeking Alpha). I have no business relationship with any company whose stock is mentioned in this article.