Alcatel-Lucent (ALU) on Wednesday said it received a $1 billion contract to manage Reliance Communications' telecom network in Eastern and Southern India.
According to the company, it's India's first end-to-end managed services contract, and one of the largest globally. Alcatel-Lucent will provide network managed services in Eastern and Southern India up to 2020. As part of the deal, 4,000 Reliance employees will move to the new managed service operation.
This strategic agreement will give Reliance Communications the capability to proactively assure a high quality and consistent experience for customers regardless of device or type of connection. To enable the new model, Alcatel-Lucent will set up and operate next-generation OSS (operations support systems) and introduce advanced real-time optimization tools to improve network performance across Reliance's wireless, wireline, long-distance, fiber and utilities functions.
Needless to say, this a great contract for Alcatel-Lucent. Not only does this mean that the company is even closer to being 100% solvent, it also means its restructuring efforts are paying off and it's getting its act together. Assuming this deal goes well, I can imagine we might see more deals like these in the future for the company.
So thumbs up for Alcatel-Lucent once again, and I reiterate my bullish stance on the stock (see all of my ALU articles here).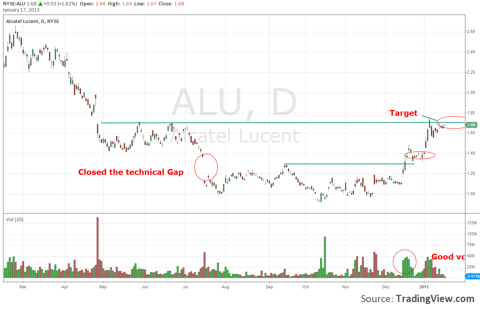 On a technical note: The stock has actually reached the technical targets that we have talked about in the past. Technically speaking, I think the stock will probably stall at these levels for some time, until we get additional good news. Next technical target -- assuming nothing bad happens and the good news continues -- is around $2.70.
Additionally, Bloomberg reported that Hewlett-Packard (NYSE:HPQ) was approached by investment bankers about selling assets. The assets in question are Hewlett-Packard's Autonomy and Electronic Data Systems divisions. While Hewlett-Packard was reported that it is not interested at the moment, it did not rule out such a move, according to sources.
As far as I'm concerned, if Hewlett-Packard can get a good deal on these assets, it would be wise to sell them. The reason is that the company is quite leveraged, and I would not feel comfortable if I were a shareholder. As you can see from the chart below, total liabilities are about $86 billion, with the company doing about $120 billion in revenue. In my book, that is borderline dangerous. Also, the company has negative tangible equity and shareholders equity of only $20 billion.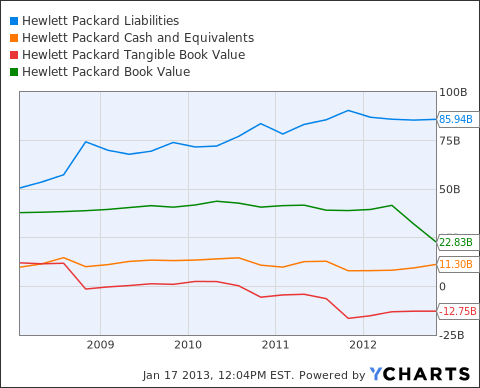 data by YCharts
The company is very cheap in terms of Price/Sales (0.28), and only has a forward P/E of about 5. If it can get its act together and unload some debt, I think shareholders will benefit. And since I don't believe that PCs will die, I think there is room for a pure-play PC company that makes great PCs and nothing else. So any news on the sale of these assets will be a positive catalyst for stock.
Reuters has also reported that Research In Motion (RIMM) was "very enthused" by the engagement and response of its customer base to a program aimed at persuading them to adopt BlackBerry10 devices.
The company told Reuters that more than 1,600 customers in North America had registered for its recently launched BlackBerry10 Ready Program, and more than a thousand were actively using the program, which offers customers access to services, information and tools to ease their transition to the BlackBerry 10 and the BlackBerry Enterprise Server 10.
I don't know about you, but 1,600 corporate and government customers is a lot of customers. And the fact that all these companies are interested in RIMM's new devices and are actively getting involved in the transitional period program tells me that the company will launch BB10 with much enthusiasm from its customer base.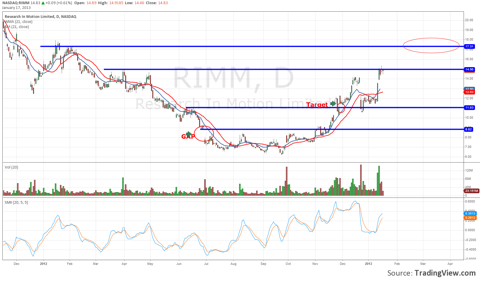 On a technical note, the stock has so far reached my third technical target in a row (see all of my RIMM logic here). And even though the stock has doubled from my initial recommendation, I remain bullish on this company because if BB10 sells well, this stock can go much higher than most even imagine.
The stock needs to take a breather, but then again with all the excitement about the new launch, anything can happen. The next technical target is around $17.30, and I think it is possible for the stock to tackle that level before the company launches BB10.
Disclosure: I have no positions in any stocks mentioned, and no plans to initiate any positions within the next 72 hours. I wrote this article myself, and it expresses my own opinions. I am not receiving compensation for it (other than from Seeking Alpha). I have no business relationship with any company whose stock is mentioned in this article.