Intel Corp. (NASDAQ:INTC) had a very rough 2012 as the "PC is Dead" mantra rang throughout the industry. It didn't help matters that the company lowered guidance throughout the year as well.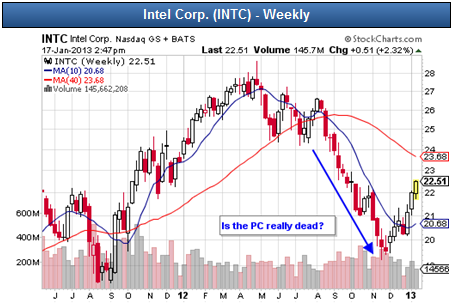 While Intel's earnings volatility is part of a natural ebb and flow for the company (as earnings are largely tied to the business cycle), we believe that now is the time to get back in the stock. We say this not because we think that Intel is going to turn the corner next quarter, but we do think that the stock bottomed in November. In addition, the recent decline in the stock has sent the company's dividend yield through the highly attractive 4.0% level.
Inte has been in the press the past couple of weeks because it is part of the "Dogs of the Dow" for 2013. The Dogs of the Dow strategy uses a relatively straight forward approach by selecting and rebalancing into stocks within the Dow Jones Industrial Average whose dividend yield is the highest. The theory behind choosing DJIA stocks with a high dividend yield is that they are closer to the bottom of their business cycle and are likely to see their stock price increase faster relative to lower yielding stocks. While we don't advocate blindly following the strategy, we do think that it has some relevance for Intel right now.
Buy Intel For Its Dividend
As discussed above, Intel was swept up with the "PC is dead" movement in 2012 and the stock suffered accordingly. However, the company pays the 3rd highest dividend in the Dow (4.1%) and we believe that this stock could bounce back in 2013. The table below summarizes some of the key data points that we analyze when ranking our dividend stocks.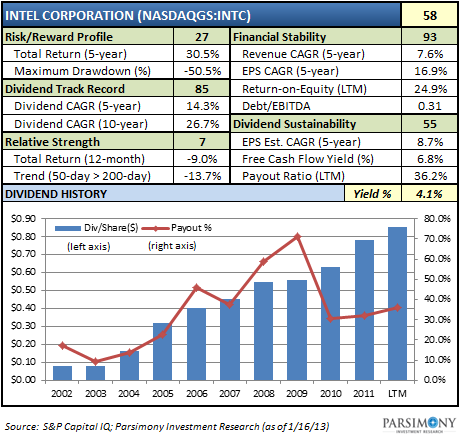 While Intel currently has an average overall rating of 58, it has very good ratings for Financial Stability (93) and Dividend Track Record (85) and we expect the company's overall rating to increase in the coming months as the stock price stabilizes.
Intel has been a great dividend growth stock over the past ten years as the company has grown its dividend at a compound annual rate of 26.7% over that time frame. We expect this dividend trend to continue and we think that the stock will bounce back in 2013. That said we think that this is a low-risk entry point for long-term dividend investors.
The PC is not dead!
Disclosure: I am long INTC. I wrote this article myself, and it expresses my own opinions. I am not receiving compensation for it (other than from Seeking Alpha). I have no business relationship with any company whose stock is mentioned in this article.