Sometimes an idea can be so simple it's a work of genius. I remember when I first heard of ketchup bottles that were squeezed out from the bottom rather than poured out from the top, and there was the immediate follow-up thought: "I could've done that." But along with millions of other people who probably thought of the same idea, I didn't act upon it when H. J. Heinz Company (HNZ) did. As a result, such a simple idea has translated into a product design that has likely generated millions.
In the same way, medical instrument and supply company Unilife Corporation (UNIS) may have been founded with the same degree of simplicity as a really good idea. The company makes a variety of drug delivery systems, including pre-filled syringes with integrated safety features, in order to virtually eliminate the risk of needle-stick injuries. In other words, the company found its roots by creating a safe needle that retracts in order to protect the administrator.
In the interview found here, CEO Alan Shortall demonstrates the simplicity of his company's devices. He also articulates the growing shift in the healthcare industry for patient self-injections, a trend that is growing in light of the need to reduce healthcare costs. Unilife has now developed a suite of injection systems that are simpler to use than conventional needles and significantly safer than their alternatives. In effect, the company's entrance into this growing market may be well-timed with the pursuit of pharmaceutical companies looking to pair their drugs with devices that are optimized for use by their patients.
Recent Catalysts:
Coverage initiated at a buy by Cantor Fitzgerald with a price target of $7.50.
Unilife was selected by a global pharmaceutical company for use of its Precision-Therapy bolus injectors. The first of five target drugs is expected to exceed $300 million in revenues.
Unilife just snagged another major U.S. pharmaceutical company for stability and evaluation studies of the company's proprietary syringes. This opens the possibility for a major long-term relationship with this company under multiple injectable drug programs.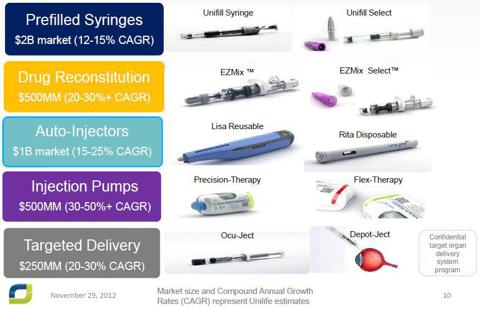 Although the majority of the prospective clients, and even the most recent partners, are still having their identities withheld, one known company that has partnered with Unilife is major drug manufacturer Sanofi (NYSE:SNY). In 2003, Sanofi approached the company to develop the next generation of prefilled syringes to improve patient care. In 2008, Sanofi paid Unilife almost $40 million in order to secure exclusivity for the Unifill syringe through June 30, 2014. Provided that Sanofi purchases the Unifill syringe for use within a particular drug product, the company will receive a 10-year extension of the exclusive license according to the company's 2012 annual report found here.
Yet Unilife has also expanded its product portfolio and is actively pursuing commercial relationships outside of the Sanofi arrangement as well. This can be noted in the catalysts seen above. It's important to understand that Unilife's products take many years in order to be tested alongside a target drug and for the attached drugs to meet regulatory approval. But upon such approval, the associated drug delivery system necessarily becomes the exclusive system for delivery going forward. As such, this provides Unilife with a clear revenue outlook once such developments occur.
As an additional thought to consider, in January 2012 Shortall purchased 264,275 shares on the open market between the prices of $3.60 and $4.07. The current share price of the company is $2.55 as of January 16, 2013, reflecting a market capitalization of $198 million. The CEO's confidence in the product suite appears to be growing, according to the last earnings conference call found here. As the company begins to sit down at the negotiating table, it remains likely that it will receive multiple awards for target drugs going forward.
It may be difficult to see at this stage of the company's development, but Unilife appears to be well poised for significant revenues ranging in the hundreds of millions in the short years ahead. Its active negotiations suggest that the company is being given a serious look by the makers of the next generation of drugs. Provided the company is able to attach its drug delivery systems to target drugs, and for those drugs to pass their clinical trials, Unilife can secure reliable revenues for years to come. The company has completed moving into its new manufacturing site and has been in talks with multiple companies for multiple drugs. Above all, Unilife stands with a suite of unique products that appear to be aligning with the changing times.
Disclosure: I am long UNIS. I wrote this article myself, and it expresses my own opinions. I am not receiving compensation for it (other than from Seeking Alpha). I have no business relationship with any company whose stock is mentioned in this article.