Don't count Intel (NASDAQ:INTC) out. That's the message form the company's Q4 report after the market closed. In spite of the difficult times for PC gear makers, Intel reported earnings of 48 cents that beat analyst estimates; revenues were slightly below expectations; gross profit margins stood at 58 percent-one point above analyst expectations; guidance in line with expectations. What should investors do with the company's stock?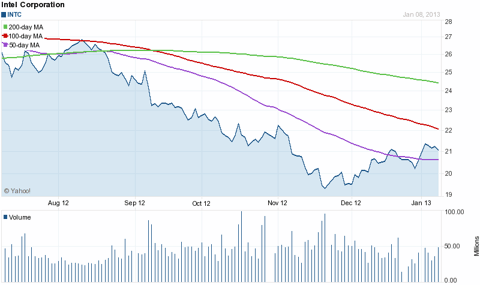 We think that Intel's stock is a buy for several reasons:
1. An improving chart. Intel's stock continues to trade below the 100-day and 200-day moving averages, but it has crossed the 50-day moving average, signaling a possible shift in momentum.
2. A low valuation. At $22.60, the company trades close to 70% below its 2000 highs, with its forward P/E below the industry average.
| | | |
| --- | --- | --- |
| Company | Recent Price | Forward P/E |
| Intel (INTC) | $22.60 | 9.89 |
| Advanced Micro Devices (NYSE:AMD) | 2.63 | -- |
| Nvidia (NASDAQ:NVDA) | 12.16 | 12.67 |
| Texas Instruments (NYSE:TXN) | 31.89 | 17.84 |
| Qualcomm (NASDAQ:QCOM) | 64.66 | 13.52 |
| Broadcom (BRCM) | 34.49 | 11.58 |
Source: Yahoo Finance.
3. An upgrade cycle. According to the Semiconductor Industry Association, global semiconductor sales totaled $25.73 billion in December, up 9.7% from April and 2% from the previous month.
4. Barriers to entry. Binding barriers to entry make the industry an oligopoly that allows Intel -- as a larger player -- to enjoy economies of scale while maintaining pricing power.
5. Increased dividend. Intel has been boosting its dividend for the last five years. It now stands at 4.10%, among the highest in the high-tech industry.
6. Successful transition from PCs to mobile devices. This happened with the introduction of new products like the Atom chip, which powers Windows 8 smartphones.
7. A change in leadership. This is usually followed by new strategic initiatives to improve both the top and bottom lines of the company.
8. An Aggressive Stock Buyback Program. Last quarter the company spent $4.8 billions to buy 190 million shares.
A few words of caution: In the high technology industry, winner takes all. Investors must keep an eye on the growth of Intel's revenues from new products. A big jump will confirm that the contrarian bet is going to pay off.
Disclosure: I am long QCOM. I wrote this article myself, and it expresses my own opinions. I am not receiving compensation for it (other than from Seeking Alpha). I have no business relationship with any company whose stock is mentioned in this article.
Additional disclosure: May initiate a position over the next 72 hours.