To say the market was a bit tepid over the dual press release on January 16 found here and here may be a bit of an understatement when considering the harsh reaction Solazyme (SZYM) shareholders woke up to on January 17. The company's share price dropped to $6.99 or over 7% in the course of 2 hours time. That dreadful fear of dilution appears to have been realized as the renewable oils and bioproducts company stated it intended to offer $100 million in convertible notes. But for those who've been following the progress of the company for a longer time period than it takes to read a flashing headline and broadly analyze a balance sheet, the truth should be quickly realized that today's news provided a very comforting outlook for long-term investors going forward. Assuming both announcements go into effect as planned, the reality is that today may have secured the very future of the company itself in a capital-efficient manner.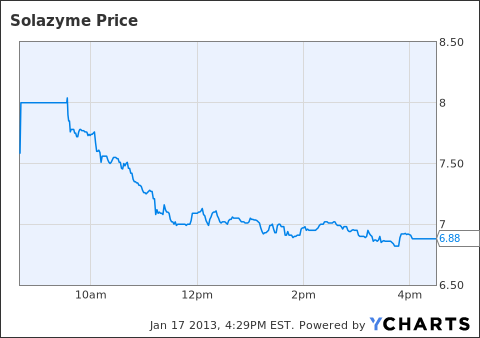 data by YCharts
It Takes Money To Make A Lot More Money
To give some context for those unfamiliar with the company, it's important to understand that Solazyme is in a rapid phase of development. The company is expanding its manufacturing capacity from the current 1,800 metric tons [MT] to over 550,000 MT with joint ventures by the end of 2015. This increase in capacity will have the ability to support annual revenues of over $1 billion. But such an expansion does not come cheap.
The 100,000 MT plant in Brazil expected to come online by the end of 2013 is anticipated to cost around $146 million in capital expenditures according to the company's estimates. Assuming this stands as the typical cost of a plant of this size, an additional $292 million equally divided between Solazyme and its joint venture partner Bunge (BG) can be expected for the additional 200,000 MT recently proposed. This results in direct costs of $146 million to Solazyme in order to fund the upcoming expansion for a total capacity of 300,000 MT with Bunge. While presumably debt financing can be obtained for this expansion in order to help reduce the upcoming capital expenditures in the years to come, the cushion of cash on hand would be reaching dangerously low levels regardless. In turn, this would also hinder the ability to raise debt on favorable terms.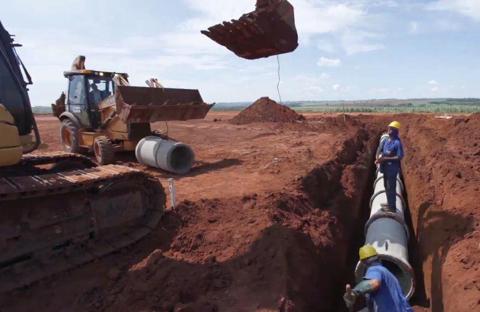 As of September 2012, Solazyme had about $167 million in cash & short-term investments. With the current quarterly burn rate of about $25 million, it was more than clear that Solazyme would have to raise cash in some fashion in order to finance its future capacity expansions on the timetable provided. Whereby it's more than likely that the company could sustain itself on its current balance sheet in light of the cash flows derived from new production expected to soon come online, the announced financing measure ensures that future construction is able to be initiated without a delay in waiting for those revenues to first be realized. By raising capital now, the growth remains strong and the outlook unhindered.
The Important News Remains Overlooked
While undoubtedly the announcement of the convertible notes sparked an irrational fear of dilution by those who loosely follow the company's progress, the more important news actually lies in the announcement of the $120 million loan from Brazil's national development agency, BNDES. With its approval, the loan will finance roughly 80% of the entire project dropping Solazyme's expected costs of roughly $73 million down to about $13 million, a huge accomplishment for a project of this magnitude.
What is being ignored, however, is the implications of this loan altogether. First of all, the fact the BNDES is the sponsor of this loan puts the Brazilian government as the largest risk-taker in this endeavor. In terms of vetting, this alone makes a large statement to future debt lenders who are witnessing a government take on significant risk for a green project in a post-Solyndra world. In a time in which future debt lenders are looking for leadership when it comes to clean-technology, this deal chalks another win for Solazyme looking forward. As private equity largely seeks to flee this market space altogether, Solazyme provides a reason to stay.
Additionally, the terms are being seen as largely favorable for Solazyme and Bunge. As noted in a Bloomberg article quoting analyst Lawrence Alexander, he remarks that the funding represents a "sharp reduction in the cost of capital when compared to typical clean-technology financings." The terms of the loan represent a mere 4% interest rate on an eight-year loan. This could correspondingly set a precedence for lower debt financing terms going forward.
Existing Fear And A Short-Sighted Perspective
When taking these two announcements together, it's easy to see why the market reacted the way that it did. The mere thought of raising capital and taking on debt is often ill-perceived as a failing business plan for those unfamiliar with the company's operations. Ironically, the idea of taking on debt and delaying immediate dilution by alternatively issuing convertible notes is possibly the most capital-efficient means to accomplishing the stated expansion goals.
Convertible notes are often given terms in such a way that the interest payments are lower for the company than if it were to issue bonds. This results in lower upfront costs for Solazyme, a company which is already in a cash preservation mode. Additionally, this alternative means of financing realistically delays the impact of directly diluting shareholders in the present. In doing so, the company keeps the share structure tight and the realistic effect of that dilution is slowly realized over time.
However, despite the benefits of these two announcements the market appears to have negatively reacted in a whiplash of anxiety. After all, such fears are thought to be justified as nearly all of the supposed public peers in the advanced biofuel and biochemicals industry have repeatedly needed to raise capital after their IPO. In January 2012, KiOR (KIOR) raised $75 million from existing investors. In early July 2012, Gevo (GEVO) raised $102 million. In February 2012, Amyris (AMRS) raised $83 million only to woefully come back again in December to raise another $42 million.
Yet whereas companies like Gevo and Amyris have struggled to scale up their operations, Solazyme has continued to meet and exceed expectations. The proposed cash infusion in this case isn't necessarily to stay alive as much as it is to continually thrive. Investors today fail to appreciate just how fast the company is accelerating its production capabilities in order to become a profitable endeavor. In my own estimates found in my article linked here, I detail the possible earnings capability of Solazyme based on manufacturing capacity going forward. I had even allocated for 10 million shares of additional dilution, which depending on the number of conversions from the notes could still hold true today.
Conclusion
Although the market reflects a continued disproportionate amount of fear despite Solazyme's proven operational capabilities, the additional financing news released on Wednesday remains beneficial to shareholders on two fronts. In the first sense, the company immediately gains increased credibility and reduces its short-term capital expenditures. In the other, the company bolsters its cash reserve in order to continually grow at a rapid pace and quickly bring the company into the realm of profitability.
At the same time, one of the possible impacts of issuing a convertible offering is that the buyer of the notes will often sell short the common stock against the bonds. In doing so, the buyer is relatively protected on the downside and the upside of the security while collecting on a zero-cost, interest-only investment. As a result, the short-term consequence is a falling price in light of increased short selling activity. Despite this effect on the market, however, fundamentally the company has only grown stronger. This contrast could prove to be detrimental to the company in the present but provide increased upward momentum on future announcements.
Investors today will likely fail to appreciate the due consideration management apparently took in raising capital. They could've just as easily directly diluted the share structure in order to secure an adequate cash cushion. Rather in this instance they partially spared investors by building that possible dilution into a liability structure that also benefits the company. For the long-term investor, the negative market reaction is likely to prove as an excellent time period to average in at lower costs. It remains unclear as to how far traders are willing to go in order exploit the fears of the market, but there is one thought that remains certain. Financially speaking, Solazyme may have just secured their future growth by following through on these measures.
Disclosure: I am long SZYM, BG. I wrote this article myself, and it expresses my own opinions. I am not receiving compensation for it (other than from Seeking Alpha). I have no business relationship with any company whose stock is mentioned in this article.
Additional disclosure: I have also sold short put options in GEVO