The Gist
"Back Up The Truck" is street slang that implies the buyer of a large position is extremely bullish on its future prospects. Typically, when someone sees a great buying opportunity they will say, "It is time to back up the truck on XYZ's stock." Well, that is exactly how I feel about Citigroup Inc. (NYSE:C) right now.
Citigroup is currently trading for $41.09, down $1.39 or 3.27% after reporting earnings Thursday that missed estimates. You can read the transcript here.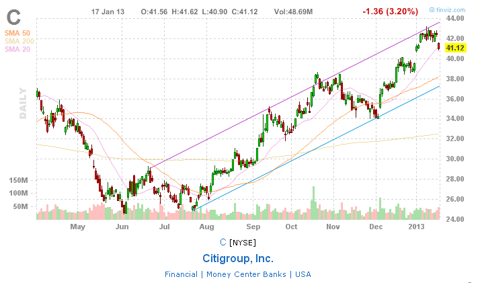 Citigroup's fourth quarter EPS missed by $0.27 while revenue of $18.2B missed by $0.9B. Citigroup's CEO Corbat stated,
"Earnings reflect an environment that remains challenging, with businesses working through issues like spread compression and regulatory changes as well as the costs of putting legacy issues behind us."
Sounds kinda overly gloom and doomish for a new CEO, or does it? I posit Corbat "kitchen sinked" the quarter to clear the decks for his tenure as Citigroup's CEO. It appears he is pretty good at it as well. I feel the dip in the stock is a buying opportunity. In the following sections I will lay out my bull case for the stock and explain why when a new CEO "kitchen sinks" a quarter it is often just the right time to back up the truck.
What Is a "Kitchen Sink" Quarter? Why Is it Good?
The strategy is called a "kitchen sink" because the new CEO finds creative ways to load every cost he/she can find in to the first quarter. In other words, they throw everything in including the kitchen sink. This sets a lower bar for later quarters when the new CEO wants to show significant improvement. This well-known yet unspoken phenomenon seems to happen quite often when a CEO is replaced and is healthy for the stock.
Citigroup Fundamentals Are Solid
Citigroup is a solid buy right now. It is well-positioned for 2013 growth. The stock is in good shape both fundamentally and technically and has significant catalysts for growth going forward. Fundamentally, Citigroup has several positives. The company has a forward P/E of 9.10. Citigroup is trading for a 35% discount to book value. The company has a PEG ratio of 1.61 and a net profit margin of 10.95%. Director William S. Thompson bought 6,850 shares of stock recently. As far as earnings per share go, Citigroup is firing on all cylinders. EPS is expected to grow by 18.5% next year.
Pullback Was Inevitable Technically
Technically, the stock is in a well-defined uptrend. The stock had a downturn coinciding with the election, yet has snapped back significantly in recent weeks. The golden cross was recently achieved at the beginning of October. This is a bullish indicator that has served me well. The stock went parabolic with the resolution of the fiscal cliff so the pullback on earnings is actually very healthy for the stock.
Citigroup Still One Of The Best Values
The stock is currently trading for 65% of book value. Banks normally trade for at least their book value. Currently, Citigroup trades for a lower book value ratio than JPMorgan (NYSE:JPM) and Goldman Sachs (NYSE:GS) which trade for closer to one. Bank of America (NYSE:BAC) and Morgan Stanley (NYSE:MS) trade for slightly less.
Citigroup is trading at one of the lowest forward price to earnings ratios in the industry with a forward P/E of 9.10. Only JPM has a lower forward P/E at 8.83. Please review the following chart from Finviz.com.

The Bottom Line
With the new Citigroup CEO throwing in everything including the kitchen sink this quarter, I felt it was time to back up the truck and start a position. In my last piece regarding the stock I stated I would be looking for a pullback to get in. With the housing market at the beginning of a long-term boom cycle and Citigroup's books cleared of any potential hidden land mines, the risk/reward ratio on the stock just got a lot more favorable. I posit the Fed stress test results will be the start of the next leg up for the big banks.
Disclosure: I am long C. I wrote this article myself, and it expresses my own opinions. I am not receiving compensation for it (other than from Seeking Alpha). I have no business relationship with any company whose stock is mentioned in this article.
Additional disclosure: This is not an endorsement to buy or sell securities. Investing in securities carries with it very high risks. The information contained within this article is for informational purposes only and is subject to change at any time. Do your own due diligence and consult with a licensed professional before making any investment.