Book value isn't necessarily the best valuation metric, even though its definition (the dollar value of what investors own by virtue of their holding shares of a corporation) sounds good on paper. Practical realities (intangible assets, changes in value over time, revised notions of usefulness, etc.) often don't match up well with accounting formulas. But with other performance-based valuation metrics (EPS, sales, cash flow, EBITDA, etc.) being so volatile right now, classic book value can be a useful guide to uncovering stocks that may be unduly cheap.
An opportunistic approach
Suffering losses when the market tumbles is bad enough. Adding to the irritation are commentators who whoop with joy about how bear markets afford great opportunities to buy good stocks at bargain prices. Frankly, I'd rather pay full price for what I buy and enjoy a much higher brokerage balance. So I'm not going to wax poetic about how much I love these buying opportunities. But that won't stop me from take advantage of them while they're here. Looking for book-value bargains is one way to do that.
Asset-based valuation
Essentially, there are two ways to value a corporation, based on what it does or based on what it has.
Valuation based on what the company does covers most of the usually-preferred approaches: P/E, Price/Sales, Enterprise Value/EBITDA, discounted cash flow, and so forth. Because this provides an at-least-plausible link between share ownership and the wealth that is expected to be generated as a result of such ownership, this is a theoretically sound way to assess valuation.
But for performance-based valuation to work, one needs a reasonable assumption of what the corporation will do in the future. The less confident we can be in our forecasts, the less useful performance-based valuation will be. That probably has much to do with the failure in the past year or so of so many value-oriented strategies.
In times of great uncertainty, we may benefit from acknowledging our inability to forecast performance and to instead, value a company based on what it has, something that exists in the here-and-now.
This isn't by any means a silver bullet. As noted above, the formulas used to calculate book value can be quite imperfect as a true representation of reality. But these distortions tend to exist throughout the corporate world. If we view our measurements in the context of similar measurements for all corporations, we have a better chance of making decisions that are correct, relative to the corporate universe as a whole even if not in absolute terms.
And since book value is less of a moving target compared with EPS etc., we may arguably be better able to adjust for the practical distortions. The degree of movement here (changes due to ongoing performance, and at this time of the cycle, reductions due to write-offs) is noticeable, but not likely to be as dramatic as we would see with EPS and the like. If we seek Price/Book ratios that are sufficiently conservative, we may be able to find some interesting bargains, especially if we support Price/Book with additional factors relevant to corporate health.
A P123 Book Value Bargains screen
After establishing the screening universe (no OTC or ADRs, no Finance stocks, Market Cap at least $250 million and Price at least $5), the screen uses the following rules:
Price/Book less than or equal to 1. This is fairly conservative. After eliminating the smallest least liquid stocks, the average Price/Book ratio is 2.78; the market cap weighted average is 2.67 and the median is 1.5.
Trailing 12 month EPS above zero. With EPS so volatile now, its hard to fixate on a preferred growth rate, but for this screen, we'd at least like the level achieved in the latest 12 months to be above zero.
Cash per share exceeds total debt per share. This presents an aspect of the what-it-has valuation that, unlike book value, is quite concrete.
Trailing 12 month interest coverage exceeds 2.0. This particular screen doesn't require the company to be debt free, but we want to make sure that the burden of carrying whatever debt it has hasn't been too crushing.
Screen performance
This is not a good-for-all-seasons screen. It was designed to cherry-pick bargain opportunities in the current environment, the aftermath of the horrific sell-off we experienced in recent months. At most points in time, few stocks will pass muster (often there will be five or fewer on the list). For what it's worth, Figure 1 shows the results of a 3/31/01 - 12/19/08 Portfolio123.com backtest (assuming four-week rebalancing and 0.5% price slippage on all trades).
Actually, those overall numbers aren't bad at all. But the small lists through much of the period, including many with zero, makes it impractical for regular ongoing use.
Figure 2 zeros in on the past year, where there were always 10 or more stocks on the list; in the last rebalancing period, there were 35 stocks.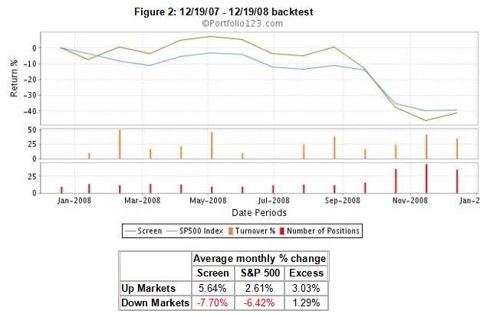 This is not so good, and in normal practice, would cause me to conclude that the screen in its current form is not worth using.
But what we're experiencing now is not at all normal. For one thing, this was a bear market. And in fact, it wasn't just any garden-variety bear market; this one was noteworthy in that so many different kinds of strategies across so many different styles all failed. It seems that investors weren't picking and choosing at all based on the usual fundamental or technical factors. To some degree, investors tried to game the shifts in resources and finance-construction (easier said than done considering the abrupt u-turns we saw there), but on the whole, it seems like the main characteristic of this market was widespread liquidation of the equities asset class. Perhaps the best stock-selection rule would have been based on "who owns how many shares and how desperate are they to raise cash."
So I'm not sure it's appropriate now to look down on a strategy simply because it failed to deliver in the past year.
Consider, too, the nature of what this screen is designed to accomplish: identify unusual bargains resulting from the recent epoch, but highly aberrant, stock-market carnage.
Figure 3 takes a different perspective, a 6/30/02 - 12/31/03 backtest.
Now that's more like it. The nature of that bear market wasn't exactly the same as this one. But it's the best we can do since it is, at least, an initial recovery from some sort of crisis. Without rigidly assuming that what happened then will happen again, we can at least note some underperformance for the strategy early on, a quiet period, and then a quick upward explosion. That's pretty much what this screen hopes to accomplish now.
Figure 4 offers a bit more color on the performance.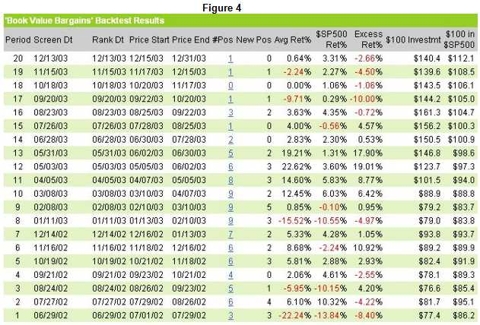 Notice what happened in Period 10, when the S&P 500 started to shake off its doldrums. This strategy exploded upwards, gaining 85.3% in four months, versus 17.8% for the S&P 500. It didn't last. The market continued upward for a very long time, but this strategy petered out in terms of performance and the number of passing stocks. As noted, this is not something I would want to do forever, but for the moment, it might offer some interesting opportunities.
Narrowing down
At present, the screen offers an unusually large selection, 36 stocks. I tried a few ways to narrow it down and ultimately the most interesting approach seemed to be to use a market cap sort and choose the five smallest. At times like these, large cap tends to offer more in the way of comfort, but we do need to remember that market inefficiencies are likely to be most prevalent in the small-cap area. That could be very painful on the way down. But the idea of this screen presumes that much of the down leg is behind us (remember the poor recent performance we saw in Figures 1 and 2). Note, too, that my initial universe set the floor at $250 million in market cap and a $5 price, so we're not straying into penny-stock country.
Figure 5 shows the result of a past-year backtest limited to the five smallest firms.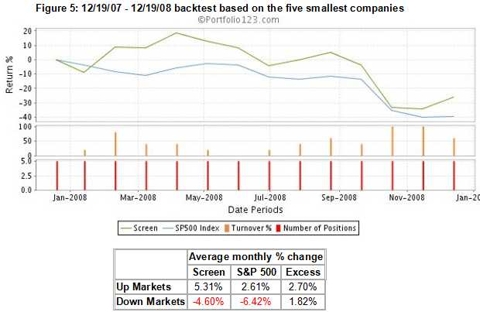 So far, this is following the script. The down-leg was quite brutal. But notice what's been happening most recently. It looks like this strategy is trying to bounce up exactly the way we're hoping.
I know the 2003 bounce was brief, so one may wonder if we're too late to the party. There's no way to know for sure. (In fact, we can't even be sure the new year won't bring another selloff.) But assuming we do want to pursue some quick bargains, it looks like the gains experienced thus far are pretty mild, suggesting there's still room for more.
Naming names
The five stocks that presently make the grade are listed below. As you look at them, keep things in perspective.
We're in a recession. Business is bad for almost everybody (except, perhaps, bankruptcy lawyers and credit counselors). These stocks were hammered and come to our attention because they're priced below book value. So I can't look for the sort of earnings stories investors have become accustomed to wanting. Expect tough times, baggage. That's what makes these stocks cheap.
I also expect that earnings recoveries are not likely to be imminent. Anyone who wants to pursue this, or any similar strategy, would need to know a well-known phenomenon, but one that is not always applied uncomfortably: the tendency of stocks to move in advance of news. We saw it on the way down (remember how many pundits were so perplexed at the way homebuilder stocks were tanking despite still-strong earnings) and if history is any precedent at all, we're likely to see it on the upside as well. (I still recall how many commentators were so outraged, almost offended, at the way stocks rose in 2003 even though earnings support was nowhere in sight.)
While pursuing the sort of rules-based protocols I normally work with, I don't generally get acquainted one-on-one with the companies. But given the current market climate and the elevated risks generally, and the particular risks of pursuing deep bargain strategies, it may be worthwhile to take a little peek at what's really in our lists.
Multi-Fineline Electronix (NASDAQ:MFLX). This firm makes flexible printed circuit boards for electronics products such as mobile phones, portable bar scanners, medical devices and computer storage products. Motorola (MOT) is the largest customer (not all for cell phones, where Motorola is particularly struggling but also for industrial applications), however the company has been diversifying its customer base (Sony Ericsson (NASDAQ:ERIC) and Research In Motion (RIMM) are becoming more conspicuous). Still, near-term prospects are iffy because of the economy, so MFLX is restraining its capital expansion program. But the company appears to have some staying power. It's debt free (the industry-average total debt to equity ratio is 63.9%) and has consistently posted mid-teens returns on investment, versus industry averages near 10%.
Zoltek Companies (NASDAQ:ZOLT). This is an early-stage growth entrant in the emerging carbon fiber area, which finally broke into the black in 2007 (just in time for the recession!). Zoltek is now an established player, but this is an easy business to enter so competition should grow. That said, long-term growth opportunities remain ample as carbon composites gain ground in such areas as aircraft components, auto parts, wind energy turbines and even golf clubs. The business downturn is obviously an unpleasant interlude, but it may not be a total disaster: Zoltek is an experienced producer of aircraft brake pads and next year, Boeing (NYSE:BA) will have to switch from steel pads to carbon fiber for its 737 fleet. The company has minimal debt. It would also help if it can succeed in alleviating concerns among wind power providers regarding the pricing and availability of high-end carbon fiber blades.
NATCO Group (NYSE:NTG). This company has a solid growth record making components used in energy exploration and production; its specialty is removal of contaminants from oil, gas and water. That's becoming more important nowadays as the quality of the wells and reserves deteriorates. But it didn't stop the stock from getting derailed lately when oil prices plummeted. Other unusual factors plagued the company in the latest quarter: disruptions from Hurricanes Ike and Gustav, steel price hikes, and, the company acknowledges, some management miscues relating to changes made in its automation and controls segment. Strong finances and the stock's current bargain valuation may enable it to withstand the possibility that prolonged economic weakness may cause a reduction in drilling. If things snap back within a reasonable time frame, so much the better for NATCO.
Nam Tai Electronics (NTE). This is an outsource manufacturer of branded electronics products, with cell phones lately having played a big part in the company's profit profile. For a while, that's been a great place to be. But now, the industry has hit a brick wall. Demand is down. Competition is up. You get the picture: NTE didn't make our deep-bargain screen just through bad luck. The firm is financially strong and makes lots of other fundamental screens too (a few years ago, I had it in the model portfolio of a value newsletter I ran). But still, the near-term situation is tough. Adding to uncertainty is its China-based manufacturing (that's how it, like other contract manufacturers, keeps costs down) and uncertainty regarding the labor scene there as the government looks for ways to get more money into the hands of average folks so they can spend (translation: potential rise in labor costs). Nam Tai meets the screen requirements but if I were inclined to override the screen, this might be something I'd have to think about. That's especially so given that I excluded ADRs. It's essentially a China-based firm, but the securities that trade in the U.S. are common shares, not ADRs, so I could consider this an honorary ADR. It's food for thought.
KHD Humboldt Wedag International (KHD). This Hong Kong based firm is another honorary ADR since the securities that trade in the U.S. are actually common shares. But I'm a bit more willing to look the other way in this case. Generally speaking, the company makes cement, concrete and related mineral processing equipment used for emerging-country infrastructure products. Thinking long term, how good is that! Thinking short term, well, you know; it's not pretty and the company is hunkering down to conserve cash (and preserve its already strong financial condition) and keep clear of projects that can't be handled on economically reasonable terms. So when it comes to near-term earnings prospects, we're standing high but looking downward. Frankly, though, when business prospects do finally start to look better, it's hard to imagine getting the stock at a price anywhere close to present levels. So this may fill the bill for deep-bargain investors. I should also mention that I keep seeing this name on other bargain screens.
Fundamental override
Over the years, I've done a lot of individual-company fundamental analysis and rules-based stock selection, and as previously noted I definitely prefer the latter. But these are extraordinary times and the strategy we're pursuing, deep-bargains, forces us to stick our heads into the lion's mouth, like it or not. That's why I was willing to engage the fundamentals one on one, and why I decided to drop one of my honorary ADRs: Nam Tai. Another consideration is my interest in the sixth ranked stock on the list:
AngioDynamics (NASDAQ:ANGO). This firm makes devices used in minimally invasive, image-guided procedures to treat vascular disease and cancer. Acquisitions and internal development are positioning the company at the technological-and-performance high end of these markets. And, of course, there's the demographics-inspired demand prospects: huge! That said, there's also some baggage. The long-time CEO is stepping aside to focus on a newly acquired unit, citing his own more entrepreneurial leanings. Sometimes, executives don't do that until the situations turn messy, so it's nice to see such a move handled proactively. Even so, management uncertainty at the top is not something investors cherish. But the company's prospects seem appealing, its finances are strong, and it adds a nice element of diversification to the four remaining companies above (circuit boards, emerging-country infrastructure, composite materials and energy drilling).
I could stick with the rules. The backtest results speak for themselves. Also, when I over-rode screens in the past, my track record was mixed. Even so, I'll now decide to swap ANGO for NTE on my final list.
Disclosure: The author may at times have positions in the securities mentioned and may make purchases or sales of these securities while this report is in circulation.