VIX - Market Sentiment:
Thursday saw S&P futures mostly flat until the weekly employment and housing data took markets and futures to fresh highs across the board. Futures were trading in a very tight 6 handle range between 1460 and 1466 in early trading until they bucked higher on the news release. The S&P climbed above the 1480 level and was holding it well after Jobless claims decreased by 37K to 335K adjusted rate. Helping this bullish optimism was U.S. Housing numbers also climbing to a 954K annual rate, further making the case for a recovery. Although I still do grow ever more cautious as we approach the 1500 level, the market continues to price in more gains in the future. It is worth noting one big bear or hedge did step up today, buying the March puts in full force, as I flagged on Twitter. More than 65M in net premium was bought for March and June expiration puts today in large 3K - 5K+ option contract blocks. This is also interesting, with a very big market impacting China GDP number due out overnight. The NYMO continues to show the market has burned off the recent pop, as the oscillator yesterday closed at +17.08, a 12 point decrease from the day before. This is typically the time where a market breaks out or down and from today's action, it appears the next leg is higher.
The spot CBOE Volatility Index (VIX) was down early today before perking up after the large SPX put blocks I mentioned earlier. Overall this is not surprising to me, as volatility is near 6 year lows and therefore, hedging or taking an outright bearish position using options is considered by most to be cheap at this point. Volatility ETF (NYSEARCA:VXX), 2x ETF (NASDAQ:TVIX), and alternative 2x ETF (NYSEARCA:UVXY) continue to come under pressure as VIX futures struggle to gain any traction higher. A large buyer of the March 20-30 call (stupid) did step up today, buying the position 9K times for 1.70 offer. There were also a few other large call purchases, but overall, nothing huge, as VIX volume was still under average.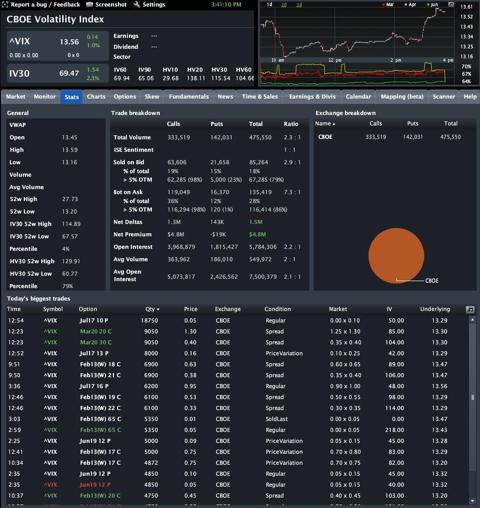 Statistics and Screenshot Provided By LiveVol
VIX futures are below.
Yesterday
· February VIX futures 15.53
· March VIX futures 17.00
· April VIX futures 17.95
Today
· February VIX futures 15.40
· March VIX futures 16.95
· April VIX futures 17.85
Options Paper:
The market finally saw some decent volume today, although some of this was masked with dividend plays. The market traded more than 18.5M contracts on the day, with S&P ETF (NYSEARCA:SPY) as usual leading the charge with 2.34M contracts. Following this, Bank of America (NYSE:BAC), Apple (NASDAQ:AAPL), Intel (NASDAQ:INTC) and Lowes (NYSE:LOW) led the rest, trading another 2.2M contracts. For those who follow me on Twitter, I entered an INTC trade today, along with others following some large bullish bets. INTC alone traded some 2.5M worth of call premium, with 28K of the January 23.5 strike calls bought for .12, which expire tomorrow. I actually sold this volatility and bought the February 23-24 call (stupid) and reduced costs by selling 2x of the January 23.5 strike calls. This trade only risked .20, but would stand to make a ton if INTC ran to 23.5 tomorrow. Other notable activity in this name was another 13.7K block of those same calls bought, along with a 20K block of the February 24 calls also purchased just shortly thereafter. I have tried fighting this bullish activity and lost almost every time before, so this time I joined the party. Options activity was almost 5x average daily volume, with calls outnumbering puts more than 2.7:1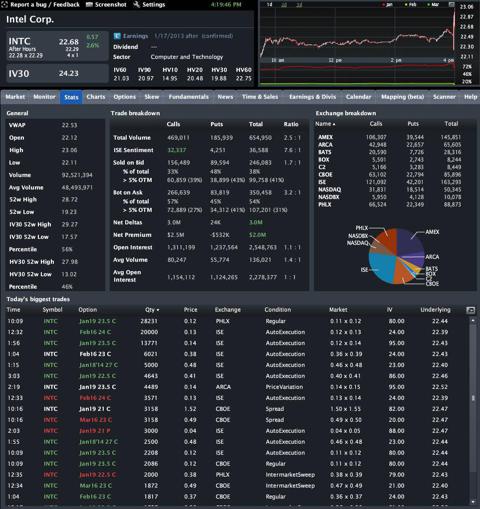 Statistics and Screenshot Provided By LiveVol
Another name I followed today on very heavy option volume was Vodafone (NASDAQ:VOD). Today, more than 47K contracts traded, with almost 24K bought on the offer, or 58% of all call options. Most notably, a buyer of the February 25, 26, and 27 strikes was on fire, pushing volatility up almost 33.5% to 25.8% overall. More than 1.2M of call premium flew into this name, and I decided to join them as well. The underlying fundamentals of this company remain strong, and it appears bulls believe this name has further to run. Options in this name were more than 8x average daily volume, with calls outnumbering puts 7 to 1.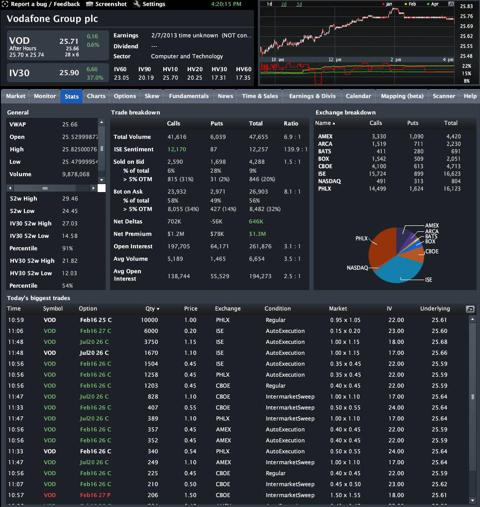 Statistics and Screenshot Provided By LiveVol
Popular ETFs and equity names with bullish/bearish paper:
Bullish Option Flows - ISE & % OTM calls bought on offer
Fairchild Semi (FCS) 85%
Gannett Co (NYSE:GCI) 80% - Interesting, as bought after gains today
Heckmann Corp. (HEK) 80% of the 10K OTM calls bought on offer
Goodrich Petroleum (GDP) 76%
Brookdale (NYSE:BKD) 71% or the 9K OTM calls bought on offer
IAMGOLD Corp (NYSE:IAG) 60%, as call rolls were big today
Bearish Option Flows - ISE & % OTM puts bought on offer
Deutsche Bank (NYSE:DB) 3.4K OTM puts bought or 88%
Denbury (NYSE:DNR) 79%
Clearwire (CLWR) 77% or 4K OTM puts bought
Advanced Micro (NYSE:AMD) almost 15K OTM puts bought
Delta Air Lines (NYSE:DAL) 75%
Celsion (NASDAQ:CLSN) 45% - Flagged yesterday (here), this name has seen 4M in calls sold and 3M in puts bought in the last 72 hours.
Disclosure: I am long AGNC, APC, BA, INTC, KERX, KOS, MTGE, NRG, PG, PSX, SBUX, VHC, VOD, and short: BWLD, CRM, DDD, FXE, NFLX, SPY.
Trades today: Exited SWKS long, added to BA long, closed EBAY long, entered SBUX long, entered VOD long.
I wrote this article myself, and it expresses my own opinions. I am not receiving compensation for it (other than from Seeking Alpha). I have no business relationship with any company whose stock is mentioned in this article.
Disclaimer: The opinions in this document are for informational and educational purposes only and should not be construed as a recommendation to buy or sell the stocks mentioned or to solicit transactions or clients. Past performance of the companies discussed may not continue and the companies may not achieve the earnings growth as predicted. The information in this document is believed to be accurate, but under no circumstances should a person act upon the information contained within. I do not recommend that anyone act upon any investment information without first consulting an investment professional as to the suitability of such investments for his or her specific situation.