Just a few weeks ago, it looked like the markets were poised for a potentially big decline if our nation headed off the Fiscal Cliff. That crisis was postponed with a very late deal that once again kicked the can down the road. The United States continues to spend more than it takes in, and as most investors know, that is unsustainable. While the markets have benefited greatly from loose money policies from the Federal Reserve, artificially low interest rates and the spending of borrowed money by Washington, investors need to look forward and ask themselves what the economy might look like when this unsustainable sugar high ends.
We might soon start to see the reality of major spending cuts when Washington once again grapples with the debt ceiling debate sometime in February. Republicans want the spending cuts that were part of the Fiscal Cliff debate to be implemented before agreeing to raise the debt ceiling. But it seems that President Obama (who voted against raising the debt ceiling as a Senator, but now wants it raised) and many Democrats, want to avoid the Republican-proposed spending cuts and entitlement reforms that could keep our nation from heading toward ever higher debt levels. With a current debt of about $16 trillion, and with Washington spending about $1 trillion more each year than it takes in, it is time to position your portfolio for the eventual reality that the U.S. government cannot forever inflate or prop-up this economy with borrowed money. With the debt ceiling debate posing as a major risk for the markets in February, and with a solid market rally in the first weeks of 2013, the market doesn't look so cheap. One top stock analyst believes the debt ceiling debate could spark a 10% market correction soon.
Furthermore, significant government spending cuts are likely to come in 2013, and that could reduce economic growth. It makes sense to take some profits and sell overbought stocks into this rally. Investors who do this will be well-positioned to take advantage of buying opportunities in the next market correction, which might not be coming soon. With that in mind, here are some stocks that appear overbought and worth selling now:
Cisco Systems (NASDAQ:CSCO) shares were trading around $16.50 in mid-November, but this stock has seen a sharp rally and now trades for about $21. With Cisco up about 20% in just the past three months, and with the stock trading significantly above key support levels, it makes sense to consider taking profits. The 50-day moving average is about $19.21 and the 200-day moving average is around $18.07. One look at the chart below, and it is easy to see how extended this stock has become. While Cisco is a great company, valuation matters and the stock could be poised to retrace some of the recent gains and consolidate at lower levels, especially in a broad market sell-off.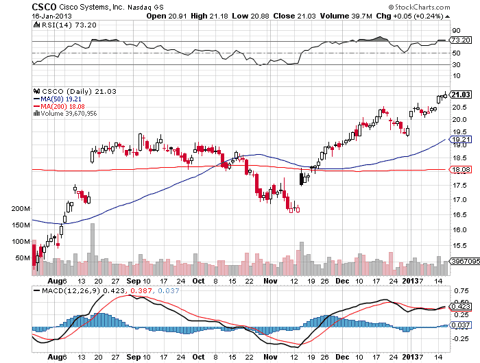 Furthermore, Cisco could be impacted by reduced government spending. If the U.S. does slip back into recession, corporate IT spending would also quite likely be impacted and put pressure on revenue growth. Cisco could also be facing increased competitive challenges as new technologies like software-defined networking or "SDN" allow businesses to buy generic routers, which are cheaper. With Cisco shares at the top end of the recent trading range, it might be a great time to cash in and wait for the next buying opportunity.
Here are some key points for CSCO:
Current share price: $21
The 52-week range is $14.96 to $21.30
Earnings estimates for 2013: $1.96 per share
Earnings estimates for 2014: $2.11 per share
Annual dividend: 56 cents per share, which yields 2.7%
Ford Motor Company (NYSE:F) shares have enjoyed a massive run over the past three months and it is hard to see a lot of near-term upside at this point. In November, this stock was trading for just over $10 per share, and now it is over $14. That is about a 40% gain in just several weeks. While Ford has a great management team led by CEO, Alan Mulally, the stock seems ripe for a pullback. The shares are now extended well beyond key support levels with the 50-day moving average at $11.92 and the 200-day moving average at only $10.60. The major rally this stock has seen is clearly evident in the chart below: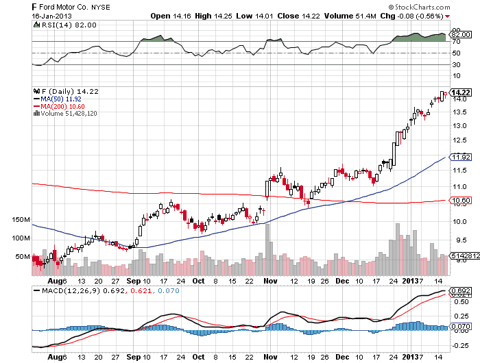 While Ford and other automakers have been enjoying strong sales in North America and China, Europe remains a problem and a money-loser for many companies. With high unemployment in the eurozone, auto makers have resorted to discounting and that is likely to persist in 2013. Furthermore, if the U.S. government gets into a major impasse over the debt ceiling debate, it could deal a blow to business and consumer confidence and car sales. This could become particularly difficult if a debt downgrade occurs, or if the U.S defaults or sees a temporary shutdown that impacts government benefit checks.
Analysts expect Ford to earn about $1.46 per share in 2013. That puts the price-to-earnings ratio at about 10 times earnings. While this is below the current average for the S&P 500 Index (NYSEARCA:SPY) of about 14 times earnings, a PE ratio of 10 is not exactly cheap for an auto stock since this sector is economically sensitive and cyclical. With many challenges looming for the U.S. economy and after a major run in Ford shares, it could be a great time to take some money off the table and wait for a better buying opportunity.
Here are some key points for F:
Current share price: $14.20
The 52-week range is $8.82 to $14.30
Earnings estimates for 2012: $1.34 per share
Earnings estimates for 2013: $1.46 per share
Annual dividend: 40 cents per share, which yields about 2.9%
Data sourced from Yahoo Finance. No guarantees or representations are made.
Disclosure: I have no positions in any stocks mentioned, and no plans to initiate any positions within the next 72 hours. I wrote this article myself, and it expresses my own opinions. I am not receiving compensation for it (other than from Seeking Alpha). I have no business relationship with any company whose stock is mentioned in this article.
Disclaimer: Hawkinvest is not a registered investment advisor and does not provide specific investment advice. The information is for informational purposes only. You should always consult a financial advisor.