Crude oil is the second leading futures gainer over the past month, rising 9.3%, on the back of continuing positive economic data. Rising and steady oil prices tend to lift oil services stocks, as investors reason that drilling activities will continue to expand.
Seadrill (SDRL) is an oil services stock from our High Dividend Stocks By Sector Tables that is starting to catch a bid, after tumbling in the 4th quarter. Although it doesn't yield over 13%, like the utility stock in last week's article, it does have a healthy dividend yield, and also has some attractive options yields, which we'll detail later in the article.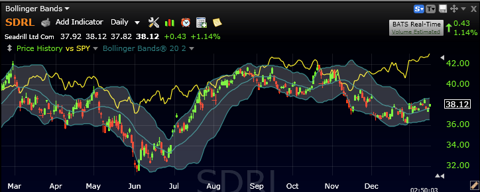 Seadrill leases offshore drilling rigs, of which it currently has 67 units, with another 22 being built, due to heavy demand, particularly in the ultra-deepwater arena. One of the company's strengths is that its rigs are leased out on long-term contracts, which sets up an attractive, steady cash flow stream that supports its dividends.
Seadrill's order backlog exploded in 2012, and bodes well for 2013 earnings, which may be underestimated by analysts.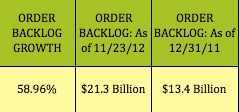 Depending upon how much of its backlog it can convert, SDRL's EPS growth could surpass the current 15.81% median analysts' estimate for 2013:

In addition to having strong earnings growth in its most recent quarter, and over the past 5 years, SDRL also has a strong long term EPS growth median estimate of over 22% for the next 5 years, giving it an undervalued long term PEG of .79:

Using a risk-adjusted discount rate of 8.70% shows SDRL to have an estimated value of $74.78.
Dividends: Due to the uncertainty about upcoming U.S. dividend tax rates in 2013, SDRL did the right thing in December 2012 by paying its shareholders the 4th quarter $.85 dividend one quarter earlier, and thus paid out two $.85 dividends.
Since it accelerated its 4th quarter dividend, its next ex-dividend probably won't be until May. If SDRL only pays its normal 3 remaining quarterly dividends in 2013, its dividend yield will be 6.69%, with an estimated dividend payout ratio of 80.95%.
However, this yield doesn't account for SDRL's record of making steady dividend increases since 4th quarter 2009, going from $.55/quarter to $.85/quarter in 2012 for regular dividends, plus adding special dividends of $.20 in 2010 and $.15 in 2012: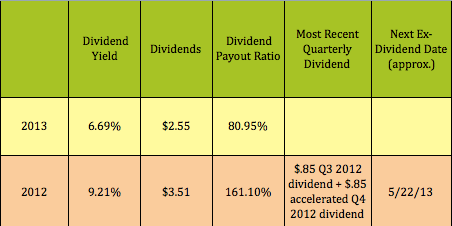 Options: This January 2014 Covered Call trade, offers additional, immediate income from Seadrill, and also offers a potential assigned price gain of $1.73, via selling at a $39.85 strike price.
You can find more details on this and over 30 other covered call trades in our free Covered Call Table:

Here are the possible income scenarios if your shares get assigned/sold: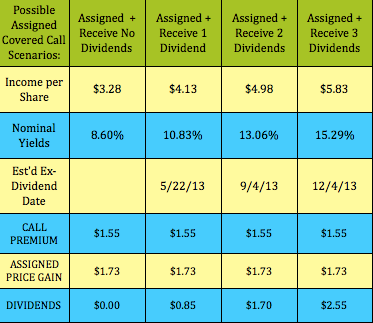 Static Scenario: If your shares aren't assigned/sold, you'd receive the $1.55 call option premium when you sell the covered call, and $2.55 from the 3 remaining 2013 dividends, for a total income of $4.10/share.
Selling Puts: A more conservative approach would be to sell cash secured puts below SDRL's current price. In this trade, the put premium and yield are higher than the covered call premium and yield, BUT, you won't receive any dividends, and there's no upside price gain potential. However, the $2.80 put premium gives you a breakeven of $32.05, which is 16% below SDRL's current price, and only 2.2% above SDRL's 52-week low.
You can see more details on this and over 30 other put trades in our Cash Secured Puts Table:

Financials: Although it has more debt, Seadrill stacks up well against its 3 biggest competitors for Management Efficiency, Operating Margin and Interest Coverage: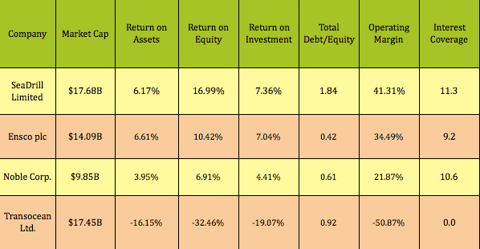 Disclaimer: This article was written for informational purposes only and isn't intended as investment advice.
Disclosure: I am long SDRL shares and short SDRL put options. I wrote this article myself, and it expresses my own opinions. I am not receiving compensation for it (other than from Seeking Alpha). I have no business relationship with any company whose stock is mentioned in this article.