Sangamo (NASDAQ:SGMO) announced today it received an upfront payment of $3M from Pfizer (NYSE:PFE) in exchange for a world-wide, perpetual, non-exclusive license for the use of certain ZFP Nuclease (ZFN) reagents to permanently eliminate the Glutamine Synthetase (GS) gene in Chinese Hamster ovary (CHO) cell lines.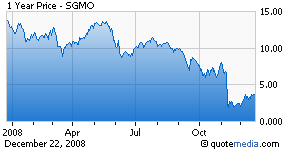 Shares are down 6.9%, perhaps implying investors feel SGMO sold out too cheap.
In a research note today, Rodman & Renshaw has a different take on the deal:
We regard this one-off deal as quite lucrative for what amounts to a cloning trick and reflective of the potential strength of Sangamo's ZFN technology. Briefly, there are several ways in which to delete the GS gene from mammalian cells – so if Pfizer is willing to pay $3 million to use Sangamo's, it must have some real advantages. We suspect that these advantages include easier characterization and validation of recombinant cell lines – a must for lines planned for the expression of recombinant proteins...

We regard this deal as an efficient monetization of the ZFN technology, with the company receiving an upfront payment of $3 million for a non-exclusive license. We have frequently noted that Sangamo's strong cash position and ability to finance operations through 2010 are a substantial asset and one that should enable the company to survive the current period of financial uncertainties in better shape than less well funded peers. Though Sangamo stands to receive no future royalties from this deal, we believe that it reflects Pfizer's confidence in Sangamo's technology, which may lead to additional collaborations. Examples of future deals are likely to involve biogenerics, where Sangamo's ZFP-derived cell lines and expression systems may circumvent certain expression patents. We believe the majority of investors remain focused on the development of SB-509, but Sangamo's ongoing ability to raise cash in a non-dilutive manner is certainly a positive as we await additional data.