Intel (NASDAQ:INTC) is down 5.6% in after-hours trading as of this writing, after releasing 2012 full-year results that appeared to disappoint investors. While fourth quarter earnings and revenues were largely in line -- net sales missed by about 0.2%, while earnings per share beat expectations, in large part due to a lower-than-expected tax rate -- it appears that 2013 guidance is what has led to the stock selling off. "Intel revenue forecast short of expectations," wrote Reuters, while MarketWatch reported, "Intel turns lower after hours on weak outlook."
Reuters, in particular, noted the company's project capital spending was well above analyst estimates, guided at $13 billion, plus or minus $500 million. That is up from $11 billion in 2012. But it is not far above Intel's initial guidance for 2012 of $12.5 billion, kept in place through the second quarter. Capex was only cut during the third quarter, according to Intel's conference call, due to lower utilization caused by weaker demand.
As such, the roughly 15% increase in capex year-over-year is coming from a depressed base; it may also show that Intel expects demand to rebound somewhat next year. Even if analysts are concerned about the spending, a $2 billion increase in capex seems unlikely to justify a $5 billion decrease in market capitalization after-hours.
And beyond the capex increase, the guidance seems pretty solid. First quarter revenue appeared to come in below analyst expectations; but full-year revenue was guided for a "low single-digit percentage increase." Given that analyst consensus for 2013 was at $54.35 billion, a 1.9% increase, that guidance would appear to be in-line. Meanwhile, gross margin was forecast at 60 percent -- ahead of estimates, according to Reuters, though down from 62 percent in 2012.
Indeed, from Intel's guidance, it plans to exceed current analyst expectations for 2013: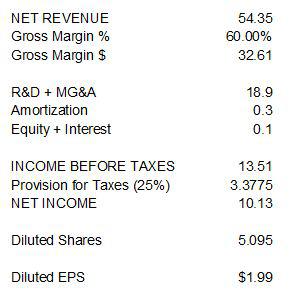 data from Intel Q4 earnings report and author calculations
Based on Intel's numbers, its EPS of $1.99 per share is ahead of analyst consensus of $1.94. Of course, it may be that the Street simply just doesn't trust Intel. On the lower end of Intel's range -- assuming flat revenue growth, growth margin of 58 (inclusive of Intel's range of "plus or minus a few percentage points"), and the high end of MG&A plus R&D -- the breakdown looks like this: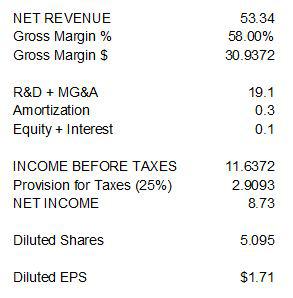 data from Intel Q4 earnings report and author calculations
Those results would, of course, be well below current consensus, and a significant decline from 2012 EPS of $2.13. Given that Intel originally guided for 63 percent margin in 2012 -- and badly missed its revenue guidance in a tough third quarter -- the skepticism toward its 2013 guidance is understandable. But the company did hit its 2012 spending targets and, as mentioned, lowered capital spending below expectations.
As such, the 5 percent drop post-earnings seems overdone. Full-year EPS guidance that comes in 2.5 percent above analyst consensus is hardly something to get excited about; but for a stock as well-covered and deeply analyzed as Intel, it should be seen as a positive sign. For Intel, as with any company, it will come down to execution. But if Intel management is correct, than Wall Street today is very, very wrong.
Disclosure: I have no positions in any stocks mentioned, and no plans to initiate any positions within the next 72 hours. I wrote this article myself, and it expresses my own opinions. I am not receiving compensation for it (other than from Seeking Alpha). I have no business relationship with any company whose stock is mentioned in this article.