For those inclined to take a cynical approach to market analysis, there is nothing more entertaining than scouring the quarterly earnings reports of the country's largest financial institutions. If you have some formalized education in accounting and posses a skeptical disposition, big banks' quarterly results often provide quite a bit of comic relief on what would otherwise be dull days. This quarter was no different.
In Jamie's World
Last earnings season, I noted that JPMorgan's (NYSE:JPM) numbers were helped (to the tune of 14 cents per share) by a $900 million reduction in loan loss reserves. I also called that reduction "a miracle" because according to the company's release, non-performing assets actually increased by $1.1 billion during the quarter.
This quarter, JPM's loan loss reserve releases ($700 million) accounted for 11 cents per share of earnings. Due to the fact that there was a sequential decrease in non-performing assets ($11.7 billion compared to $12.5 billion in the third quarter), this seems at least less ridiculous, but it is worth noting that nonperforming assets rose on a year-over-year basis during the fourth quarter.
Perhaps the easiest way to look at this is by noting that JPMorgan's loan loss reserves were $24 billion as of the second quarter when nonperforming assets were $11.4 billion. Since then, loan loss reserves have fallen by $2.1 billion to $21.9 billion even as nonperforming assets have risen by $300 million to $11.7 billion. Similarly, take a look at the following graphic from the latest report which shows nonperforming loans as well as loan loss reserves for the last eight quarters: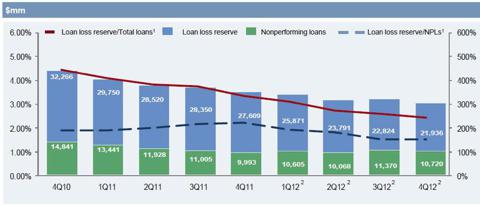 Click to enlarge
Source: JPMorgan
Note that loan loss reserves have fallen every quarter for two straight years while nonperforming loans have risen in two of the past four quarters. According to Jamie Dimon, this will be the last quarter in which significant releases in the Corporate and Investment Banking (CIB) unit will turn up in the earnings report:
...on the CIB side, it was really --- we had one or two big recoveries, so we did have - what was it, $400 million ... We're not going to have much reserve take down in CIB but the other negatives won't be there either. So it's a little bit of a wash in CIB.
The bulk of reserve releases then, will come from the Consumer and Community Banking unit (CCB) and within that unit, from mortgages:
In consumer, credit card is near the end. There could be more but it's near the end. It's really mortgage. Mortgage reserves are going to have to come down as charge-offs come down and charge-offs are going to come down... we're not trying to manipulate our earnings or anything like that. They are going to come down. The portfolios are smaller; housing prices are going up. Remember [mortgage reserves are] half what they were 1.5 years ago and my guess in a 1.5 years or two years from now they'll be half what they are today, which implies the reserves will come down. We have $5 billion left and the implied would be $2.5 billion. [emphasis mine]
In other words, JPMorgan expects to release another $2.5 billion in loan loss reserves due to the expectation that housing inventories are going to decline and housing prices are going to continue to rise. Now, given that over the last four quarters, loan loss reserve releases have accounted for an average of 14.25% of earnings per quarter, one certainly wonders what would happen to earnings should the housing market not make as strong a recovery as Dimon expects. Either they would release less in terms of reserves and suffer a concurrent hit to earnings per share, or they would go ahead and release more reserves anyway, a decidedly dangerous move.
I also noted last quarter that JPMorgan's core banking business wasn't doing so well:
Those interested in knowing how the bank is actually doing minus the smoke and mirrors need only consult the firm's figures for net interest margin (net interest income divided by average interest earning assets). This metric fell to a new all time low of 2.92%.
This quarter, that figure fell again to just 2.85%.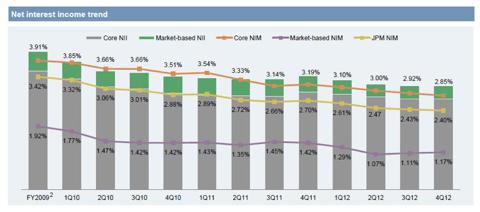 Click to enlarge
Source: JPMorgan
Perhaps the most telling thing about JPMorgan's report however is the performance of the disgraced CIO unit. Last year, Treasury and CIO earned $417 million. This year, the unit lost $157 million, a half billion dollar swing. Jamie Dimon said investors should expect to see another $300 million loss in the unit during the first quarter of 2013. In ZeroHedge's words:
Funny how the once amazingly profitable CIO is no longer a cash cow when it can't invest excess deposits and recycle reserves via repo into cornering the IG market.
All in all then, now that the firm's internal hedge fund has been stripped of its synthetic credit portfolio trading privileges, JPMorgan shareholders need two things to happen going forward: net interest margin needs to stop compressing and the housing market needs to continue to improve.
The Pitiable
As for Bank of America (NYSE:BAC) and Citi (NYSE:C), litigation costs took a debilitating toll. Bank of America took a $2.7 billion pre-tax hit to settle outstanding representations and warranties claims and Citi booked $1.3 billion in legal fees, $1 billion of which was related to "potential regulatory action," while the remaining $300 million was mortgage business-related. Bank of America, of course, took the liberty of releasing $900 million in loan loss reserves, which provided a tremendous boost to the firm's bottom line considering that adjusted net income was only $732 million (so they would have lost money without the loan loss reserve reduction).
Between JPMorgan and Bank of America then, loan loss reserve releases totaled some $1.6 billion during the quarter even as Citi released only $86 million. If you are a JPMorgan shareholder who has depended on such releases for an average of 14.5% of earnings over the past year, or worse, a Bank of America shareholder whose company depended on loan loss reductions for literally more than 100% of net income this quarter, Citi's rationale for being conservative might be unnerving:
We'll wait to see what happens with the debt ceiling resolution and the sequestered expense cuts. That'll give us a clear indication how the economy performs.
In other words, Citi's CFO John Gerspach simply isn't convinced that the U.S. isn't heading back into recession.
Meanwhile, At Goldman
While the rest of the banking world tries to figure out how to turn a solid, no frills profit in the post-crisis world, the smartest guys in the room are back to doing what they do best: making money. Goldman Sachs' (NYSE:GS) earnings rose 190% year-over-year (no that's not a typo) and 94% sequentially as the firm raked-in $9.2 billion in revenue and earned $5.60 per share, laughably ahead of estimates which were just $3.64.
While the firm reported strong numbers across the board, the best performing segments were market making and principal transactions. This serves as a nice reminder of why my recent articles on the repo market and prop trading are so important. Goldman's "principal transactions" division invests the firm's own money -- it is rather unabashedly a prop trading desk. Revenue in that unit rose 135% year-over-year. For those confused as to how this could be at an institution which is a bank holding company, here is the Financial Times on the subject:
While the so-called Volcker rule prohibits banks from making short-term trades for their own accounts, it still allows them to make longer-term investments such as buying property or stakes in various companies.
Just to clear up any confusion, Goldman does have a banking unit and as of last March the firm had some $50 billion in deposits. Of course, there are no local branches, but according to the firm's CEO Lloyd Blankfein, Goldman is unquestionably a bank:
We're a bank. It's not a hypothetical...[we] backed into a big opportunity. We have the regulations. We have the costs. We have the burdens...It is a no-brainer that we'll build our banking business.
So this is a federally supervised institution that just made nearly $2 billion in three months investing for its own account. Perhaps this will clear up a bit of confusion for readers as to whether a deposit taking institution can invest in securities for its own account. They can and they do and when they do it smartly, like Goldman (as opposed to not-so-smartly, like JPMorgan) they make money for themselves and for their shareholders. There is most assuredly nothing wrong with that.
The problem is that there is exactly one firm who can consistently do this right. The other guys end up doing things like inadvertently displacing whole CDS indices and earning nicknames that belong in a Herman Melville novel. Incidentally, another strong segment for Goldman during the fourth quarter was market making, the business that is notoriously difficult to distinguish from prop trading. Goldman made $2.7 billion in revenue from that segment in the three months ended December 31, a 109% year-over-year increase.
The Moral
There are several important takeaways here. First, JPMorgan is stuck in the middle. It isn't Bank of America or Citi, but it certainly isn't Goldman. Investors should ask themselves if the firm can perform meaningfully better than the competition going forward with its London-based hedge fund sidelined. Second, Citi and Bank of America simply aren't making any money. At least Citi had the decency to admit that the housing recovery is not a foregone conclusion. Bravo to new CEO Mike Corbat for not simply loan-loss-releasing his way to an earnings beat.
Lastly, Goldman Sachs knows what they're doing. They know how to make money for investors and they know how to make money for themselves. For all those out there who despise the idea of prop trading, Goldman is once again showing that looking out for the firm's interest doesn't have to be separate from looking out for the interests of shareholders. In many cases, they go hand-in-hand. Steer clear of Citi, Bank of America, and JPMorgan and buy Goldman Sachs.
Disclosure: I have no positions in any stocks mentioned, and no plans to initiate any positions within the next 72 hours. I wrote this article myself, and it expresses my own opinions. I am not receiving compensation for it (other than from Seeking Alpha). I have no business relationship with any company whose stock is mentioned in this article.