With only a few days left until Christmas, you have to believe that Santa has already purchased the coal he's going to need for all those naughty children around the world. If he bought earlier this year, it probably cut into the big guy's budget: Coal prices were sky-high until early fall.
But you'd better watch out - coal is predicted to be a lot cheaper for Santa next year - which could mean more coal in people's stockings in 2009.
2008 Coal
Coal has a wide variety of uses, with different types of coal used for electricity generation, industrial production and other factors. Each is driven by a different set of pricing trends.
The 2008 bull market in coal was kicked off in part when steelmakers such as Posco in South Korea agreed in April to huge 200% price increases for coking coal, a critical ingredient in steel production. This left steelmakers with contracts for around $285 per metric tonne. Spot prices for certain coking coals went as high as $350 per metric tonne in July, so for a while, the folks in charge of negotiating these deals seemed like heroes. It wasn't fun for the manufacturers to pay that price, but they were able (and were counting on being able to continue) to pass the buck along to their buyers in the form of higher steel prices.
But the global economic downturn stopped all of that, and steel manufacturers found themselves between a rock and a hard place, locked into high-priced contracts.
Now it's negotiation time again, and this time, things are going to be different.
Here's how domestic coal looks as of December 12: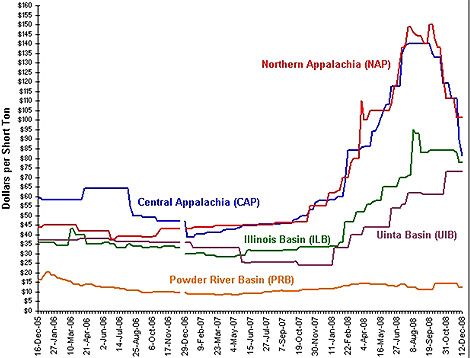 How different negotiations will be is hard to tell, especially this early, but we are beginning to get some clues. UBS lowered its 2009 and 2010 forecasts for coal last week, with analysts now forecasting $85 per metric tonne of coking coal in 2009 instead of its previous estimate of $180 - a phenomenal 50% drop. 2010's forecast was cut from $130 to $115 per metric tonne, implying that we're looking at a shorter-term weakness, with a chance for real recovery within the next 18 months. The same report forecasts thermal coal prices to fall $15 to $70 in 2009, and to fall $5 to $60 in 2010. (The prices are for short tons which are 0.91 of a metric tonne.)
Negotiations between Japanese steel companies and Australian mining companies have usually begun by this time of year for Japan's April 1 fiscal year start, but this year there have been some delays. The steelmakers have begun to idle some of their furnaces and say that they don't know what demand will be like in 2009. Australian News reports:
"We don't know about production next year," said a spokesman for JFE Steel, Japan's No. 2 steelmaker, which recently cut current year output by 1.5 million tonnes. "Our plans are based on user demand."
Last year, it was the miners who were dragging their heels, postponing new agreements as the cost of coal went higher and higher. Now, the situations are reversed, and the steelmakers are in the driver's seat.
It's Not Just Demand
For those of us worshiping at the Church of Microeconomics, there are always two sides to a price, and demand isn't the only driver into this catastrophic plunge in coal. There's also a supply glut.
The supply theory is that the high contract and spot prices for coal led to mining companies pulling coal out of the ground as fast as they could. Similarly, steelmakers made all the steel they could during the boom times for that industry.
But when the music stopped and the construction and economic slowdowns hit, steelmakers were left with huge surpluses. Some companies, such as ArcelorMittal, stopped shipments of coking coal. That pushed the coal into the energy market, causing ripples through the thermal side of the coal industry.
"'There is simply too much met coal around. Australia has huge stocks of semisoft coal to sell. This will push prices lower, there is nothing that can be done to reverse it,' a Russian coal exporter said" (from the
U.K. Guardian
).
Some companies are rushing to lock in prices where they can. Xstrata purportedly just locked in thermal coal contracts with some Japanese electrical companies for $80 per tonne. Given what UBS is forecasting for 2009, $80 sounds good, but it's way down from the $155 per tonne Xstrata was able to get in September.
Look for these reduced prices to hurt upcoming quarterly earning forecasts in companies like BHP and Rio Tinto too.
Coal, Climate And Politics
Just as with oil, there are analysts that speak of peak coal, mostly in terms of how much coal is left to burn and how that affects global warming. There are differing views of the numbers. On one side, the World Energy Council posits that as of 2007, there are 850 billion tons of recoverable coal left in the world. On the other side of the argument is Caltech's Dave Rutledge, who theorizes that there are only a total 662 billion tons of recoverable coal in the world, a number that includes everything we've pulled out of the ground already.
How much coal is left is interesting to scientists working on climate change because burning coal to produce electricity is a significant contibuter to global warming. And with President-elect Obama's recent appointments of Steven Chu to DOE and John Holdren as the White House science adviser, climate change is going to take center stage. Steven Chu has done a lot of research on scientific solutions to climate change, and stated that "coal is my worst nightmare" in a speech earlier this year. John Holdren's field of interest includes the causes and consequences of climate change.
How coal works into Obama's energy plan will be interesting to see with these two on board.