Nature, Folklore in Weather Forecasting
Weather forecasting during the days of Ben Franklin and pretty much right up through the middle of the 20th century, was executed not by fancy government computers, multi-million dollar satellite and radar technology, but by the whims of nature.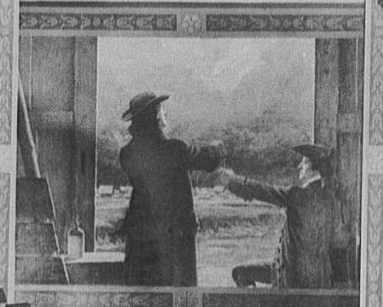 Ben Franklin forecasting the weather by the whims of nature in the mid 1700's.
SOURCE: inventionware.com
Folklore consists of proverbs, fairy tales, legends and traditions. When it comes to weather forecasting, nothing brought folklore more into the publics life than the advent of The Farmer's Almanac back in the late 1700's. A few of the hundreds of popular axioms include -- "The higher the clouds, the finer the weather"; When clouds appear like towers, the Earth is refreshed by frequent showers"; "Ring around the Moon rain real soon"; "Fish bite best when the wind is from the west" (westerly winds often suggest cool, dry, high pressure--better for fishing). By the way the Farmer's Almanac became iconic in 1816 when it inadvertently made a typo by predicting snow in New York in June and months later it actually happened.
Using Cycles, Folklore in Weather Forecasting and Trading
One forecasting technique that I implement a lot is looking at cycles and trends. This is also true in commodity trading. While many complex, computerized weather forecasting methods have been compromised and jeopardized by trends in global warming, I still rely on nature and instinct a lot. Take for example, the record warm Atlantic Ocean that recently passed 1947 as the most sultry ever. How about the fact that in terms of U.S. temperatures, last winter, summer and the first part of this winter has been typifying the trends of 2006-2007 to a tee? The record cold weather last week at such places as San Diego, California was similar to 2007. Both February of 1947 and 2007 were cold in key U.S. energy areas.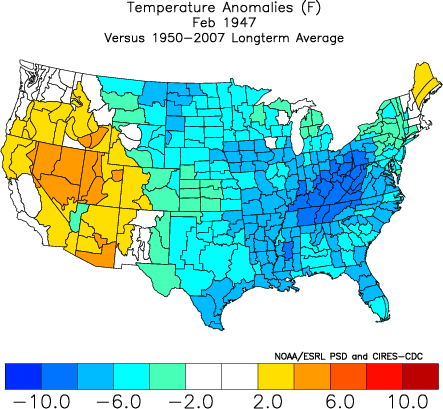 February, 1947 was cold across much of the eastern and southern 2/3rds of the U.S. Present Atlantic Ocean temperatures recently broke some records set back from 1947.
SOURCE: WWW.MOTHERJONES.COM
The biggest single scientific climatological event I have been witnessing lately that is bringing cold and snow as far south as Israel, is the incredible stratospheric warming 20-40 miles up near the North Pole. However, it may be the dieing Atlantic Cod, increased seaweed and shark sightings off the New England coast that may also portend a cold February for key U.S. energy areas. Call it "weather voodoo, folklore", whatever, but nature often does not lie.
Natural Gas Investing and the Record Warm Atlantic
Natural gas prices took it on the chin the first 8 weeks of winter falling about 30% to $3.05 a couple weeks ago. However, off and on bouts of colder weather, plus lower rig counts have contributed to 3 consecutively bullish EIA's. We still have ample natural gas stocks, limited panic by producers and end users and increased shale production, which may limit a potential precipitous rise in prices. However, I doubt very seriously we are going to see the mid-late winter blood-bath in natural gas prices, like we did during the record warm winter last year. Look for (NYSEARCA:UNG) and (NYSEARCA:NAGS) to potentially be well supported into the second half of winter. Companies such as Chesapeake Energy Corporation (NYSE:CHK), really need a cold second half of the winter to stabilize their reputation and stock performance. Sometimes, buying a stock or commodity where all the bearish news has been absorbed and built into prices is a smart way to trade. Take a look at the European stock market lately, or bank stocks, up some 30-50% over the last year. Hence, looking for cheap natural gas stocks, such as is something to strongly consider.
SOURCE:EIA
The hotter summer in 2012, lower rig counts in the Gulf, etc. have taken away the year on year surplus in natural gas. You can see we are now 4.4% below a year ago, but still above the 5 year average by 11.1%. However, trends in Atlantic Ocean temperatures, warming over the Arctic, etc. could well portend a colder second half of winter and slow eat further into natural gas supplies. The result will be at least a floor on prices the next few weeks.
Disclosure: I have no positions in any stocks mentioned, and no plans to initiate any positions within the next 72 hours. I wrote this article myself, and it expresses my own opinions. I am not receiving compensation for it (other than from Seeking Alpha). I have no business relationship with any company whose stock is mentioned in this article.