The S&P 500 has had three consecutive daily gains and set three consecutive interim highs. But today was different. The pattern of late (the last four sessions) has been for the index to selloff at the open and then rally near the high or slightly above. But today's strong unemployment claims report and housing starts triggered an opening rally. The index continued rising to an interim high, up 0.85%, by mid-afternoon but then lost some steam to close with a gain of 0.56% -- as I mentioned earlier, a new interim high.
Here is a 15-minute chart of the past five sessions that illustrates the shift in behavior at the open.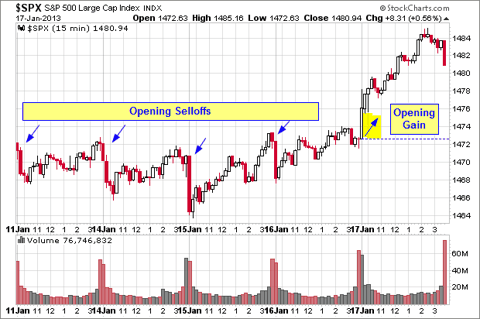 Click to enlarge
(Click to enlarge)
What particularly caught my attention today was the close above the intraday high of September 14th, the day after the latest round of QE was announced. Can this new surge of momentum be sustained?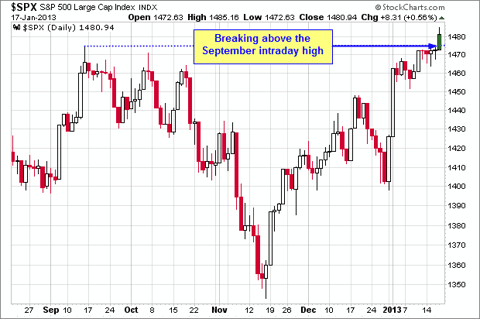 Click to enlarge
(Click to enlarge)
The S&P 500 is now up 3.84% for 2013 at a new interim high.
From a longer-term perspective, the index is 118.9% above the March 2009 closing low and 5.4% below the nominal all-time high of October 2007.
For a better sense of how these declines figure into a larger historical context, here's a long-term view of secular bull and bear markets in the S&P Composite since 1871.