There's an old saying used to describe the inability to see the bigger picture simply because there are too many other nearby distractions…."You can't see the forest for the trees." I have to wonder if the recent obsession with determining fundamental values, finding the bottom, and dealing with economic Armageddon has let us lose sight of something I think may be even more alarming.
What could possibly be more alarming than the S&P 500 losing 40% in three months? How about a good chance we could do it again four to five years from now? Such is the nature of a secular bear market - two words I heard batted around more in 2002 than I have in 2008. That's odd, too, considering there's a better argument for a secular bear now than there was then.
Of course, if we are in a secular bear market, the next question is, what do we do about it? Let's cross that bridge when we get to it. Let's just start with a look at 'what' and 'why'.
The Symptom
There's nobody who loves textbook definitions more than me, but I'm not going to give you one for the term 'secular bear market'. I'm going to describe it much more efficiently like this…. It's a market that doesn't go anywhere (net) for years on end, though we may see several bull and bear markets within that timeframe. (Just so you know, the NASDAQ is about where it was ten years ago. Yet, we've seen two bull and two bear cycles occur in the meantime.)
Why do secular bears occur? They happen so infrequently, I'd be hesitant to trust anybody's specific explanation. There have technically only been three in the last century, after all, so it's not like there's enough of a sample to pinpoint a meaningful reason.
I'll just suggest this broad rationale… secular bear markets occur when there's a really big mess to clean up. It may take two or three economic/market cycles to really do the job.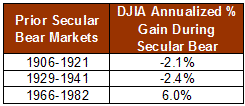 If you look at the nearby table of prior secular bear markets, you could reasonably associate something disruptive with each instance. The Great Depression and getting off the gold standard are possible reasons for the latter two secular bears. I think relying solely on rate cuts to spur economic growth since 2000 has caused the current trouble. On the other hand, I'd caution against blindly getting married to any explanation.
The bigger point is that they can and do occur, regardless of the reason. And, when they do occur, they can last for a loooong time.
The Diagnosis
Let's call a spade a spade - borrowing from Peter (taxpayer money) to pay Paul (any company that's willing to take a government handout) isn't a solution to the problem… it's a delay in suffering from the problem. Maybe the procrastination will curb some of the pain though, which I'm all for.
But, the 2008 implosion wasn't created by policy created in 2008. Ridiculously-low interest rates and all-too-easy credit is a throwback to Alan Greenspan's solution for the 2001/2002 recession; his weapon of choice was rate cuts, which he also took to almost-unprecedented low levels. (Bernanke gets that top honor.)
The problem didn't become apparent until it was too late - a problem that Bernanke ultimately inherited.
And, as I said above, the market has certainly done its part. The Dow, S&P 500, and the NASDAQ are all currently where they were rightly a decade ago. That's got to be pure anguish for all those brokers and advisors who pulled out their Ibbotson charts for prospects to point out how the market had "never had a losing five year period". Actually, it has… and very recently to boot.
The Prognosis and Cure
The average secular bear market last 14 years, and we're now only into our eighth year of what qualifies as a secular bear market. If history has any relevance (and I think it does), we've got six more years to go. Translation: We've got enough time for another bull cycle, and another bear cycle, and the beginning of another bull cycle again.
It makes sense this time around too … all that bailout money, mortgage relief, and massive debt isn't gang to come without consequence. I think it will take one more growth cycle to burn off all the dead weight.
So, for anybody hoping today is the dawn of a new bullish era, I'd love for you to be right, but I don't think it's realistic.
On the flipside, for those of you expecting to see the market continue to get crushed, I just want to point out that (1) the market is still cyclical, and (2) it seems as if the bullish cycles start before economic growth kicks in again. In other words, stocks may well rise even though they seem relatively worthless right now. (This "don't forget it's cyclical" camp is the one I'm in right now.)
The cure? Actually, I still see substantial upside opportunities from value as well growth stocks. I just wouldn't go down with the ship. If they start to sink, say three to five years from now, then sell 'em.
I also suspect - and rightfully so - that dividends will become an attractive feature for even the most aggressive of investors.
The only off-the-radar strategy that I'll suggest is using sector rotation, particularly with the niche (industry) ETFS…. and I mean really using it. Even then though, the opportunities won't last forever. There's no buy-and-hold with a secular bear market.