EMC (EMC) appears to be making great strides in the virtual computing arena. The company noted its Q3 2012 earnings call held on October 24, 2012 that revenue for its virtual solution offering VMWare increases 20% over the prior year's third quarter. EMC's pitches VMWare as enabling customer to "deploy once, manage less, protect better, and scale forever." EMC maintains that VMWare enables its customers to expand their virtual infrastructure while reducing costs.
In Q3, EMC grew revenue 6% over the same quarter in the prior year, even though the company noted the third quarter environment was more cautious than previously expected. The company noted economic and political uncertainties affected business confidence, which also negatively affected Information Technology (NYSE:IT) spending. Nevertheless, the company expects the economy to improve over the next year and is also adamant that it has gained market share and will continue to gain market share.
EMC advocates it is positioning itself to take advantage of three major waves of change in IT: Cloud, Big Data and Trust (security). EMC noted there are very few companies with the full set of resources or intellectual property to architect cloud solutions. As an example, EMC offered Google (NASDAQ:GOOG) as one company with the capability to architect its own cloud. EMC's unified storage platforms combined with simplicity and efficiency provides companies with an easy path to a cloud-base solution. EMC's strategy uses virtual environments with optimization to provide fast execution of applications.
EMC has made "Flash Everywhere" a core tenant of its data center strategy and as an example noted VFCache as a solution which can reduce database query time by a factor of 6 and increase throughput by a factor of 3. As a result, the number of customers for VFCache doubled in Q3. VFCache is a server-based flash caching solution associated with storage array protection that reduces latency and increases throughput. VFCache provides write-through caching which provides back-end writes with high availability, end-to-end integrity, data reliability and aids in disaster recovery.
EMC is committed to working closely with its "premier partner" Cisco (NASDAQ:CSCO) and noted that while it is involved in the software-defined networking arena it does not intend to get into the hardware-oriented networking segment. EMC's approach is to internally develop and then integrate the software with industry-standard hardware. This software/hardware combination is then tested and tuned in order to provide value to its customers.
However, all is not positive with EMC, as the company noted slowness in the Asia-Pacific region, especially in Australia, New Zealand, Japan and India, but was encouraged by strength in China. The company noted that if faced with a soft economy environment it would not cut research and development spending, but would cut costs in other areas.
While not a value company, EMC's Price-to-Sales (P/S) ratio of 2.5 is fairly attractive for a technology company at 2.58. And, while not cheap, the company's Price-to-Earnings ratio of 18 is respectable. Additionally EMC does not pay a dividend, however, that is not unusual for technology companies.
EMC's stock price has been up and down over the previous year and is currently near its previous support level in the $24 range as shown below: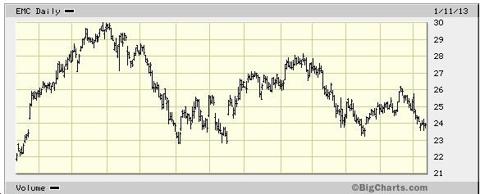 With EMC's virtual positioning and stock price near its previous support level, this could be a good time for entry, but with all the wrangling in Washington D.C. over the debt ceiling, a cautious investor might consider a protective investment in EMC. A protective investment to consider is the married put option strategy.
A married put position can be entered by purchasing a put option against a long position in the stock. The put option expiration is typically selected several months out in the future in order to reduce the per-day costs of the put "insurance". The married put strategy positions for unlimited upside with limited downside, so an investor takes advantage of an increase in stock price, but doesn't get bit too badly if the stock price drops significantly.
Using PowerOptions, a number of married put positions for EMC were found for July expiration as shown below: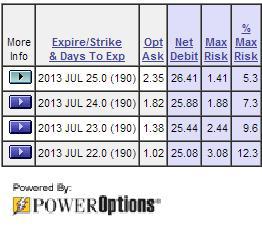 The married put using the 2013 Jul 25 put option looks attractive with a maximum potential loss of 5.3%. So, even if the price of EMC's stock goes to zero, the maximum loss which can be sustained for the married put is 5.3%. The details for entering the position are shown below:
EMC Married Put Position
Buy EMC stock (existing or purchased)
Buy EMC 2013 Jul 25 put at $2.35
A profit/loss graph for one contract of the EMC married put position is shown below: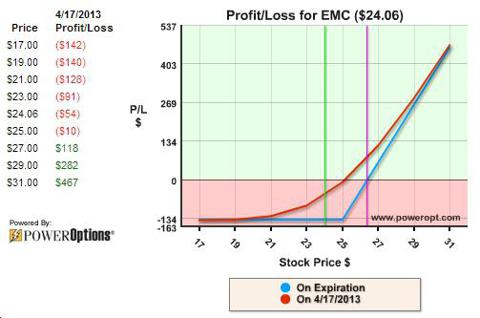 For an increasing stock price, the value of the married put position increases. Yet, if the stock price drops, the value of the married put remains unchanged for a stock price below the $25 strike price of the put option. And, if the price of the stock increases to above the $25 strike price of the put option, then income methods for reducing risk and receiving income may be performed as taught by RadioActiveTrading.com.
Look forward to hearing your comments below!!
Disclosure: I have no positions in any stocks mentioned, and no plans to initiate any positions within the next 72 hours. I wrote this article myself, and it expresses my own opinions. I am not receiving compensation for it (other than from Seeking Alpha). I have no business relationship with any company whose stock is mentioned in this article.