Regardless of how we might argue that the economic times may affect consumer spending behavior, there are certain basic needs that must be met in any financial climate. These include food, shelter, clothing, energy, and other non-discretionary type items. Today we will examine four potential value plays in the retail apparel sector, with an emphasis on finding undervalued companies with growth prospects relative to the peer group.
A simple value screen consisting of relatively low P/E, positive earnings, market cap over $500M, and low debt turned up four potential candidates in the retail apparel sector: American Eagle Outfitters (NYSE:AEO), Aeropostale Inc (NYSE:ARO), Cato Corp. (NYSE:CATO), and rue21, Inc (NASDAQ:RUE). We will get a little deeper into some of the numbers from the financial statements of each as well the price performance over the past 12 months in order to determine if we have any decent possibilities in this bunch. Bear in mind that these numbers represent a snapshot in time, and there will be some fluctuations. It might also be interesting to note how the retail sector has not rallied to the same extent as the market overall given some of the lackluster statements concerning the holiday shopping season.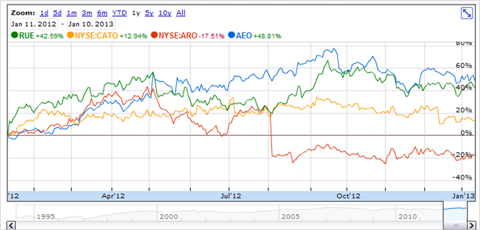 Looking at a price chart for the past year, some investors might immediately be drawn to American Eagle or rue21, as these stocks easily outperformed the others. However, every prospectus always comes with the disclaimer that past success is no guarantee of future performance. There will be a question as to whether American Eagle and rue21 have already experienced the majority of any price increase, or if further increases are possible. On the other hand, sometimes a good value stock can be found in the trash bin. Keep that in mind as we get into the meanings behind some of the other numbers we have to consider.
Looking at a general overview of all four companies in direct comparison, the first item of note is that three have similar P/E values between 17 and 19. Cato displays the cheapest current valuation at 12.23, about two-thirds of the others. Two of the four pay a dividend, although all four have some manner of positive earnings. The market capitalization among the four varies from around $4 billion for American Eagle to $713 million for rue21. The outlier in the institutional holdings category is rue21 with 107%, and while the beta ratings are all positive, there is some range between the four, with three being above the benchmark of one.
American Eagle Outfitters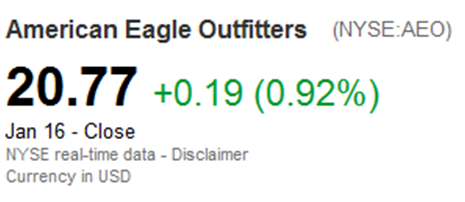 American Eagle Outfitters offers clothing, accessories, and personal care products through its family of brands. The company operates nearly 1100 stores in the United States and Canada, and ships to 77 countries through its online business, AEO Direct.

Although the company has performed well over the past year with the stock up nearly 50%, the stock has been in a slide since October, dropping just short of 10%. Examining their debt picture, AEO operates with zero debt. The company maintains a solid cushion of cash equivalents, over $544M in the most recent filing which equates to approximately $2.75 per share. The dividend yield is close to the S&P 500 average dividend, and the company has a history of making very small infrequent dividend increases while making an occasional large one-time payment - most recently $1.50 in September 2012.
American Eagle's short interest of under 5% would take just under 3 days to cover. This is pretty much in line with recent history for the stock. Also encouraging is the report that same store sales rose 5% in the most recent quarter. This company first caught our attention around $15, but we chose not to invest at that time given some other opportunities. Upon further examination, it seems this company could have decent continued prospects for growth. Keep this one in mind.
Aeropostale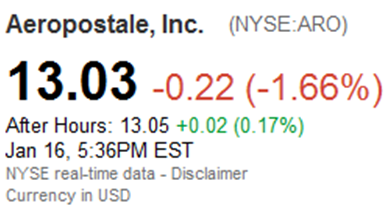 Aeropostale is a specialty retailer of clothing, apparel, and accessories primarily operating through mall-based stores. The company tends to target the 14-17 year old segment through Aeropostale stores and the 4-12 year old segment through P.S. From Aeropostale stores. Products can additionally be purchased online. The company operates primarily in North America, but does have an agreement to operate 14 stores in the Middle East and Southeast Asia.

Much like American Eagle, Aeropostale operates with zero debt. Aeropostale has approximately $2.35 in cash on hand for each share currently outstanding. The company's stock took a large hit in August 2012 for providing guidance below analyst estimates shortly after providing guidance in line with the estimates as recently as May 2012. The earnings are expected to rebound from a retrenchment as we move past 2013. This stock is the only one of the four to turn in a negative performance over the last 12 months.
Aeropostale's short interest currently sits at just under 4 days of volume, but has been trending upwards over the past several months. We could expect further negative pressure on this stock in the near term despite the fact that it is trading near its 52-week low. Several analysts have revised price targets for the stock into the low teens, and the company is reporting that holiday sales were not up to expectations. Given the weaker than expected outlook, this is probably not a good short term play. However, if you tend to invest with a longer time horizon based upon future opportunities, this company has potential beyond 2013 based on current estimates. This could be a stock to buy on the dips.
Cato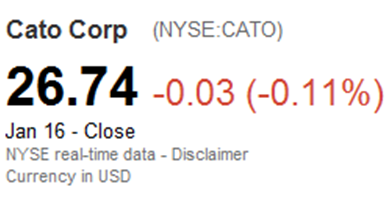 The Cato Corporation is a retailer of women's fashion and accessories. The company operates just under 1,300 stores, mostly located in the Southeastern United States. The company offers an assortment of trendy women's fashion items including business attire, casual sportswear, lingerie, fashion jewelry, coats, shoes, and handbags. The company additionally carries limited items for men and children.
Of the four companies, Cato pays the largest dividend - currently yielding 3.75%. Cato has a record of increasing their dividend ever since going public, and paid an additional dividend at the end of calendar year 2012. As of the most current quarterly filing, the company maintained over $8.50 per share in cash or equivalents. Earnings are expected to remain stable into 2013, and this company also operates with no debt. Cato has the most conservative beta rating at 0.74, indicating that the company will trend the same direction as the market overall but should not move as far in either direction.
The short interest in this stock currently stands at over 6 days of average volume, and although it has fluctuated over the past year it is trending downward. Unfortunately, Cato is also reporting that holiday sales were down this year, so the company is guiding expected earnings for the quarter downwards by about 5 cents.
While Cato did not see the large returns of American Eagle or rue21, the stock did generate a return of about 13% the past year without considering the dividend. When you also consider that the company holds around 30% of its market capitalization in cash or short term investments, the stock does seem safer than most and should be able to weather any current economic issues.
rue21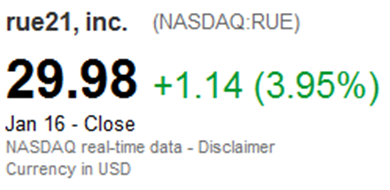 rue21, inc. is a specialty apparel retailer operating over 700 stores in the United States. The company offers both male and female clothing items for the young adult segment, consisting of denim items, graphic t-shirts, hoodies, belts, handbags, and other accessories. The company is undergoing recent expansion as in the FY ended January 2012 they opened 120 new stores.
This company has returned over 42% the past year, and earnings are expected to increase by about 20% from 2012 to 2013. This is interesting given the over 13 days of short interest as of the end of December 2012 and the 11% skid the stock has taken since October 2012. It would seem that some in the market expect that this company will also suffer from poor holiday sales and that the stock is overvalued at current levels. The company does not currently pay a dividend, although the company is consistently profitable and rarely misses earnings. The company operates with no debt as do the others, but the cash cushion is smaller at only $1.86 per share.
Unlike some of the other companies, rue21 provided earnings guidance in line with analyst expectations in their most recent statement. This could indicate that rue21 might be a better short-term investment than some of the others, although there certainly could be value in any of them depending on your personal strategy.
The Bottom Line
The initial performance chart comparison showed that American Eagle Outfitters and rue21 outperformed Cato and Aeropostale by a wide margin over the past year. Interestingly, the same two companies reported encouraging data over the past quarter while Cato and Aeropostale reported disappointing holiday sales. Despite this fact, an argument could be made for any of these stocks based upon your own criteria, expectations, and investment horizon.
Depending on your appetite for the sector and your tolerance for risk, any of these stocks could be a fit for a value-based portfolio. Clearly, profits in this sector are tied to overall consumer spending behavior and indicators. However, companies that operate with low debt loads and with steady profits retain significantly more strategic flexibility as the environment changes. As you continue any individual research, consider each company's current cash cushion, dividend yield, and expected profitability as those numbers relate to your goals.
Disclosure: I have no positions in any stocks mentioned, and no plans to initiate any positions within the next 72 hours. I wrote this article myself, and it expresses my own opinions. I am not receiving compensation for it (other than from Seeking Alpha). I have no business relationship with any company whose stock is mentioned in this article.