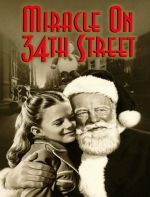 You have to love family movie night. Last night we watched the John Hughes version of Miracle on 34th Street. In the not too distant past, I distinctly remember going into the colossal department stores as a kid, sitting on Santa Claus' lap, getting a picture with Santa and taking a ride down the slide back to mom and dad. Big Cleveland Department stores like May Company, Hallie's, and The Bing Company stood as icons of a thriving 1970s era retail with big train displays, Winter Wonderland villages, and even a few elves.
One scene from the movie which really caught my eye was the flood of people coming in these stores to visit Santa Claus. Cole's had the best Santa Claus, and everybody else was jealous. We went out to see the real Santa Claus the other night. This required a track to Great Northern Mall on the west side of Cleveland. All that I could think of was a 40 minute drive, and another hour wait to see Santa. However, much to my chagrin, we were met with a 10 minute wait. And this guy is supposed to be the best Santa in Cleveland. According to the photographers, business was down approximately 30% from last year. That would suggest that 30% less people found themselves in the mall thus far during Christmas and Hanukkah shopping.
According to the Wall Street Journal, retail vacancies of strip malls surged to 8.4% in the third quarter. The report went on to say that vacancies increased in 76 of the U.S.'s top retail markets. Not to be outdone, these recognizable names are circling the wagons and closing stores inside the United States. Others are simply filing bankruptcy. Some of the names of troubled retailers include: Shoe Pavilion, Steve & Barry's, Gordman's, Radio Shack (NYSE:RSH), JoAnn Fabric (NYSE:JAS), Boscov's, Bennigan's, Winn Dixie (NASDAQ:WINN), Office Max (NYSE:OMX), Comp USA, Pier 1 (NYSE:PIR), Sharper Image (SHRP), Starbucks (NASDAQ:SBUX), The Disney Store (NYSE:DIS), Wilson's Leather (WLSN), Talbots (NYSE:TLB), Ann Taylor (NYSE:ANN), Bombay Co. (BBA) and more. This could well explain the added pressure on REITs that was seen last week. No wonder Mr. Wolstein dumped the vast majority of DDR. He got out when he getting was good!
Ironically, SPG and VNO surged last week. This suggests one of three scenarios:
A covering rally...meaning the stocks will be very ripe to short once again.
Momentum trade from TARP discussion that commercial real estate and consumer real estate could be the next beneficiaries on free monies.
A bottom was set, and now is the time to buy.
For my money, I find scenario number one to be the most logical explanation, although I am becoming increasingly suspicious of a TARP play here, especially with Obama's high level appointment of a Housing Secretary Shaun Donovan. Donovan is known as a crusader against low-income foreclosure and housing management. Obama will need a point man on this issue as once source not only mentioned the next "reset of ARMs and Alt-A loans.
At present, one in 10 U.S. homeowners is either delinquent on mortgage payments or in foreclosure, With more than 259,000 homes receiving a foreclosure-related notice last month, the Federal Reserve has predicted that the nation's 2008 foreclosure figure will reach 2.25 million.