I suppose that investors in AT&T (NYSE:T) must be wondering whether or not the stock should be sold or held right now. A spate of bad news has hit the stock recently, sending the share price down from recent highs.
When one takes a look at some of the fundamentals behind the stock, there appears to be some unknown answers to some rather serious issues.
The Recent SEC Filings Flash Some Warnings
Yesterday, AT&T filed an 8-K just ahead of the 4th quarter earnings report, due out on 1/24/2013. Aside from the already known pension shortfall of $10 billion, the company stated that its 4th quarter earnings could be impacted by subsidies it paid on smartphones sold.
"Fourth-quarter total smartphone sales were approximately 10.2 million devices. Due to the high subsidies on these devices, we expect a near-term pressure on operating income, margins, and earnings per share in the fourth quarter of 2012."
If operating income, margins, and earnings per share have been impacted, it would seem quite likely that the share price will take a further hit.
The filing also mentioned that Superstorm Sandy has impacted the 4th quarter as well.
"The estimated reduction in our fourth-quarter 2012 operating income as a result of storms, including Superstorm Sandy, is approximately $175 million, which primarily impacts our Wireless segment."
Based solely on these remarks, I would assume that on January 24th, AT&T could miss earnings estimates.
Other Fundamentals That Require Monitoring
Earnings per share have dropped, Revenue has not grown, and long term debt is still over $60 billion. While these trends are rather recent, they do signal that an investment in T should be monitored more closely.
Since the main reason most shareholders own the stock is for their compelling dividend, one has to wonder if AT&T can continue paying at the current levels. Today's yield of 5.3% is attractive to income seeking investors, but not in the face of declining share prices that could impact total returns. I would also be concerned that the actual dividend paid could be reduced for the first time in decades.
AT&T has been a dividend winning stock for more than 1/4 of a century, but as of right now, the payout ratio is over 200%. In my opinion, this is simply out of whack right now, and with more pressure being placed on margins, operating income, and earnings per share, we just might be looking at a dividend cut at some point.
Unlike the Federal Reserve, AT&T does not have an unlimited supply of cash, nor do they have access to a printing press, so a stark reality might be faced.
Should We Sell, Hold, Or Buy?
From Yahoo Finance, we can see the leanings of many analysts:
| | | | | |
| --- | --- | --- | --- | --- |
| | Current Month | Last Month | Two Months Ago | Three Months Ago |
| Strong Buy | 0 | 6 | 6 | 6 |
| Buy | 0 | 6 | 6 | 7 |
| Hold | 0 | 25 | 25 | 24 |
| Underperform | 0 | 2 | 1 | 2 |
| Sell | 0 | 0 | 0 | 0 |
January is too soon to have charted the numbers, but there have been several downgrades and reduced share price guidance recently.
Macquarie reduced its price target to $33/share.

JPM

organ downgraded T to neutral from overweight.

JPMo

rgan reduced its price target to $31/share.
Even Moody's has placed AT&T on review for a downgrade.
While all of these events are not wonderful to face, we also need to realize that this company has been a stellar performer for many years. The company has $37 billion in cash and revenues of $127 billion. Obviously the company has plenty of room to work out just about any issue.
Not only that, but sales of new smart devices continued to grow in the 1st half of 2012, and by all accounts, the holiday season was a good one as well: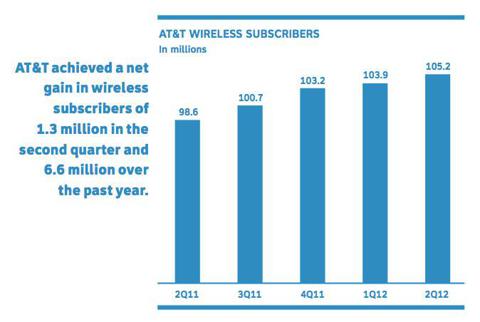 At this stage, I would hold shares of AT&T, and if the share price dips under $30.00, I would consider adding to my current position, as long as it was clear to me that the dividends were safe.
If the dividends were to be cut, I would still continue to hold my shares and wait for even further share price erosion as investors begin to lose faith in the stock and seek higher dividends.
My Opinion
Obviously every company no matter how large or small goes through good times and bad. While I believe that AT&T will continue to survive and thrive, the headwinds could make for a compelling share price to once again be a buyer.
These opinions are my own and not a recommendation to buy or sell any security. Please do your own research and do not rely on anyone else's opinions.
Disclosure: I am long T. I wrote this article myself, and it expresses my own opinions. I am not receiving compensation for it (other than from Seeking Alpha). I have no business relationship with any company whose stock is mentioned in this article.