When looking for bargain-priced shares, what could be better than a situation where cash-per-share exceeds the stock price. It's like spending $100 to buy $110. In real life, it's not usually quite that simple. There may be other claims on that cash, or the company may be burning through its hoard by losing money in its operations. But still, there are times when an abundant cash position can create an interesting, even if imperfect, opportunity. After all, one can do a lot worse than spending $100 to get nearly $100 plus something else.
The Cash Bargains screen
The basic idea of a cash-oriented screen is pretty simple. Look for companies with a lot of cash relative to the value of the stock. But we also need to deal with the fact that if we think we're paying $100 to get $110, there are probably some strings attached. (The market may not be efficient, but it's rarely, if ever, stupid.)
Some of these strings are best discovered through fundamental analysis. But we can help ourselves if we address what we can through the screening process. So after establishing a basic universe (no OTC or ADRs, no Finance stocks, Market Cap at least $250 million and Price at least $5), this particular screen uses the following rules:
The share price is below net cash per share, defined as cash minus total debt, or cash minus current liabilities. This addresses the first of the major strings; the potential existence of prior claims on the cash. Instead of screening for cash per share, I screen for net cash per share and allow the company to make good under one of two alternative definitions: cash minus total debt, or cash minus current liabilities. This obviously diminishes our "pay $100 to get $110" scenario, but it's not as if we can expect the company to liquidate and distribute the cash. We're dealing with ongoing businesses. So here, we're establishing the "pay $100 to get nearly $100 plus something else (ownership of a business)."
Trailing 12 month EPS above zero. Since these are ongoing businesses, we have to wonder about the possibility that the company will burn through that cash, perhaps to the point where we'd eventually wind up paying $100 to get $5 and ownership of a deteriorating business. This is the issue where fundamental analysis matters most. This screen tries to give the process a head start by requiring, at least, that the company has been profitable in the past 12 months.
Screen performance
Backtesting and simulation is very much at the core of what I and other users do at Portfolio123. But special purpose deep-value screens such as this one don't lend themselves quite as comfortably to this sort of process. We can backtest, but we need to approach this a bit differently for a screen like this. All of our models expose us to risks that cannot be uncovered through any sort of automated rules, but here, with screens that often produce zero or very few passing companies and the fact that pretty much every passing company is expected to have some sort of significant baggage, our exposure is especially pronounced. Hence test results need to be interpreted in this context.
Our first test-interpretation challenge is startlingly obvious in Figure 1, which shows how our screen performed in the full 3/31/01 - 12/21/08 period.
(Click to enlarge charts.)
Figure 1: 3/31/01 - 12/21/08 backtest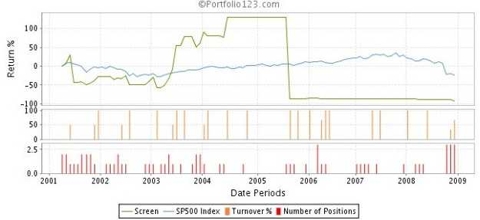 The "collapse" occurred in August 2005 with Telesystem International Wire (TIWIF), the only stock to make the screen. On further examination, I learned that this provider of wireless services in central and Eastern Europe was sold. However, the transaction did not manifest in the numbers in the exact way we usually expect, where shareholders would get the proceeds paid by the purchasers to get ownership of the stock. When TIWIF entered the screen, it was priced at $16.08. All of the assets of the firm were sold and the purchasers paid the money to Telesystem, which then paid all of it to Telesystem shareholders (a total of $18.80 per share; $17.01 as a "reduction in capital" and $1.79 as a special dividend) 18 days after the stock entered the screen. Later, the corporation was liquidated, its shares were cancelled, and the leftover assets, amounting to pennies per share, were paid to shareholders.
So contrary to the visual image we see in Figure 1, Telesystem was actually a very nice screen selection. When I add $18.80 to the price of the stock at the end of the holding period ($0.97), we wind up with a 22.9 percent gain. Adjusting the backtest results accordingly, the terminal value of the screen ($100 on 3/31 grew to $159.21) looks quite reasonable relative to the S&P 500 ($100 shrank to $76.52). I realize many of us have other models showing considerably more even than $159.21 in terminal value, but bear in mind that this screen had zero stocks for 52 out of a total of 101 periods. If I exclude periods with zero stocks, the average 4-week excess performance (screen versus S&P 500) was 3.33 percent.
So contrary to the first impression suggested by Figure 1, I'd say the overall backtest suggests this screen is for occasional rather than routine investing, but during the periods when its active, it can, on average, provide some potent opportunities.
Figure 2 shows the backtest results for the past year.
Figure 2: 12/21/07 - 12/21/08 backtest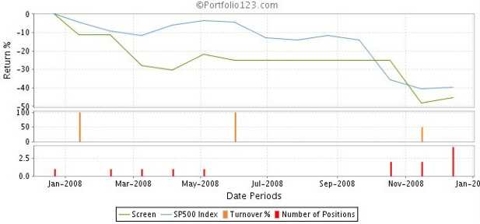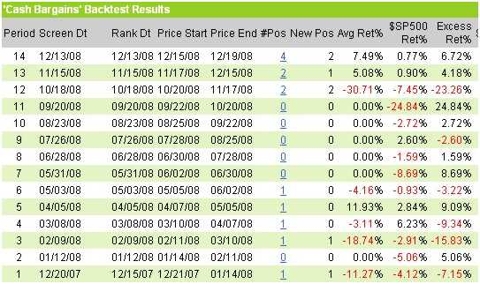 We have no Telesystem-type situations here. The periods of bad performance were just that, bad, consistent with many other stocks at those times. The stock declines were often much worse than the market, but remember, we're dealing with only one or two stocks at a time, stocks which, by the very fact that they made this screen, probably went in with noteworthy baggage.
But these one-or-two stock packages can look great when times turn good. Figure 3 shows the results of a backtest from 6/30/02 - 12/31/03, a prior period when the market transitioned away from a debacle to a new upturn.
Figure 3: 6/30/02 - 12/31/03 backtest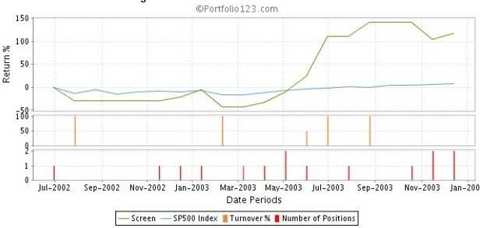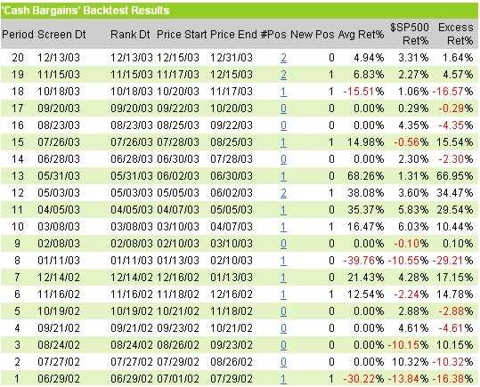 Most of the periods from six through 13 exhibit a scenario we'd gladly accept this time around. Even period eight, a clear dud, was tolerable in the overall context of what happened with this strategy at that time.
On the whole and recognizing this strategy for what it is, a periodic effort to take advantage of opportunities that are often not available but stand a better chance of being found after a market collapse, I believe the backtests we see here support the approach.
Naming names
Three stocks appear in the screen at this time, skimpy by most standards, but an abundance for this screen (which says something about the market). And consistent with the approach taken with the book-value bargains screen, I'm going to take a one-at-a-time look at each stock, given the small number of names and the strong presumption of difficult baggage.
Ashland Inc. (NYSE:ASH). In the latest quarter, Ashland made a large acquisition and took on a lot of debt. The balance sheet no longer looks the way it did the last time formal numbers were published. When the next quarter is released and incorporated into the database, this company will have no chance of coming anywhere close to making this screen. So I'm making a slam-dunk decision to drop this stock from the list.
Ciena Corporation (NASDAQ:CIEN). Here's some deja vu: Ciena was one of the early-decade new-economy telecom stars (it's a networking play). But unlike many, this one turned out to be a survivor. Its stock never got back to the highs achieved back in the day, but that's to be expected since those levels were so inflated. But the company was able to finally break into the black in 2007. Now, it faces a different sort of challenge, an economy that is weak across the board, rather than one where weakness is concentrated in tech and telecom. (Of course telecom is feeling it too.) So the main use of cash will be to enable CIEN to ride it out. But I like the company's chances of successfully doing that and looking good when we reach the other side. Unlike the last telecom slump, we're not now looking at enormous overcapacity resulting from speculative network building. CIEN's headcount is much lower than it was early in the decade. And the company is strong in two attractive areas; video transmission (growing generally and just starting to take root in wireless) and intelligent networking wherein companies automatically detect and adapt to constantly-changing traffic patterns.
KHD Humboldt Wedag International (KHD). This Hong Kong based firm, an honorary ADR (the securities that trade in the U.S. are actually common shares) was also in the Book Value Bargains screen. I was willing to accept it on that final list there and I'll repeat that decision here. The company makes cement, concrete and related mineral processing equipment used for emerging-country infrastructure products. Long term, that's a great business in which to be, considering how badly needed infrastructure is in the markets served by the company. But the near term is likely to be brutal, given today's economic mess. We're going to see some very lean periods. The company recognizes this and has moved into preservation mode. So when it comes to the cash, we can't operate under any illusion that it's going to somehow or other be given to shareholders. It will be used to get the company through a very, very lean time. But when we're dealing with ongoing businesses, that's what we'd want to see; a company that can prosper in good times and stay alive when things go bad. That's a reasonable thing to expect from a cash-bargain sort of investment, so I'll keep KHD on the final list.
Bear in mind we're not looking for three-to five-year investment here. We want things that can move faster. But recall the market's tendency to move ahead, often well ahead, of profit trends. When we see signs of an eventual upturn, stocks like these ought to rally quickly and vigorously, even if the results don't show in the company's earnings for quite a while.
Looking at a standard rules-based approach
I also took a look at how the screen would play out if I made it a bit less strict. Instead of requiring net cash per share to exceed the share price, I wanted to see what would happen if I set the threshold at one-half the share price; in other words, spend $100 to buy $50 worth of cash plus a business. That's also a pretty reasonable cash-oriented investment case since even it would represent more cash than companies usually carry (tune in a year or so down the road to see if a prolonged financial crisis changes that).
That version of the screen had no zero-stock periods. Most list sizes were in the 5-10 range and for much of the past year, the number of passing companies was in the teens or 20s. That lends itself to a more normal rules-based approach. Figure 4 shows how it backtested over the full 3/31/01-12/21/08 period.
Figure 4: 3/31/01 - 12/21/08 backtest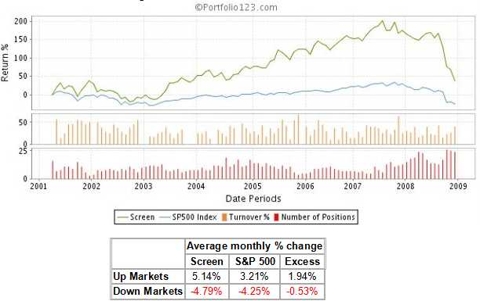 The 2008 drawdown is noteworthy. If you think the market is in for another significant selloff in 2009, this strategy does not seem suitable, since Wall Street is likely to again react harshly to the sort of baggage often carried by cash-rich companies. But if you think the worst is over and don't fear recurrence of the conditions associated with the 2008 plunge, then this rules-based approach could work.
However I prefer the more stringent screen accompanied by fundamental analysis. It seems better able to take advantage of special market-caused opportunities. For routine environments, the modified cash screen is OK, but I, and I believe many others at Portfolio123, have other models that show more potential. Hence my preference for using the cash screen for special situations rather than a good-for-all-times strategy.