Goodyear Tire & Rubber (NYSE:GT) and Cooper Tire & Rubber (NYSE:CTB) are competing Ohio-based tire companies. In the late 1990s, each company issued 30-year bonds that currently offer impressive yields. They are the top two bonds listed below.
This article will examine Goodyear and Cooper's financial performances, recent valuation allowances, company pensions, and risks of bankruptcy. Notice Goodyear has two different types of bonds, the higher yield 2028 bond is rated below their other bonds. Also keep in mind these bonds are highly speculative, based on their credit ratings.
| | | | |
| --- | --- | --- | --- |
| | credit rating | price | yield |
| Cooper Tire & Rubr Co Nt 7.625% 2027 (cusip: 216831AB3) call protected, sinking fund protection | B2/BB- | 106.450 | 6.90% |
| Goodyear Tire & Rubr Co Nt 7% 2028, Make Whole Call (cusip: 382550AD3) sinking fund protection | B2/B+ | 103.00 | 6.68% |
| Goodyear Tire & Rubr Co Sr Nt 8.75% 2020, Cond Put Change Of Control, Make Whole Call (cusip: 382550BA8) sinking fund protection | B1/B+ | 117.75 | 5.81% |
| Cooper Tire & Rubr Co Nt 8% 2019 (cusip: 216831AE7) call protected, sinking fund protection | B2/BB- | 114.250 | 5.48% |
| Goodyear Tire & Rubr Co Sr Nt 7% 2022, (cusip: 382550BC4) Cond Put Change Of Control, Cont Call 05/15/17@103.50, Cond Call, Make Whole Call, sinking fund protection | B1/B+ | 109.12 | 5.33% YTW / 5.72% |
| Goodyear Tire & Rubr Co Sr Nt 8.25% 2020, (cusip: 382550BB6) Cond Put Change Of Control, Cont Call 08/15/15@104.13, Cond Call, Make Whole Call sinking, sink fund protection | B1/B+ | 111.30 | 5.02% YTW / 6.34% |
The 2027 Cooper bonds yield 6.9% and are call protected; while Goodyear's 2028 bonds have a make whole call and yield 6.68%. Additionally, the 2019 Cooper bonds trade at a 14% premium, however still yield well over 5%.
Americans drive trillions of miles each year, however, Goodyear and Cooper face tough foreign competition from Bridgestone (OTCPK:BRDCY) and Continental AG (OTCPK:CTTAY). In October 2012, rumors circulated that Indian tire company Apollo Tyres had plans to buy Cooper. In November, Apollo put their plans on hold.
Investors were uncomfortable with the plan because debt-strapped Apollo would have to raise more debt to buy Cooper...
Debt, Income, EBITDA, Valuation Allowances, Revenue
Goodyear has considerably more debt than Cooper. This is especially important given Goodyear's 1998 annual report (the year they issued the 7% 2028 Corp. bond) stated:
A major global alliance with Sumitomo Rubber Industries/ Dunlop was announced in February, which will restore Goodyear as the world's largest tire company... the benefits of this landmark agreement are substantial...

Earnings per share will increase the day the venture goes into effect, and our debt to debt plus equity will remain around the 40 percent level by the end of 1999 and is expected to return to just more than 30 percent by the end of 2000.
Though the most recent Goodyear annual report shows debt to debt and equity is around 83.6%. This is quite an increase given the tone of the 1998 report.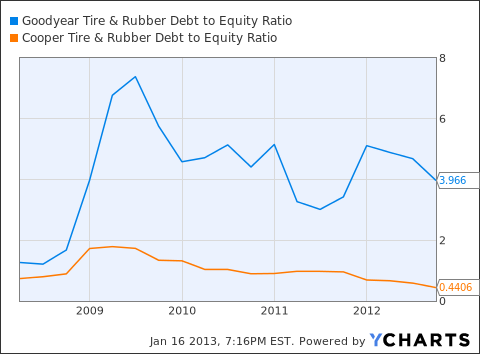 data by YCharts
Goodyear has $2.26B in cash equivalents and $5.98B in debt; Cooper has $271.51M in cash and $386.65M in debt.
Take a look at Goodyear and Cooper Tire's EBITDA compared to net income quarterly: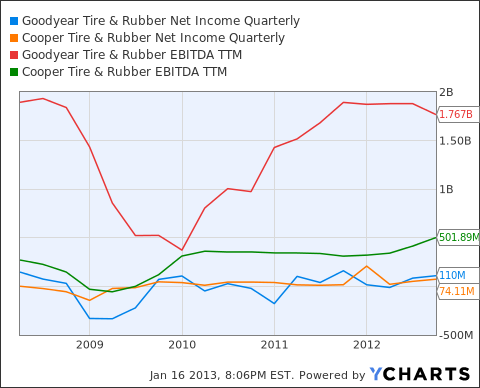 data by YCharts
Because Goodyear handles so much more debt, its net income is whittled down. Notice in the YChart above, Cooper's net income quarterly jumped up at the beginning of 2012. The company had a large valuation allowance, to the tune of $171M that resulted in a $164M credit in Q4 2011.
Cooper expects to release the majority of the valuation allowance on U.S. taxes in Q4 2011(1). (At September 30, 2011, the valuation allowance was $171 million)
Goodyear's annual report shows a release of $59M in valuation allowances for 2011:
| | | | |
| --- | --- | --- | --- |
| | 2011 | 2010 | 2009 |
| Net foreign operating losses with no tax due to valuation allowances | $5M | $19M | $51M |
| Net (release) establishment of valuation allowances | ($59M) | ($1M) | ($22M) |
Take a look at the two companies' revenue and market cap: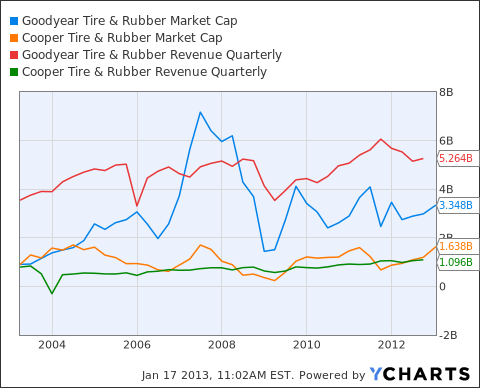 data by YCharts
The blue ($3.35B) and orange ($1.63B) lines show Goodyear and Cooper's market cap; the red ($5.26B) and green ($1.0B) lines show their revenue quarterly. Goodyear dominates the market, though Cooper's performance appears stable over time.
Underfunded Pensions
When looking at a company's debt, it is important to consider retirement pensions. In March 2011, Goodyear announced:
Goodyear expects to reduce its underfunded pension obligations to $1.2 billion -- or by more than half -- by 2013. It expects to make pension contributions of $550 million in 2012 and $525 million in 2013... As a result of these planned actions, the company's pension expense is expected to decrease by $100 million a year by 2013.
Given the increase in debt to debt and equity from 40% in the late 1990s to over 80%, per the two annual reports cited earlier, should investors take this statement to mean something else though? Last year Barron's published a piece, "Goodyear Could Hit Zero:"
"There's massive, massive underfunding of [the company's] pensions," (Wasatch Funds) Shinnick said. "Above that, there's balance sheet weakness," which Shinnick said are the two key reasons he thinks that "Goodyear could go to zero." Feb. 22, 2012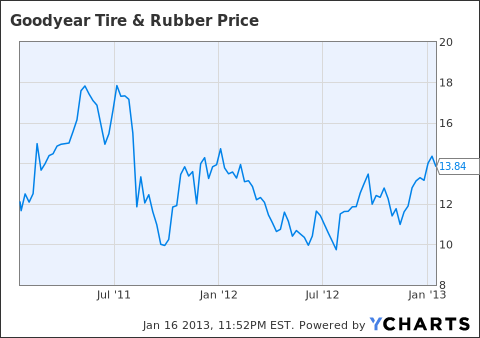 data by YCharts
Goodyear of course has not gone to zero, thus far. In Sept. 2012, Goodyear's quarterly report stated:
...our pension plans are significantly underfunded and further increases in the underfunded status of the plans could significantly increase the amount of our required contributions and pension expense.
Seeking Alpha author David Trainer wrote "Pensions Weigh on Goodyear Stock Potential" in July 2012:
Goodyear Tire & Rubber must overcome $3.7 billion in underfunded pensions plus $6.3 billion in debt... I estimate 2011's actual return on plan assets was 3.19%. I estimate the average return over the last five years is 4.33%, over the past 10 years it is 6.40%, since 1998 it is 6.55%...

Since Goodyear's pensions are so large, its pension costs play a prominent role in earnings, much more so than most companies.
Cooper's 2012 Investor Presentation announced:
Pension funding and expense in 2012 should be in the range of $40 million to $50 million.
Cooper's 2011 10-K states further:
The Company provides defined benefit and hybrid pension plan coverage to union and non-union U.S. employees and a contributory defined benefit plan in the U.K. The Company's pension expense and its required contributions to its pension plans are directly affected by the value of plan assets...

The Company could experience increased pension expense due to a combination of factors, including the decreased investment performance of its pension plan assets, decreases in the discount rate and changes in its assumptions relating to the expected return on plan assets.
MSNBC's The Ed Show used Cooper as an example in Dec. 2011:
Then you have the story of Cooper Tires in Finley, Ohio -- a city of
40,000 people. Union workers at Cooper Tires were working without a contract and were locked out during negotiations. These workers, the last time around, they gave up $30 million in concessions in the last deal over three years.

But it isn`t enough for a company making $100 million in profits.
Now, Cooper is threatening to reopen the doors with other workers who get paid less.
The company's Q2 2012 release mentioned:
Results during the quarter included a pre-tax gain of $7 million related to the curtailment of a pension plan at the Company's United Kingdom operations.
Some authors state Cooper has the advantage:
Cooper also beats out Goodyear on the basis of what it doesn't have: namely, a massive debt load and large pension liabilities... As a kicker, Cooper offers a 2.8% dividend yield, compared with no dividend for Goodyear. CTB just announced its 161st consecutive quarterly payout.
Though, somehow a 401k rating system, Brightscope rates Goodyear's retirement plan 79 and Cooper's 75. Overall, current revenue seems strong, so it is up to management to allocate properly. Clearly the companies must gear themselves to earn higher credit ratings, in order to borrow for less. This of course is not easily done.
Tale of Two Bonds
Both Goodyear and Cooper seem to have decent financials, however closer inspection shows a few valuation allowances. Still current earnings seem to make their cumulative debt manageable. Goodyear has $3.72B more debt than cash equivalents, though current EBITDA is topping $1.7B. Cooper's debt exceeds cash by $115M, and EBITDA is around $500M.
Check out the companies' Altman Z-scores (a measure of bankruptcy risk) and Beneish M-score (a formula that gauges possible earnings manipulation.) Notice the fact that the valuation allowances Cooper took, make its Beneish M-score look artificially high (a lower Beneish M-score is better than a high score.)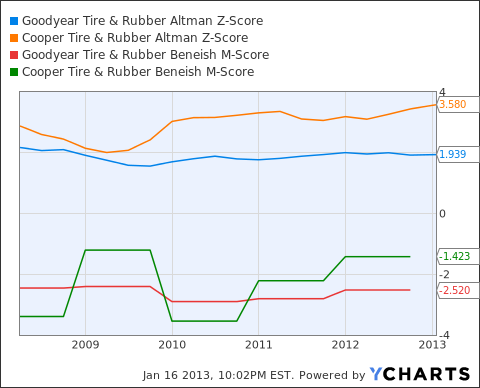 data by YCharts
Cooper's large valuation allowance appears to prop up its Altman Z-score. Therefore it is very important to weigh the credit ratings. Take a look at the price charts for the two top yielding Cooper and Goodyear bonds:
7.625% Cooper 2027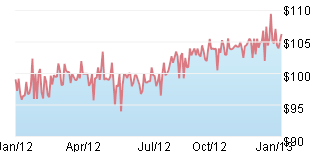 source: FINRA
In February 2011, Moody's raised Cooper's credit rating; their 2027 bonds are senior unsecured and have a loss given default [LGD] rating of 4. Moody's outlook on Cooper was stable, as of the last rating action.
7% Goodyear 2028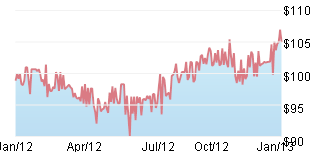 Source: FINRA
Keep in mind, these Goodyear bonds are rated lower than the other Goodyear bonds. Moody's rates these lower because they are senior unsecured and unguaranteed, while the B1 rated Goodyear bonds are senior unsecured and guaranteed. The LGD rating on these Goodyear bonds is 6, while the B1 bonds are LGD4. As of March 2012, Moody's outlook on Goodyear was stable.
Risky Yield
Make no mistake, junk bonds are risky, if all goes well they offer a strong yield. However, a B2 rating is highly speculative for a reason; a ton of money does not just fall from the sky and support a business, or fund a pension.
Many investors are looking for high-yield, though it is important to balance credit quality and diversity. These are the sorts of bonds I would consider, if I could fund part of them with profit from other investments. Additionally I would consider adding a Ford (NYSE:F) bond position and a mutual fund. (Such as a high-yield income fund or a balanced mutual fund.)
This example would be one way to phase into a tire & rubber high-yield bond position. The larger portfolios only add one or two more bonds, over time an investor could decide to add to any position, depending on performance.
| | | | | | |
| --- | --- | --- | --- | --- | --- |
| portfolio size | 7% Goodyear 2028 | 7.625% Cooper Tire 2027 | 4.25% Ford Motor Credit 2022 (cusip: 345397WF6) price: $106.00 yield: 3.5% | mutual fund | total / % |
| $100,000 | $2,100 | $2,150 | $2,150 | $2,000 | $8,400 / 8.4% |
| $500,000 | $3,150 | $3,225 | $3,200 | $2,500 | $12,075 / 2.4% |
| $1M | $4,200 | $4,300 | $4,280 | $3,250 | $16,030 / 1.6% |
| $5M | $6,300 | $6,450 | $6425 | $4,750 | $23,925 / 0.47% |
It is important to realize junk bonds can go south, fairly easily. In this example, the $100k portfolio uses 2 of each Corp. bond. The entire position would be 8.4% of the overall portfolio. This is certainly not a small allocation; the Goodyear and Cooper Tire bonds total $4,250.
Ideally the $100,000 portfolio would draw $1,000 in profit from other investments, to fund part of the Goodyear and Cooper bonds. I would not cut a loss from another investment and go into junk bonds such as these. However, I would consider cutting a loss from a stock position and going into the higher rated Ford bonds or a diversified mutual fund.
Goodyear and Cooper are steeped in debt; compared to other junk bonds with similar yields, they have brand names and widely used products. Histories of losses and valuation allowances may make the companies seem stronger than they are, so it is very important to rely on their credit ratings. Keep in mind, the Cooper bonds are call protected and have a lower LGD, this might make them more appealing than the Goodyear bonds which are callable.
If you have any thoughts on Goodyear and Cooper high-yield bonds, please leave a comment below.
Disclosure: I am long F. I wrote this article myself, and it expresses my own opinions. I am not receiving compensation for it (other than from Seeking Alpha). I have no business relationship with any company whose stock is mentioned in this article.
Additional disclosure: I am long Ford Corp. bonds, I am considering Cooper Tire Corp. bonds. This article is not a recommendation to buy or sell, please consult a financial adviser to determine a proper allocation (if any) for your personal objectives.